With Purposeful Leadership, we think to unleash human potential by placing purpose at the heart of leadership. Our world-class research team is working to understand the conditions that make purpose a driver of both personal fulfilment and organizational performance.
What the research demonstrates
Most of us have the intuition that a concrete goal that goes beyond profit maximization is essential for companies' effectiveness and performance. But evidence indicates that simply having a purpose does not necessarily improve organizational effectiveness nor performance. Why should it be? Purposes come in multiple forms and shapes and at least half of them could be energizing and the other half cheap talk, resulting in a null effect on average.
What researchers have found to be crucial for purpose to result in higher performance is how clearly employees perceive their organizations' purpose and how authentic this purpose is in relation to practice. 
We also know that performance benefits from enhanced engagement toward activities not directly related to financial performance (pro-bono, corporate social initiatives in general) and better coordination among organizational members.
 
How then can purposeful leadership have an impact on performance?
This impact is actually channeled through an increase in labor productivity and current research suggests that this increase relies on two connected mechanisms: one, an increase in deeper trust and loyalty; two, an increase in dedication and autonomy.
Thus, we assume that the fusion of the purpose and the strategy of a company, driven by a purposeful leadership that creates trust and engagement, together allows companies to improve performance through better coordination and higher engagement.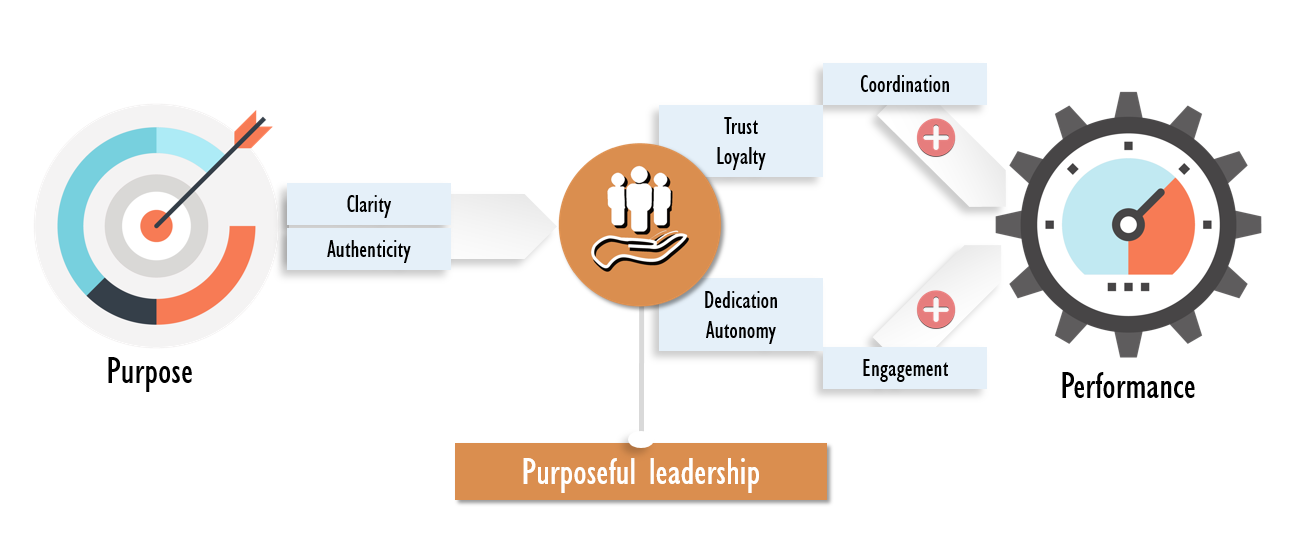 Managers are expected to help their teams develop a clear sense of their organizations' purpose and how their everyday work is related to this purpose. The way and the degree to which managers achieve this varies considerably, but the more actively managers engage in behaviors intended to communicate the organizations' purpose, the more clearly their teams will perceive it.
For all these reasons, we are thrilled to conduct research on purposeful leadership.
Latest Research Papers accepted in Scientific Journals
Legitimacy judgments and prosociality: organizational purpose explained
Rodolphe Durand and Chang-Wa Huynh
An Audience-based Theory of Firms' Purposefulness
Rodolphe Durand and Paul Gouvard
Example of Research
Chang-Wa Huynh, PhD student at HEC Paris, describes his research work within the Purposeful Leadership Chair, and argues that considerations of meaning and fulfillment go beyond financial motivations for a growing proportion of workers.
Collection of Purpose Booklet
APPROACHES TO PURPOSEFUL LEADERSHIP
Purposeful leadership offers new managerial responses to contemporary social demands and technological developments by proposing to give a meaning to action taken in organizations. Several approaches to purposeful leadership, rooted in distinct...
ARE WE ALL EQUALLY SENSITIVE TO PURPOSE IN THE WORKPLACE?
The motivation behind individuals' decisions is a central topic in nearly every field of study. If the self-interest hypothesis has been predominant for several decades, the exploration of how concerns for others might meddle with motivation in the...
THE DUAL EFFECT OF PURPOSE ON TEAMS
In this study, we investigate and precisely measure the channels through which purpose-based leadership improves (or not) team-level cooperation and innovativeness. In particular, we evidence that purposebased leadership strengthens trust between...