Double Degree Data & Finance X-HEC
The program offers you a perfect balance of theory and practice. Elective courses, Certificates and numerous academic opportunities throughout the program allow you to customize the curriculum to your needs and aspirations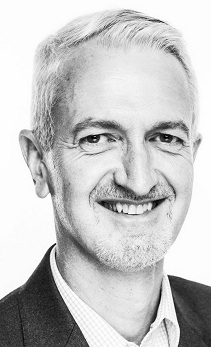 This program is a double degree offered jointly by Ecole Polytechnique and HEC Paris, combining over two years the academic expertise of the best engineering school in France and the best business school in France.
Program Structure
The key aim of the teaching in this Double Degree is to provide students with the tools needed to solve real problems, using structured and unstructured data masses, teaching them to ask the 'right' questions (both from statistics, 'business' and finance perspectives) and to use the appropriate mathematical and IT tools, and methodology to answer these questions.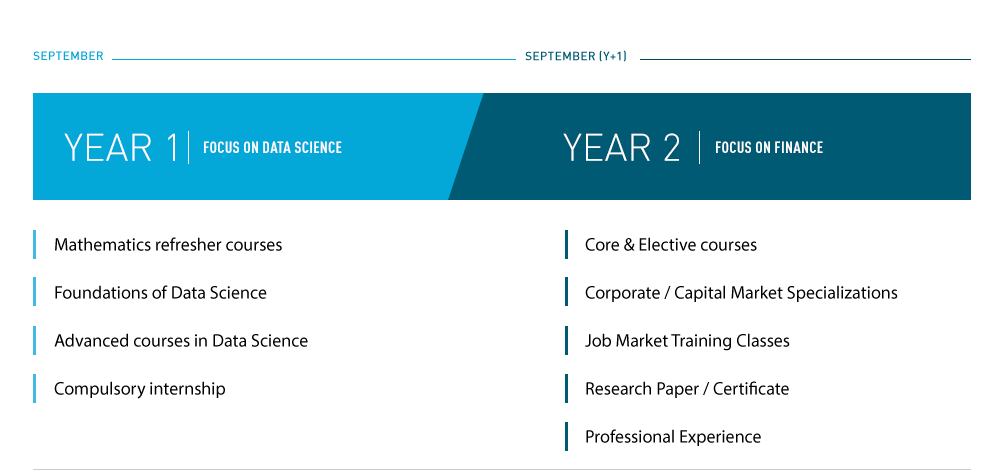 The first year teaching focuses largely on the data produced by 'real-life' cases obtained in association with the program's industrial partners. Students will learn how to perform a complete data analysis, from data manipulation, exploration, and visualization to analysis with powerful machine learning methods and to communicate and deploy their solution. Students can also benefit from refresher courses in probability and mathematical foundations of data science.
Probability Refresher
Mathematical foundations of data science
Statistics with R
Regression
Machine Learning I and II
Deep Learning and Optimization
Python for data science
Financial markets
Optimization / Deep Learning
Numerical processing of financial data
Deep learning in finance
Languages
Human science
Sport
A 4-month compulsory internship within a company in a data-related sector, including investment banks (BNP-Paribas, BPCE), hedge funds and firms such as Microsoft, Facebook, Orange, Capgemini.
Learn & develop your skills in AI & Datascience
Meet other students,DataScientists and professionals from companies who will coach you
Contribute to solve real issues for companies and society
Superhands-on experience to highlighting your CV
Compete with the best students in a good spirit
Get the chance to spend a day into of the corporate donors office
During this year, students will take Accelerated Tracks.
These tracks are designed for students who have not yet been exposed to business, finance or accounting terminology and concepts (e.g. engineering, mathematics or econometrics majors).
While the first semester is dedicated to core and advanced core courses, the second semester allows students to choose from a concentration of electives as well as a wide variety of free electives.
Soft skills seminar
Ethics seminar
Probability and statistics refresher
Behavioral and Sustainable Finance
Introduction to finance
Corporate finance
Financial accounting and reporting
International macroeconomics
Economics of Financial Regulation
Empirical Methods in Finance
Fixed income and MM
Securities markets
Capital markets specialization courses:
Financing Engineering
Quantitative asset management
Corporate finance specialization courses:
Corporate restructuring
Derivatives
Introduction to data scienc and AI for managers
Data analysis in finance
Technology Regulation in the Financial Sector
Algorithms, Data & Trading
Blockchain & cryptocurrencies
Credit risk & turnaround of distressed companies
Energy and finance
Infrastructure and real assets
Real estate foundations
Numerical analysis
Financing decisions of the firms
Post-merger Integration
Microeconomics of crisis economies
Energy markets
Bond portfolio management
Sustainable & responsible investment
Alternative investments
Financial modeling
Corporate Finance Live
Quantitative asset management Financial dimension of strategic decisions
Startup Valuation and financing

At the beginning of September, students have the opportunity to go on a study trip to London. The trip offers students plenty of networking opportunities, conferences and team building exercises. Many networking events are organized with HEC Alumni's UK branch - one of the largest in the world, with numerous active members working in the City.
The 2021-2022 London study trip included company events with:
Bank of America - Merrill Lynch
Barclays
BNP Paribas
Blackstone
Boussard & Gavaudan
Commerzbank
Crédit Agricole
Exane
Goldman Sachs
HSBC
Morgan Stanley
Société Générale CIB
Thomson Reuters
Unicredit...
PROGRAM FACULTY
HEC Paris and École Polytechnique both boast world-class faculty.

HEC Paris' permanent faculty all come from the world's leading research universities such as Harvard, MIT, Princeton, Stanford, UCLA, Wharton, Yale, etc. They regularly share their work in top academic journals and international conferences. 64% are non-French and represent 29 different nationalities.
École Polytechnique has 670 full-time faculty, including 39% of international.

Evolve in a Dynamic Research Ecosystem

Pushing the frontier of knowledge is a shared priority between HEC Paris and École Polytechnique. Both institutions have created specialized research units in order to provide major interdisciplinary contributions to management, innovation, science, technology, and society. École Polytechnique has for example 22 joint laboratories with the CNRS (National Center for Scientific Research) or other research institutions, such as the CEA, INRIA, INSERM, Université Paris-Sud, ENSTA ParisTech and UPMC.
HEC Paris has launched chairs with major companies on contemporary issues such as leadership, innovation, and sustainability, but also interdisciplinary research centers:
the Society and Organizations Center, which aims at offering new ways of understanding the world and helping organizations to reconcile economic priorities with a new series of imperatives
the Entrepreneurship Center, which promotes entrepreneurship through innovative HEC Paris programs, start-ups support, academic and business partnerships
the Digital Transformation Center, which addresses the challenges of digital transformation, and brings together businesses and students to work directly on such issues
The HEC Paris faculty consists of over 160 professors, comprising more than 25 different nationalities, with Ph.D.'s from leading universities across the world. They work in all major areas of economics and management.
Find out more