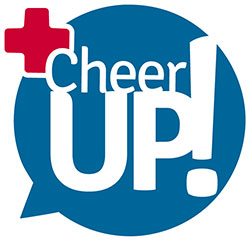 CheerUp is a charity with several branches, including one at HEC, which aims to help children aged between 8 and 20 living with cancer. 
Our goal 
The members of CheerUp HEC regularly pay visits to the Gustave Roussy hospital nearby, to talk with the children there and, when possible, organize workshops and outings. 
Key events 
CheerUp organizes the annual 'Unirun' race, which takes place in Spring. The proceeds help finance CheerUp's projects. They also organise a POW (Party Of the Week) at the start of the year.  
Why join? 
If you want to help those who really need it, you don't have to travel halfway across the world: a thirty-minute drive is enough. The children we meet are incredibly brave and their stories are powerful and moving: getting to know them is eye opening and bursts the HEC bubble. 
Committee 
Nowadays, CheerUp HEC has 25 members, with 13 in first year and 12 in second year. Timothé Bonnet is currently President.  
Our story 
A student at l'ESSEC founded CheerUp in 2004 after beating his own cancer thanks to his entrepreneurial project. He realized that children living with cancer feel terribly lonely in oncology clinics, where the average patient age is no less than 65 years, and thought it important to found a charity aiming to keep these children company. Different branches, like that at HEC, have been created in all the 'grandes écoles', and so the project continues!