2019 Data Day Marks New Initiatives
Braving the January 22 snowstorms, around 100 academics, students, company representatives and sponsors attended HEC's second on-campus Data Day, a wide-ranging conference devoted to the impact of data on research, education and society.
As the global International Open Data Day prepared for its ninth year this February, HEC Paris showcased its own groundbreaking data work with its second major conference now baptized Data Day. With a dozen research papers, student projects and startups, the daylong event proved a lively and engaging moment for all participants. "The primary goal here is to showcase the role of data in our research, our programs and our startups," explained Christophe Pérignon, HEC's Associate Dean for Research, who co-organized the conference for the second year running. "This day allows us to share our new research and techniques, the data sets we've built and fundamental questions like data's impact on industry, businesses and society at large."

This spirit was echoed in the words of HEC Dean Peter Todd who opened Data Day by praising the cross-disciplinary nature of the conference. "Just by looking at the topics covered today we can see how it reflects the spirit we seek to inculcate in the school," he noted. "There are the departments of Finance, Marketing, Tax and Law and Operation Management and Information System represented, there are students from our data-science program and other degrees that work across these business and technological boundaries. I believe those notions are crucial not only to the future of business education but to national and international education in all it encompasses."
New Partnerships
In a departure from last year's inaugural edition, the organizers invited fellow-researchers and students from Polytechnique and ENSAE, two of France's foremost Grandes Ecoles, specialized in engineering and statistics, respectively. "I'm a very pragmatic person," confided Bruno Crépon, an associate professor at ENSAE specialized in labor market programs. "This event is an ideal forum to explore possible collaborations and start up new projects in a dynamic field which is growing rapidly." Nearby, Polytechnique researcher Gabriella Tarantino was following the papers attentively, despite the fact most were far from her own field of interest. "I'm a mechanical engineer working as a CNRS post-doctorate researcher at Polytechnique, but data science is becoming omnipresent in all science fields. In my case, the potential it has for cutting cost and time when drilling in porous land for petroleum research is vast. So I'm here to explore possibilities of following data science programs here which could accelerate my own research on subjects like lightweight composites and hierarchical-instabilities."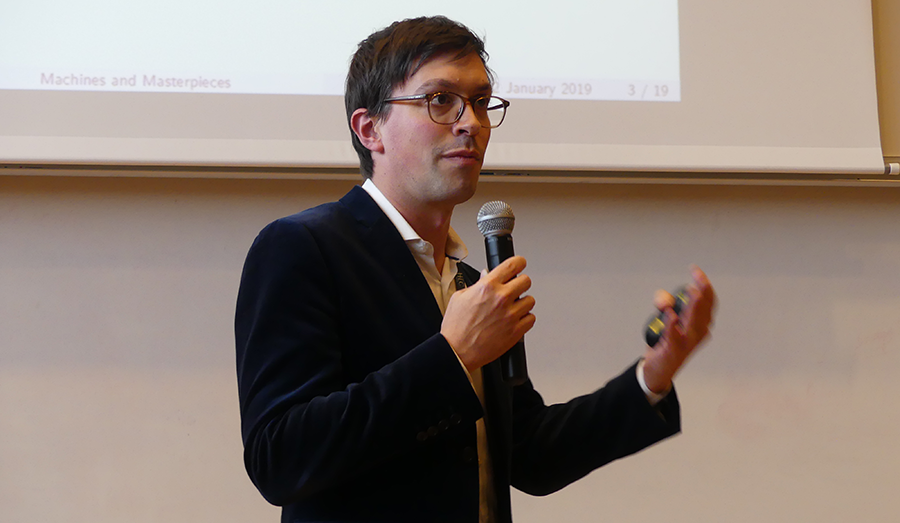 HEC aims to attract more researchers from all horizons and develop innovative pedagogical tools with its investment in a groundbreaking Data Factory. This is to be harbored by Data Day co-organizers, HEC IDEA Center. The factory is still in its introductory phase with HEC researchers working on a prototype version yet to be completed. It is designed to support the research work of students, professors and entrepreneurs by providing masses of data which is being shared by many companies. Crucially, it offers an unprecedented degree of confidentiality with foolproof design for high security "The factory is a vital development," explained the HEC IDEA Center's Executive Director, Jean-Rémi Gratadour. "It allows our collaboration with companies to be fully GDPR compliant on the regulatory side and invites researchers to use the algorithms available on the platform to explore the data available."
Gratadour noted that the Data Day was an ideal conference in which to present the platform as well as the Center which harbors it: "The HEC IDEA Center has just been created to meet the aspirations of leading businesses and a new generation of students who are committed to developing innovations and startups in the course of their studies. A fine example was presented at today's event with the four students who won the Data Challenge, organized collaboration with Antin Infrastructure Partners. I was impressed by their proposals to improve one of Antin's investments at Rome's Grandi Stazioni Retail."
"All in all," Gratadour continued, "this conference will help us focus on better ways to use data. This year, we're upping the stakes to see how better to work on data as a core value. We aim to provide added value of the data at our disposal thanks to the algorithms available."
Data for the Common Good
The vast potential offered by processing this data has galvanized the work of HEC Professor Alberto Alemanno. During the morning session of Data Day this specialist in EU law presented his work on using privately-held data to create public value. "What I've called Data for Good tries to guarantee that we not only tap into the potential data has to create value for a few companies," Alemanno insisted, "but also to spread and share added value of the data to save people in a disaster zone or to improve ways of designing policy."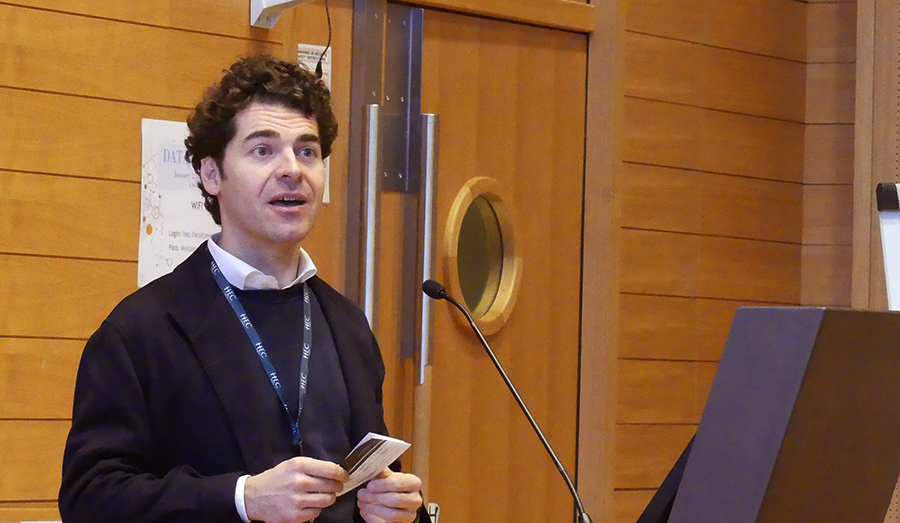 The availability of new types of data has also been central to the research by Valeria Stourm. The HEC Assistant Professor chaired the conference's second of three sessions and lauded the event's ability to integrate so many different disciplines. "This approach mirrors my own work," she said. The academic had presented her research at the 2018 data conference, research she has since expanded and enriched. "My research on consumer loyalty programs brings together elements of psychology, consumer behavior, economic theory, competition between firms and empirical learning methods. So many of the presentations presented here reflected this desire to integrate findings to better advance our knowledge on crucial issues of our time."
Data Day Receives Plaudits
Pragmatic usage of this cross-fertilization of disciplines was illustrated by Benoit Koenig, cofounder of the Veesion startup. Only last January, this HEC 2018 graduate was sitting amongst attendees as a Master degree student. Since then, he has joined forces with fellow-graduate Damien Menigaux and Thibault David, who all passed the HEC/Polytechnique joint degree on Data Science for Business. Since April 2018, they have been working with retail industry leaders on fighting shoplifting through artificial intelligence and machine learning. "We came here to show how our detection techniques can automatically detect shoplifting behavior," explained Koenig. "A collaboration of this kind between HEC and Polytechnique is extremely fruitful because we have two very different visions of a specific problem. Thibault David is very technologically-savvy whilst Damien and I want to find a business case with direct consequences on the economy." Shoplifting cost French companies €3.5 billion in inventory shrinkage annually and the €5.8 billion they invest in security each year results in…5% of the thefts being detected. "This is a curse which our technology can help remedy," pursued Koenig. "By applying data analysis to video surveillance we can detect shoplifters in real time."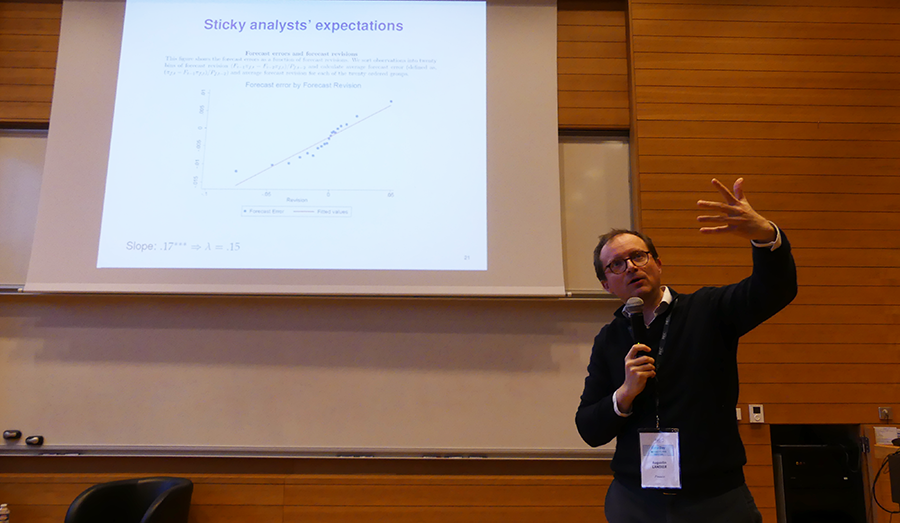 Despite the disruption due to weather, the conference was judged highly successful. Topics were as diverse as they were deep: remedies for unemployment, the impact of big data in finance, the price at art auctions, the impact of dockless bike-sharing, economic nowcasting, disruptive technologies such as legal tech or peer-to-peer lending – these were just some of the subjects shared and debated. "HEC's Data Day is a one-stop show for the entire community to meet and understand what different disciplinary approaches are available and to do this across boundaries," summed up Alberto Alemanno. "No one can study data and regulation of data without interacting with other disciplines. So it's a great initiative! I wish we had more."
The event was supported by the Certification Agency for Scientific Code and Data (cascad), HEC's IDEA Center and ECODEC.