The HEC Paris International Finance Forum: a unique opportunity for students to connect with prestigious institutions
HEC 2014 Finance Forum was a great success with 33 international institutions attending. Meet 2 alumni working in the forum's participating companies.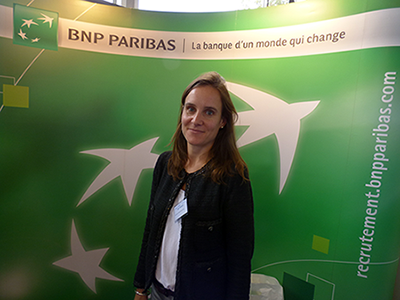 I attended the finance forum in 2003 which is how I secured my place at BNP Paribas
Anne-Sophie Vivier graduated in 2003 and had also attended the finance forum that year which enabled her to find a position at BNP Paribas straight away through the contacts she made. In 2003 she entered the Inspection Générale department located in Paris.  After 2 years here, she moved over to the Wealth Management division. Anne-Sophie had two positions in this division during the next 5 years; first working in an advisory desk position and then a position within Equity structured Products. Following this she moved to London and now works in the Risk department, a RIM - Risk Investment and Market position, monitoring Fixed Income positions.
She is here today to recruit new students for internships and also some VIE contracts (Volontariat International en Entreprise). BNP Paribas currently has an offer of 260 VIE worldwide and more than 1000 internship positions. The HEC Paris International Finance Forum is invaluable for BNP Paribas as it allows them to have direct contact with the best students and acquire a lot of CVs for future recruitment.
Anne-Sophie is a new ambassador of HEC within BNP Paribas and she attends many HEC alumni events in London. The HEC alumni are very proactive in London with a lot of opportunities for networking and events organized every month, whether it be for conferences or a social gatherings.
Anne Sophie states that it is a good time to apply for a job in the finance industry since it is currently recovering from the several financial crises which have occurred recently. M&A, Mergers and Acquisitions, still remains a very popular department but the Risk department, the Compliance and the Legal departments are also becoming key due to the recent crises so these provide great opportunities for students. And, last but not least, Anne-Sophie explains that there are a lot of opportunities in private banking as well as it is currently a growing industry.
Deutsche Bank has hired many HEC students in the past, whether it be in markets, sales, trading or corporate finance.
 Alan Balandras who graduated in 2011, did a few internships in his gap year, the last of which was with Deutsche Bank in London. At the end of the internship they asked him to come back once he'd finished his final year of studies in 'majeure Finance' at HEC. After graduation he went back to London to start working full-time. His job began with 2 months of training, then 4 months on rotation experiencing different desks to really understand all the different aspects of markets in Deutsche Bank. At the end of this rotation he was hired by one of the trading desks in Equity Derivatives.
Deutsche Bank has hired many HEC students in the past, whether it be in markets, sales, trading or corporate finance of which there are many in Equity Capital Markets (ECM), Debt Capital Markets (DCM) and Mergers and Acquisitions (M&A).
The application process is tough so it is advised that students apply to as many banks as possible. Alan states that Deutsche bank hires interns with the objective of taking them on full-time afterwards.
He also strongly urges that students must possess strong communication skills, whether having a good English language level or simply knowing how to behave and sell yourself in an interview, in addition to being fully technical and experienced. Possessing these skills will make a world of difference, he adds.
He states that applicants must also be able to show that they have done their research, aside from just the technical aspects. Therefore it is very important for employees that students show they are taking an interest in the market and how finance works overall, and are not just masters of the pure formulas and hard knowledge.
See the list of participating Financial Institutions:
ACCURACY
AXA
BARCLAYS
BLACKROCK
BLACKSTONE
BNP PARIBAS
CITI
CREDIT AGRICOLE GROUP
CREDIT SUISSE
DEUTSCHE BANK
EDMOND DE ROTHSCHILD
EXANE
EY
GE (General Electric)
GENERALI GROUP
OLDMAN SACHS
IKB Deutsche Industriebank AG
JEFFERIES
J.P. MORGAN
LAZARD
LEONARDO & Co
MERRILL LYNCH
MESSIER MARIS & ASSOCIES
MORGAN STANLEY
NATIXIS
NOMURA
ODDO & Cie
OLIVER WYMAN
PwC
RBS (The Royal Bank of Scotland)
ROTHSCHILD
SOCIETE GENERALE
UBS
Learn more about the program