hec paris MIM teal wins harvard international finance competition 2016
On April 23rd , a team of international students representing HEC Paris at Harvard University was declared winners of the prestigious case competition.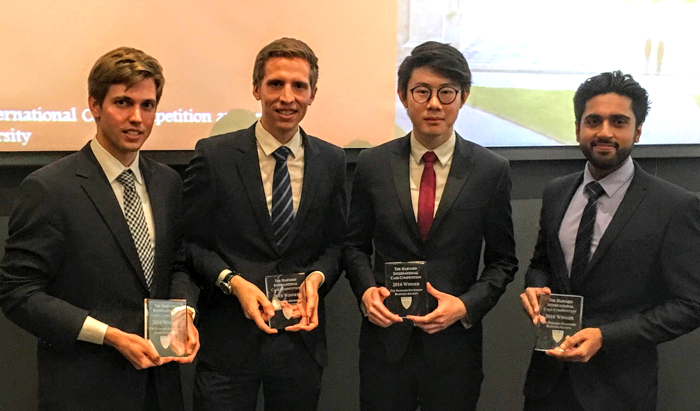 Team Modigliani comprised of four international MiM students (Dominik Stefano Campanella, Zhongqiang Lin, Piotr Dziadosz, Vaibhav Longani) went through the finals with flying colours. Long hours spent on building a valuation model, analyzing the deal and rehearsing the presentation brought desired results in Cambridge, MA, last week.
In the final round, competing teams were required to deliver a 15-min presentation about the LBO of Hilton Hotels by Blackstone followed by a 10-min Q&A session. The contest jury made of Blackstone executives and Harvard professors challenged the participating teams on the valuation model assumptions and operational turnaround strategy.
All the participating teams represented reputable business schools such as LBS, Harvard University or ESCP. The contest was open to students across all programs from undergraduate to graduate and even MBA.
Although the competition followed a formula "winner takes it all", the jury announced a second team deserving recognition – a fellow group from HEC Paris called "On n'a pas le temps". In this way HEC Paris dominated the contest finals.
Team Modigliani was very enthusiastic to share their Harvard experience
"The competition was very fierce, all of the presentations we have seen could have been Wall-Street-approved " – emphasized Dominik Stefano Campanella.
"The jury posed very challenging questions on valuation assumptions and potential strategic improvement of Hilton. Yet, our team handled all questions collaboratively and demonstrated strong commercial sense " – added Zhongqiang Lin.
"The deal we've analysed was arguably the most successful transaction in LBO history. It was extremely insightful to chat with a person from the deal team at the event " – commented Piotr Dziadosz.
"It was a great team-learning experience because we come from very diverse cultural, as well as academic backgrounds. We helped, criticized and learnt from each other through this entire journey " – added Vaibhav Longani.
"What makes us particularly proud is being able to compete with MBA students with many years of experience in finance. We've proved to ourselves that academic concepts we learn in Corporate Finance and Strategy classes can be almost equally valuable as full-time professional experience " – concluded Team Modigliani.
Read more about the program