HEC UK Masterclass and Corporate Partners Breakfast with Professor Shaheena Janjuha-Jivraj
The HEC UK office organized an insightful Masterclass on February 22 with Shaheena Janjuha-Jivraj, Associate Professor in Entrepreneurial Leadership and Diversity at HEC Paris in Qatar, about understanding and embracing the new activist generation at work.
This Masterclass was held online and Professor Shaheena Janjuha-Jivraj spoke to an audience of 30+ people on key trends that are currently shaping careers, focusing on how activism is increasingly an important element of leadership development.
What impact are new global social movements having in organisations? 
What changes are they bringing to the workplace & the future of careers?
What are the new challenges faced by senior leaders from the previous generations and by emerging leaders from the new generation? 
How can activism in the workplace become a powerful catalyst of change rather than a distraction?
The masterclass was followed by an interactive Q&A with the participants who attended the session.
"Change is the essence", "Intense"
"Challenging theme, loads of food for thought."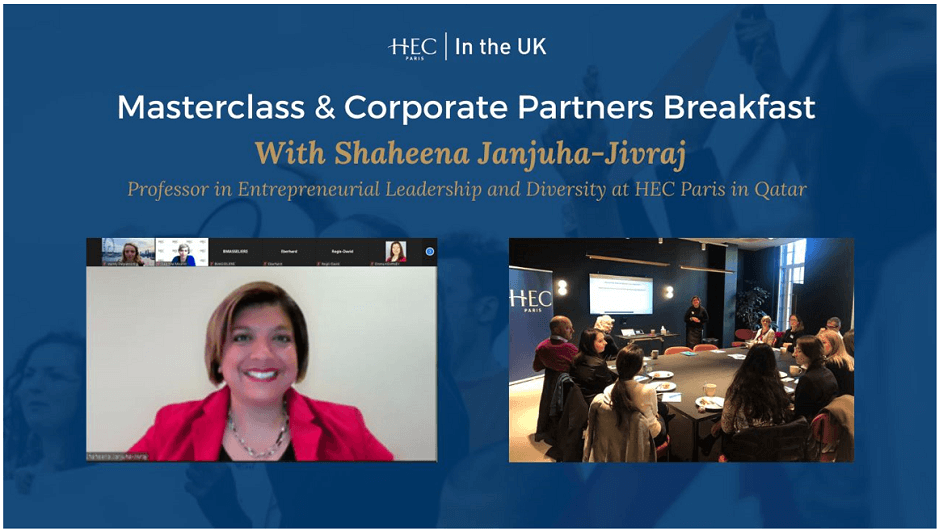 Also, on February 23, the HEC UK Office organised an eye-opening HR breakfast with the presence of Professor Shaheena Janjuha-Jivraj in London. +10 partners attended the event and had the privilege to share a cup of coffee and exchange exclusively on hot topics with Shaheena Janjuha-Jivraj, such as social change and global activism movements.
A huge thank you to Shaheena Janjuha-Jivraj for such fascinating presentations.
Read more about Shaheena's research & work in her recently published book: https://lnkd.in/dTSDC3Ba
Learn more about the HEC UK Representative office.
Join the HEC UK Chapter Alumni page to receive all the info.