KPMG France Renew Partnership with HEC Paris
Laurent Geoffroy, Director of Human Resources at KPMG and Delphine Colson, Executive Director of the HEC Foundation, signed a new partnership agreement on May 18, 2019. Diversity, social openness and talent are at the heart of this relationship, built over 6 years, between KPMG and HEC Paris.
"KPMG and the HEC Foundation share the same objectives of social openness and diversity," stated Laurent Geoffroy in the lead up to the signature, organized in the Eqho tower at La Défense, the headquarters of KPMG France. Leader in auditing, consultancy and accountancy, KPMG has been working alongside the HEC Foundation since 2013, supporting its actions to make HEC accessible to students of all social and geographical origins.
Climbing the Social Ladder
Laurent Geoffroy underlined the significant role that businesses, grandes écoles and other actors have to play in economic life in order to climb the social ladder. In the current context, "we have to take responsibility", he added.
In addition to this societal role, diversity is a concern for KPMG's recruitment: "we want to attract talent whose diversity drives our team forward." The International Consulting Fair, The Legal and Fiscal Forum, Masters Internship Day and Carrefours HEC: KPMG is present in the biggest recruitment events on campus.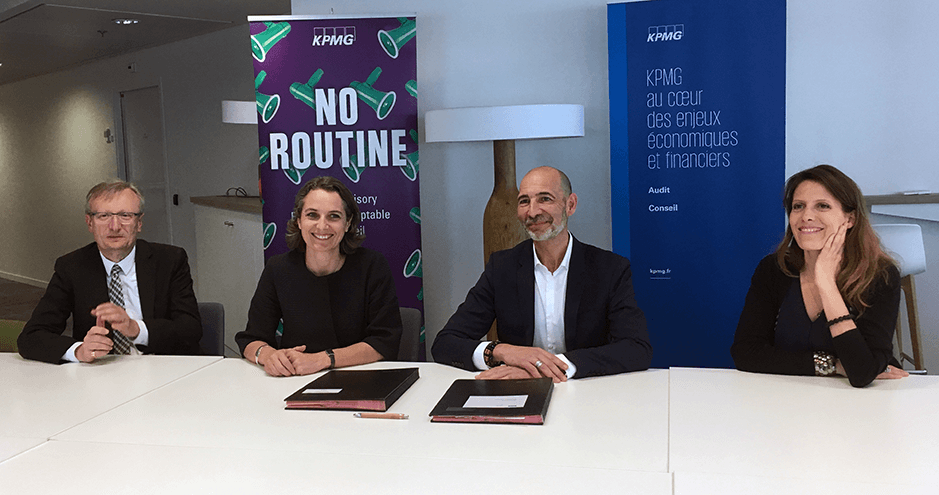 Discover Careers in Audit and Consultancy
As part of this partnership, students have the opportunity to discover the various auditing and consulting careers at lunches with KPMG teams, or can benefit from the expertise of the firm's management, evidenced by recent talks on business modelling. For Raphaelle Gautier, Director of Corporate Partnerships & Careers at HEC Paris, equally present for the signature, these meetings are decisive as they allow the students to grasp the reality of business and its huge evolutions, like those linked to data analytics, big data, AI and robotics.
HEC Paris currently has 79 alumni working with KPMG across the world, notably: Alexandre Lemoine (M.11), Associate Director in Business Modelling, Gautier Virepinte (H.10), Senior Manager of Data & Analytics and Hervé Chopin (H.87), Associate. A figure which illustrates the strength of this partnership.