Meet the HEC Stand Up participants
On Friday November 25, members of the Bruno Roux de Bézieux Foundation – one of the seven foundations under the auspices of the HEC Foundation – met the participants involved in the final session of the "Stand Up" program.
Created in 2015 following the passing of Bruno Roux de Bézieux (H.55) by his family and his friend Didier Pineau-Valencienne (H.54), the Bruno Roux de Bézieux Foundation supports educational innovation in management sciences in France.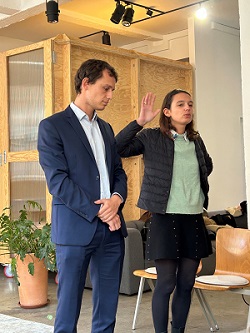 The activities supported by the Bruno Roux de Bézieux Foundation include funding doctoral candidates and other students enrolled on the HEC Entrepreneurs major, in partnership with the "Nos Quartiers ont des Talents" association, and rewarding educational initiatives implemented on the HEC Paris campus through the "Innovation Prize."
The Foundation also recently hosted and funded the March 2022 session of the HEC Stand Up program.
The HEC Stand Up program is organized by the HEC Innovation & Entrepreneurship Center and supported by the HEC Foundation. It targets ambitious women who want to turn their entrepreneurial dreams into reality.

It offers eight days of free training with HEC Paris providing its entrepreneurship and innovation expertise and enabling these women to rethink their entrepreneurial approaches, consider the steps required to launch a flourishing business, and finally take action!
HEC Stand Up was born of the school's historic commitment to equal opportunities and social open-mindedness, combined with constant educational innovation that boosts regional development and benefits female entrepreneurs from all walks of life. The aim is to increase women's autonomy and financial independence via entrepreneurship.
 
At the end of November, Joséphine (H.17) and Louis Bédier (H.17), members of the Roux de Bézieux umbrella foundation, met the participants in the HEC Stand Up session funded by their foundation. This was an opportunity to measure the concrete impacts of their support and discover projects spearheaded by dynamic, highly motivated female entrepreneurs.

The day began with a workshop to select ten entrepreneurs. These ten women then had the opportunity to present their projects to their patrons during a "pitch" session at HEC Records. After the presentations, the panel (composed of members of the Bruno Roux de Bézieux Foundation, Julie Portais and Emma France from the Innovation & Entrepreneurship Center) singled out "My Data Partner," specializing in personal data protection and security, for having best met the following criteria: clearly identified customer need / value proposition / embodiment of the project / clear short- and medium-term vision. Congratulations to its founder, Nacima Lamalchi, and to all the participants. 
Discover all the projects headed by these entrepreneurs:
Nacima LAMALCHI, MyDataPartner
MyDataPartner specializes in personal data protection and security
Nadia BENBELLA, BEN B
An environmentally responsible clothing brand for children.
Marie HAMOUSIN PERRIN, Cosmetic training/services/workshop center
Opening a cosmetic training and services center specializing in black and biracial skin types, and then turning it into a chain.
Akouvi AMBEGO, Levelupfemmesactives
Coaching to help female employees and entrepreneurs manage their daily activities.
Soeurs KEBE (Khadidiatou, Fatoumata, Awa), Beauté INÉE
"Beauté INÉE" (Innovative, Natural, Equal and Environmentally Friendly Beauty) is France's first virtual inclusive beauty institute, offering innovative digital products and services that respect the skin and the environment.
Isaia-juanita KOUTENE, Lookhubbe
The Uber of beauty. When booking, customers confirm their appointment with a bank-card payment to guarantee their attendance, and Lookhubbe takes 15% of the total paid to the service provider.
Marie-laurence TURCAT, Just'Autour
Just'Autour enables small companies and associations to communicate collaboratively and locally about their activities and events.
Zoe GUELMAOUI, GYFTIES
Gyfties offers a collection of personalized gifts and accessories. With categories such as "Happy birthday," "I love you," and "Good luck," each box is as unique as the recipient.
Faïza ARNAUD, HOLISENSCIEL
HOLISENSCIEL helps the people involved in health and medical care circuits – patients, carers, and caregivers – to regain control of their health and lives.