Students get ready for the workplace with mock interviews
Dedicated to helping each student build a career tailored to them, the HEC Paris Career Center has set up a three-stage course that starts as soon as students arrive on campus.
STAGE 1: Know yourself
To choose the right career path, you first need to get to know your inner self. This introspective step known as "know yourself" represents the first stage of the journey. Self-assessment exercises and individual coaching sessions are organized to allow students to identify their strengths, points of improvement, preferences and motivations.
STAGE 2: Know the market 
Knowing yourself is key, but understanding the job market that you'll soon be entering is just as important. This is the aim of the second stage of the process, "know the market", in which students can take part in many career events organized on campus, as well as exchanges with knowledgeable alumni. These privileged meetings allow students to understand the requirements, cultures and hiring practices of companies, according to their given sectors.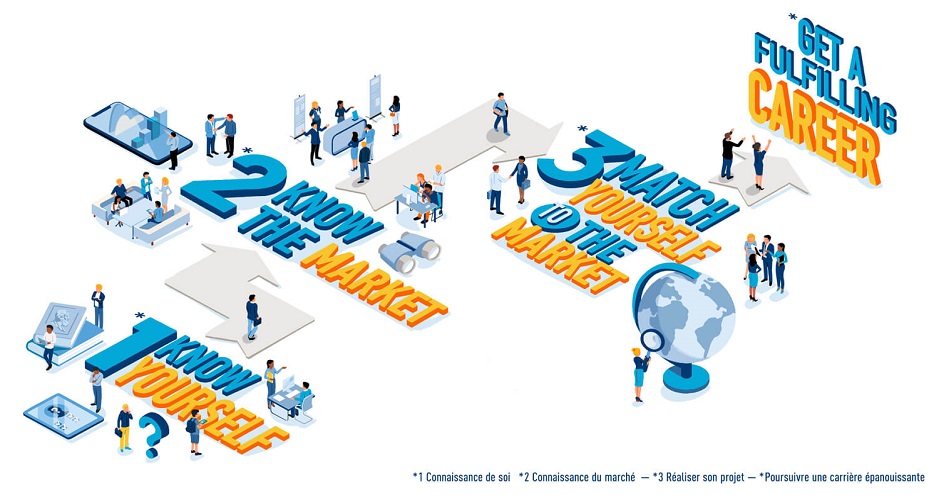 STAGE 3: Match yourself to the market
"Match yourself to the market" marks the third and final stage of the process, in which students come face to face with companies, to assess whether they are a good fit; this is where the mock interviews come into play. Companies such as BETC, Colas, Saint-Gobain, Accenture, Bouygues Construction, Publicis, GS1, KPMG, AXA, Vinci, Société Générale, Urgo, Natixis and Ubisoft came to HEC Paris to coach our students.
This year's edition was a great success: over 111 interviews were scheduled, representing 30 more than last year. Christel Babinet, Career Coach and Corporate Development Manager and Amrita Cabon, Program Coordinator, were thrilled with this success, who support the students throughout the entire 3-stage process.
"Throughout their studies, we prepare students for the job application process by helping with their CVs, interview techniques and real-world connections, provided to them during individual coaching sessions. The mock interview is the last step in this process." 
A RECRUITER-APPROVED INITIATIVE
For the recruiters, there are many benefits to participating in these interviews. Elisabeth Borgniet, HR Assistant Director at La Compagnie de Saint-Gobain and HEC Campus Manager, participated for the first time, after hearing feedback from her colleagues.
For her, the experience was very positive: "as a recruiter, these interviews are very beneficial. They allow us to promote our employer brand, which is good, as we aren't necessarily top of mind for HEC students. Meeting them allows us to learn about the new generation of candidates and adapt to them."
During these interviews, recruiters also provide students with valuable advice: "I recommend that they stay authentic. An interview is an opportunity for the candidate to show the recruiter their personality. Playing a 'role' is rarely a useful strategy because once integrated into the company, the candidate is expected to continue behaving in the same way", advises Rizwan Goulamhoussen from URGO.
Vanessa Farah Touati, from Bouygues Construction, likes to challenge students with a question that often confuses them: "can you think of a time when you made the wrong decision or a mistake, and how did you handle the situation?" 
Jean Caylak, who works at Accenture, advises young graduates to be able to explain concretely what motivates them and to highlight their personality, especially when they have little professional experience.
A WORTHWHILE MEETING FOR STUDENTS
Needless to say, the interviews are also very much appreciated by the students. Malak Yacoubi, an M1 student of the Master in Management program and currently looking for an internship, elaborates: "the recruiter gave me feedback on how I presented my profile, and taught me how to be more concrete by overtly relating my experiences to the position that I'm applying to."