Summer School Students in Fashion Management Help Popular Rock Outfitter The Kooples Reach New Markets
Students in the HEC Paris Summer School on Fashion Management Program teamed up with premium clothing brand The Kooples to help plan the company's international expansion.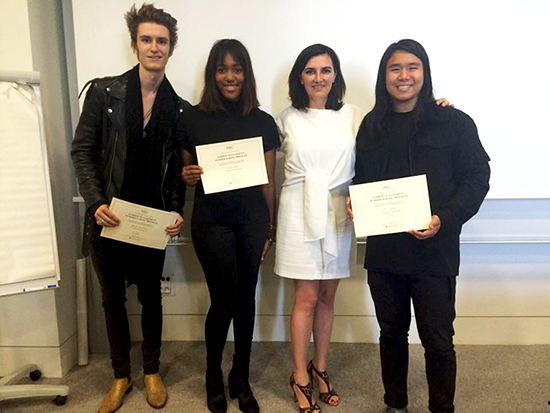 Lead by Affiliate Professor of Marketing, Gachoucha Kretz, students worked in teams in collaboration with The Kooples associates to develop a strategic blueprint for the brand's corporate growth. By identifying new markets and advertising tactics, participants aimed to transform the EU-based outfitter into a global fashion authority.
The teams' final proposals were assessed by a jury of HEC professors and The Kooples executives, including 2 HEC alumni, Multichannel Director Jonathon Trépo and Buying and Merchandising Director Sybille Darricarrere.
Several students earned recognition from the jury for outstanding work. Olfa Chelbi, Chloe Chretien, Laura Margiotta, Daniel Piatkowski, and Emily Madrigal received the prize for Most Innovative Presentation. Edward Yu, Tinuke Eboka, and Daniel Piatkowski were also honored with an Academic Director's Award for their participation and commitment to excellence throughout the session.
"The course gave me a completely new perspective on the fashion industry," said Bohzena Pandelieva, who is currently pursuing a Masters degree in Economics and Business Management at University College, London. "I would recommend this program to any student interested in pursuing a career in fashion."
In conjunction with group work, participants attended lectures by a variety of prominent fashion designers and brand experts, including Coach Retail Manager Steves Hounkpounou, Dior Product Manager Flore Alexandre, and Carlos Pellegrini, Area Manager in Europe and the Middle East for Karl Lagerfeld. Kretz also spearheaded a field expedition in Paris, where students had the opportunity to interact with major luxury retailers and study marketing techniques in one of the world's fashion capitals.
For more information on the HEC Paris Summer School contact summerschool@hec.fr.