HEC Paris has a deep-seated belief that long-term sustainability and ethics are core values in business. This social responsibility is the motive defining much of the school's teaching, actions and research. Its commitment to finding alternative models for running businesses is open to students from all economic and social backgrounds.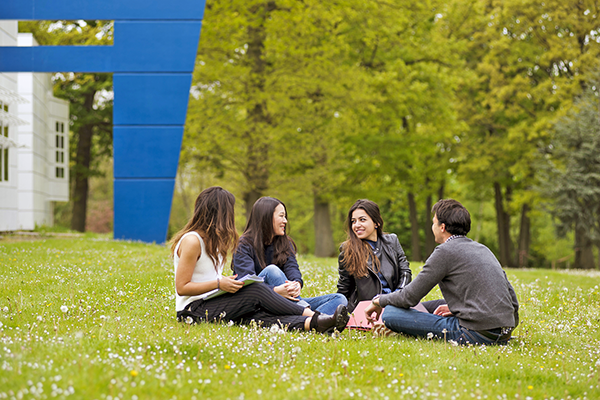 While sound economic performance and gain remain one pillar of a company's focus, a second equally important pillar is taking care of our planet and its inhabitants. HEC Paris has prioritized the training of students, managers and executives to become leaders in balancing financial development with social responsibility. Thus, the school contributes to the transformation of society in general, and business in particular.
Its Society & Organizations Institute (S&O) is home to research, teaching and re-inventing management. It forges alternative models aimed at balancing environmental challenges and social impact with economic performance. The S&O's 40 researchers and their teachings propose solutions which align business operations and values with the preservation of the natural environment and the promotion of well-being at work.
HEC's courses - from Master's to Executive Education level - raise ethical questions and provide a framework that unveils common patterns of success and failure in managing ethics and corporate responsibilities. This is driven by the school's vision of engraining a sense of CSR in the corporate mindset. It is incarnated in the recent creation of the Joly Family Endowed Chair in Purposeful Leadership.
HEC's longstanding commitment to ethics, performance and sustainability has also given birth to the Social Business/Enterprise and Poverty Chair, co-presided by Nobel laureate Muhammad Yunus. The Grameen Bank founder is also at the heart of HEC's Movement for Social Business Impact, funded by six multinational companies seeking to contribute to a more inclusive economy. This movement is designed to incubate inclusive business models and fund research on poverty alleviation projects.
Furthermore, the school seeks to incarnate France's republican traditions, forged since its inauguration in 1881, by opening its students' ranks to outstanding minds from all social and economic categories.
Starting at high school level, the HEC Foundation finances courses to prepare the best pupils nationwide to enter the highly-competitive entrance exams. The school's Foundation also offers wide-ranging grants for its students, guaranteeing that finance is no barrier to a successful academic career.
Its policy of equal opportunity has given birth to programs like Stand Up, which detects future female business leaders in all socio-economic categories.