A place of excellence, a place of diversity, a place of community.
HEC Paris has one of the largest campuses in Europe. Its academic, leisure and sports facilities offer students and staff the holistic life you would expect from a world-class institution.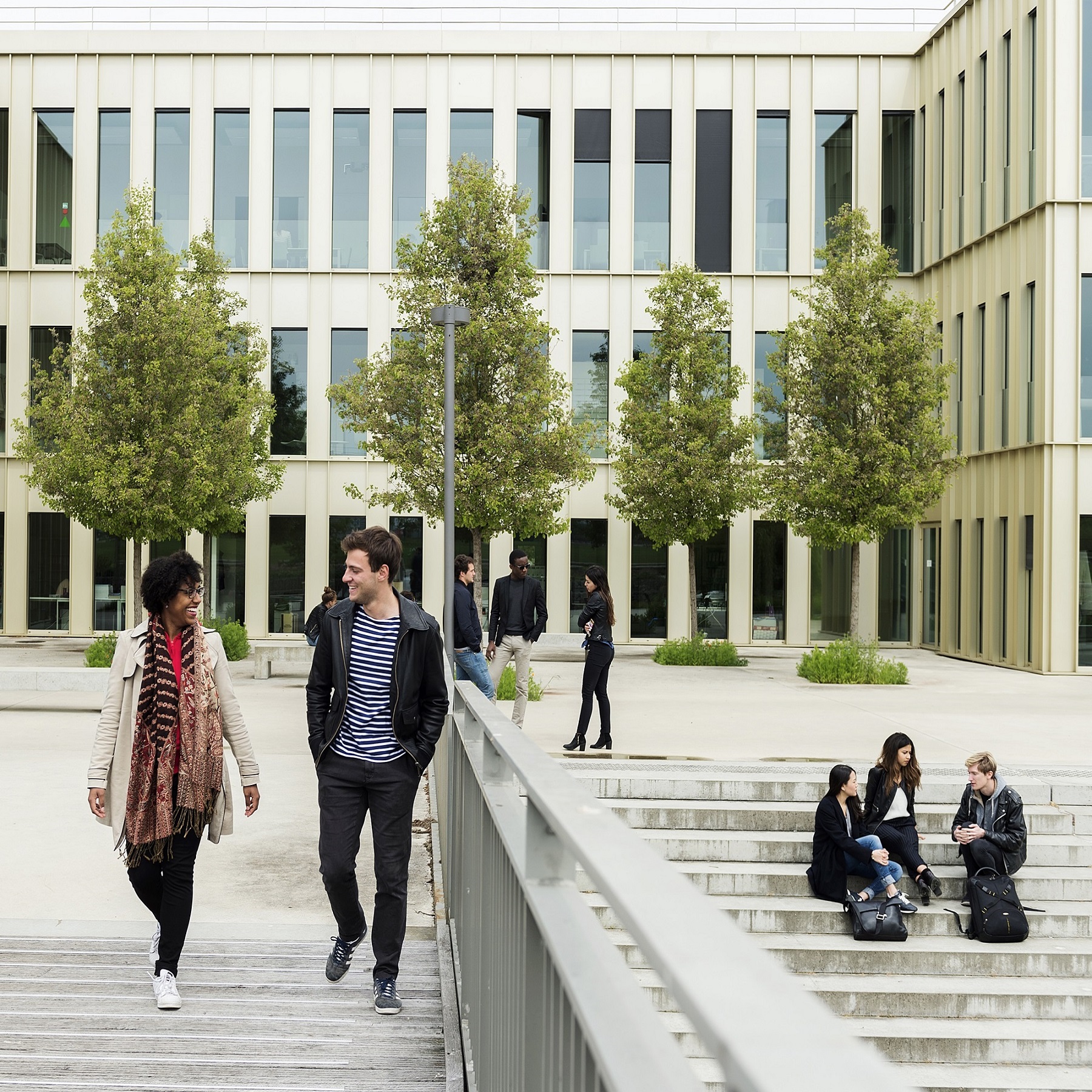 A great environment to live and study
The school also provides a perfect balance between the rural and urban worlds. The HEC Paris campus is located in Jouy-en-Josas, 20 km (15 miles) outside of Paris and provides a perfect balance between the rural and urban worlds.
The campus is very green; its well-kept lanes and lake allow for scenic walks. Don't be surprised to see a dear when you go out to get some air to think through a difficult research problem. It is the best way to gain an alternative perspective!
Click on the picture below to access the virtual visit of the campus
The campus hosts six restaurants and bars for students and staff alike. The facilities are surrounded by the lush beauty of its woods, two lakes and numerous sporting fields. A contemporary arts center displays some of its collections in the HEC park and invites students to regular exhibitions.
Featuring state-of-the-art interactive learning spaces, HEC Paris facilities have been specifically designed to enhance project-based learning and group work. HEC also provides students with the possibility of perfecting their French or learning dozens of other idioms at its Language Center. PhD students have their own 'PhD Lounge' where they can meet and relax together.
On campus, you will also find a printing shop, an infirmary and an ecumenical center.
Since 2017, HEC Paris has become only the second education institution in France to open its state-of-the-art library seven days a week, 24 hours a day. It provides readers both on and off campus access to over 80 databases covering all the disciplines taught at HEC as well as 10,000 different journals, magazines and academic reviews in digital format.
On site, students can consult and borrow course books, professional theses or works of general culture from over 50,000 documents in the library. A team of 13 qualified staff guide students in their documentary research and offer a wide selection of complementary services, such as training workshops for certain research tools and inter-library loans. The library provides enough seating for 250 people, with 20 network computers, a creative workshop room, a lab, a video conference room and three study rooms allocated to group work.
What does the Learning Center do for PhD students?
Provides easy access to the information you need

Helps you find useful information and obtain materials

Helps you use alert services on databases and content curation tools

Helps you with citation management tools

Gives advice on copyright issues

Ensure the dissemination of your thesis

Help you broadcast your research publications
HEC Paris provides a wide range of information technology and communication services to support you throughout your time on campus:
Unlimited Wi-Fi via eduroam (education roaming), available anywhere on campus
An account for your email and calendar, based upon your name and the hec.edu domain
MyHEC, a mobile app (available on Android and iOS) offering a comprehensive guide for all your activities and a dedicated intranet for students
Printing from your laptop or smartphone on multifunction color printers
A range of downloadable software including Office365
Two IT offices open 6 days a week to anyone seeking IT support or advice
Free access to IT equipment throughout the campus (public computers, film projectors, sound systems)
In addition to all this, you can access and manage the following information both on and off campus: course materials, student transcripts, teaching schedules, grades and diplomas, room reservations, housing contracts and your restaurant balance...
HEC Paris has excellent indoor and outdoor facilities on campus. These include:
a multipurpose gym (1600 m²), an indoor mountain climbing wall, a weight training room, a fitness/cardio-training room and facilities for aerobics, boxing and martial arts, ..
10,000 m² of outdoor fields including tennis courts, an athletics track, three grass rugby/football fields, one all-weather football field, and one street basketball/football court.
A permanent staff of four qualified professionals and 25 coaches manage the Sports Department. Each sports discipline has its own club, run by students in
collaboration with the Sports Department.

Each year many sporting events are organized on campus by the students: the international MBA Tournament meet, men and women fight club tournaments, national students rugby championships, the HEC tennis competition held at Monte Carlo Contry Club and the Jump HEC Horse Show.
PhD students are of course invited to join any of the activities.
Finding accommodation off campus is difficult when you do not already live in France. Therefore, we offer to all our PhD students the possibility to live on campus during their studies.
We especially encourage students to live on campus or close to campus at least during their first year of studies as the course load is intense. From the second year some PhD students move to nearby cities or move to Paris.
HEC Paris has recently negotiated housing opportunities with the national CROUS organization nearby the 'Cité Universitaire', close to easy transportation to the campus.
students living on campus
nationalities represented