Executive Education
#1 WORLDWIDE* for the second consecutive year
LIFELONG LEARNING FOR PROFESSIONALS AND COMPANIES
Is making an impact and helping society to change one of your goals?

At HEC Paris we firmly believe that educational programs transform both individuals and companies in a positive and lasting way.

Simply choose the program that meets your needs or those of your company from our comprehensive portfolio.
*2023 Financial Times rankings
#1 WORLDWIDE IN THE 2023 FINANCIAL TIMES RANKINGS for the second consecutive year
HEC Paris Executive Education is the first Business School ever to be ranked #1 worldwide for the second consecutive year at the global level in the Financial Times Rankings.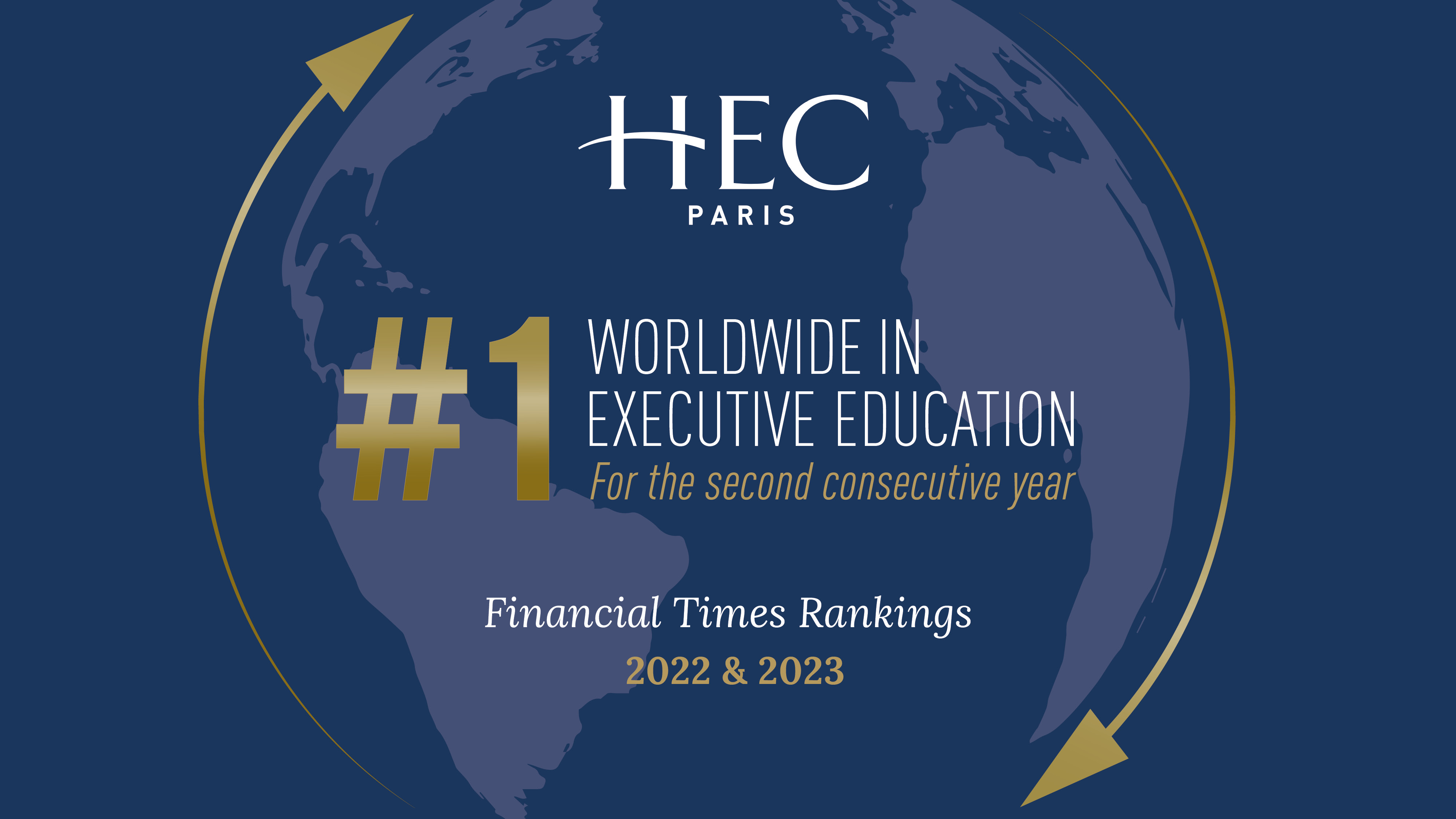 #1 Worldwide  in Executive Education
Seize every opportunity to achieve real transformation
We can provide you with the necessary know-how to reach your goals
Our internationally renowned expertise
In 2022 we are ranked #1 worldwide in the Executive Education, custom programs and open-enrollment categories.
The excellence of our faculty
The expertise of our faculty in all areas of management will enable you to learn in an innovative and impactful way.
The power of our global network
By joining our influential Alumni Association and the HEC Executive Community, you become part of the HEC Paris family and open up new opportunities.
Our agile approach to the health crisis
If you are intending to follow a program with HEC Paris in the near future, please be reassured. We are constantly updating how we deliver our programs in order to respect the latest government guidelines.
CHOOSE THE AREAS OF EXPERTISE YOU WANT TO DEVELOP
Sélectionnez les domaines d'expertise qui vous permettront d'aller de l'avant.
HEC Paris Executive Education Campuses
HEC Paris has different training facilities around the world for its lifelong learning programs. Each training location offers you an ideal environment to take a step back and fully focus on your program.
More than just a pretty place
Le Château on the HEC Paris campus is much more than a neoclassical castle... It's a perfect place to take a step back from oneself and get a pragmatic training.
Discover Le Château
In the world of entrepreneurship and business, the ability to deliver a captivating pitch is often considered an art form. Whether you are seeking funding, pitching a movie idea, or presenting a project...
In this interview, Remi tells us about his motivations for following the Executive MSc in Change Leadership, a collaboration between HEC Paris and Oxford Saïd Business School, and his experience of the...
In these unprecedented times, the need for customized learning programs that equip executives with the agility and resilience to tackle real-time business challenges, has never been more deeply felt.
Infinity Pass: Say YES to lifetime membership
Infinity Pass is the new lifetime subscription to HEC Alumni. From now on, a one-off payment will entitle HEC graduates to subscribe to the graduates association for life and benefit from all the exclusive services offered by HEC Alumni.
Learn more
Latest update: 07/06/2022