Quickly access our various projects and highlights of the year 2022:
2022 Activites presented by our President
2022 was a very dynamic and significant year for the Foundation in all respects. The current context and future challenges reinforce our conviction that HEC Paris has the potential to make a powerful and positive impact. I would like to thank you for the impact of your gifts each year on numerous projects and the future of HEC.Olivier Sevillia (MBA.90)President of the HEC Foundation
Alumni and friends of HEC, corporate sponsors and foundations, volunteers and members of our committees, on behalf of HEC Paris and the Foundation team, I would like to express our heartfelt thanks for your support in 2022. Your support has allowed us to cultivate numerous projects, from strengthening the actions of the Society & Organizations Institute and the Innovation & Entrepreneurship Center, to helping the School's faculty create and disseminate knowledge that impacts the world, and increasing our capacity to change lives. Thank you!Delphine Colson (H.94) Executive Director of the HEC Foundation
Impact tomorrow campaign update
have made at least one donation since the campaign launched in 2019 (figure at mid-April 2023)
& institutions have supported HEC Paris and the Foundation over the last 4 years (figure at mid-April 2023)
are based outside France (figure at mid-April 2023)
Today more than ever, where would our school be without your generosity and the support of the Foundation! As the years go by, our thirst for impact continues to grow. The donor community has been working for years with remarkable generosity to promote equal opportunities in France, but now HEC Paris is reaching beyond our borders to help exceptionally talented people who are capable of changing the world, but who need your support to do so. 2022 was also an exceptional year in terms of research, with a record number of articles published in a variety of high-impact fields such as education, blockchain, climate, inflation, algorithmic biases, and more. Once again, our researchers were able to count on your support to carry out their work and to share their discoveries with the world.Eloïc Peyrache Dean of HEC Paris
Each in their own way & mobilisation
Since the launch of the Impact tomorrow campaign, the number of collective initiatives led by HEC Paris alumni has multiplied. Alumni class groups, clubs ad hubs are all determined to contribute to the success of this campaign through targeted solidarity efforts, helping to improve the learning experience of students and supporting the creation of the teaching materials of the future. In the meantime, the mobilization of individual donors has gone from strength to strength and the bonds with HEC have never been tighter whether during the inauguration of classrooms with the name of our Major Donors or during meetings between students and donors.
A message from the President of HEC Alumni
At the HEC Alumni Association, we all benefit from the involvement of thousands of volunteers who instill lifen into the network on a daily basis. We can give back to HEC in many different ways. One way is by providing our school with the financial means it needs to pursue its ambitions for the future. Adrien Couret (H.07)President, HEC Alumni Association
2022 PROJECTS FINANCED BY THE HEC FOUNDATION
Thanks the generosity of our donors, the Foundation was able to fund €12.9 million in 2022 allocated to various programs.
See all the campaign projects
Your impact on knowledge Production

Allowing the School to invest in the excellence of its faculty has always been a priority for the Foundation. This ambition is expressed through the funding of research and teaching chairs, research projects supported by volunteers from the Research Committee, support for a leading Doctoral School, the Foundation Awards program and, more recently, the sharing of this knowledge with the general public. This new knowledge has a direct impact on teaching, from the Grande Ecole to the EMBA and Executive Education, and on HEC's ability to reach beyond the academic sphere and influence management and political practices.
Your impact on talent inclusion

We believe in the power of education as a driver of upward social mobility. That is why the School's Foundation has been working hard for equal opportunities for over fifteen years, in France and now worldwide.
One of HEC's strengths is its ability to attract and teach talents who stand out not just for their academic excellence but also for the diversity of their origins, backgrounds and profiles.
Your impact on HEC's contribution to the common good

The Society & Organizations (S&O) Institute is an interdisciplinary center at HEC that brings together sixty professors and researchers in three units: Purpose, Inclusive Economy and Climate & Earth. The Institute puts the challenges of the ecological and social transition at the heart of HEC's research and teaching.
Your impact on innovation and entrepreneurship



The School has continued to strengthen its service to the community and capacity to help young and diverse entrepreneurial talent fulfil their dreams and pave the way for the companies of tomorrow through its twenty teaching programs, including MSc X-HEC entrepreneurs, HEC Challenge+ and Launchpad, and thanks to the power of its entrepreneurial ecosystem.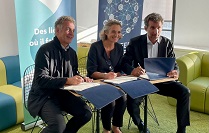 In October, we joined forces with Olivier Wigniolle (H.85), CEO of Icade, to launch the Corporate Initiative "ICADE for Better Urban Living". This partnership resulted from several years of close collaboration between Icade and the HEC Innovation & Entrepreneurship Center.
It has been particularly focused on creating the Icade Academy for "Innovating for Sustainable Urban Living" for first- and second-year students and on Icade's support for the Innovation for Good certificate for final year students.
In 2022, 5 sessions of HEC Stand Up, the HEC program that helps women achieve financial independence through entrepreneurship, were offered in France, the West Indies and Réunion thanks to sponsors including the Bruno Roux de Bézieux Foundation, the Michelin Foundation, BRED, Bank of America, Fondker Foundation, RATP Group Foundation and the generosity of individual donors such as Frédéric Pescatori (H.96) or René de Picciotto (H.64).
At the end of November, Joséphine (H.17) and Louis Bédier (H.17), members of the Bruno Roux de Bézieux Foundation – which is under the aegis of the HEC Foundation – met the participants of the HEC Stand Up session their foundation had funded. This provided the opportunity to practically assess the impact of their support and discover projects led by dynamic and motivated women entrepreneurs during a pitch session at the HEC Records venue in Paris.
Created 6 years ago, thanks to the generosity of the Cagni family, this exchange allows 3 NYU students to study at HEC for a semester and experience the School's unique and dynamic entrepreneurial ecosystem. Each student joins an a startup in the HEC Launchpad program and then spends one month with a startup from the incubator to fully experience French entrepreneurship.
This experience-based program lets students develop their entrepreneurial side and the skills they need to start their own business in a global market.
2 questions for Guillaume le Dieu de Ville, Head of the HEC Startup Launchpad Program, a true accelerator aimed at helping students launch their start-up in just 9 weeks!
What has the bequest from Philippe ForielDestezet accomplish in practical terms?

Each year, a trip to London is organized for the most promising student entrepreneurs to introduce them to city's technological ecosystem. They pitch their projects to a panel of executives from venture capital companies and business developers. For the first time this year, thanks to this bequest, all the participants were able to take part.
What is the purpose of this program?

If we are to reach a new level, we must raise awareness among future entrepreneurs of the issues of the future in order to inspire new types of projects. We want to collaborate with new partners both in France and abroad because intercultural exchange is crucial to grow the program. Finally, we want to capitalize on our fundamentals, creating bridges between entrepreneurship programs at HEC, while continuing to unite the community and invest to inspire an ever-increasing number of companies that will make an impact.
HEC PARIS : A STRONG LINK WITH CORPORATE PARTNERS
HEC Paris, via its Corporate & Public Partnerships and career Center teams maintains a tradition of cooperation with the business world, reflected in annual memberships, funding for teaching and research chairs, and support provided for collaboratively defined projects.
Learn more about corporate partners
A valuable support

These major transformational donations are used to fund large-scale projects, infrastructure or endowments that create a considerable impact on the development and influence of HEC Paris.
Our centers and institutes are founded on the three pillars of research, teaching, action and each one focuses on a major cross-disciplinary issue through multiple interactions with students and leading academic and economic stakeholders.
Institut Society & Organizations (S&O)



An interdisciplinary center made up of three units: Purpose, Inclusive Economy and Climate & Earth, whose members study and teach on the modern-day challenges facing organizations, thus contributing to a systemic understanding of the key issues of our time.
Innovation & Entrepreneurship Center
This center helps make HEC Paris a leading institution for innovation and entrepreneurship. It encourages innovators and entrepreneurs in their vocation through its 20 support programs.
 
Hi! PARIS

HEC Paris and Institut Polytechnique de Paris (IP Paris) created Hi! PARIS, an interdisciplinary and inter-institutional center combining education, research and innovation to address the main challenges linked to digital transformation and its impacts on companies and society (the logos are listed according to the date when the partnership was signed).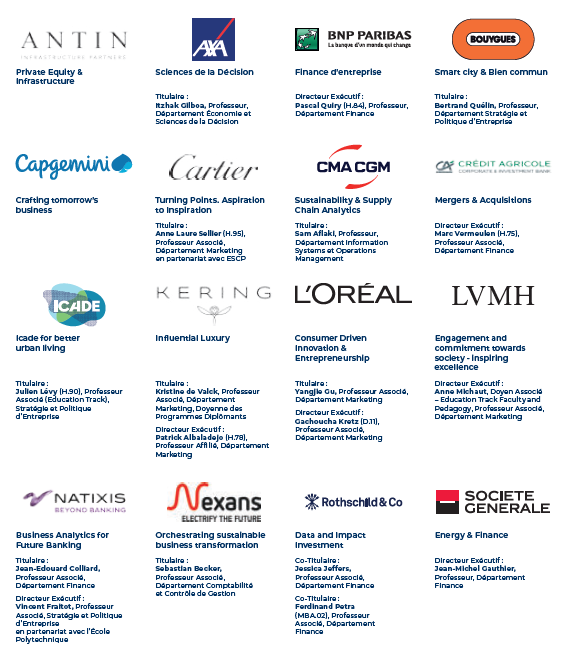 The worlds of teaching, research and business come together in our Corporate Initiatives and Research Chairs. For the School, these programs are a means to promote research and student training in previously identified fields.
They are designed to provide companies with resources to respond to their strategic challenges and boost their innovation capacity. Creating a Corporate Initiative or Research Chair in your name is a unique opportunity to stand out from your competitors on major strategic issues and to be a pioneer with a vision!
Projects realized thanks to our corporate partners
News of Sheltered Foundations & scholarships Funds
By creating a scholarship fund or a sheltered foundation under the aegis of HEC Foundation, patrons make an outstanding philanthropic gesture, with a high short-term impact on projects led by the Foundation and an invaluable long-term effect.
Learn more
Do you have a question? Do not hesitate to contact us!