About
International
International
With 135 nationalities represented on campus and a community of 70,000 Alumni around the world, internationalism rests at the heart of HEC Paris.
The HEC Paris Campus, one of the largest business school campuses in Europe, brings together a diverse student body, internationally renowned faculty and world-class teaching facilities. HEC Paris further achieves global impact thanks to its strong international academic network and targeted global initiatives.
A European Leader with global Reach
Diversity - International faculty & global student recruitment
HEC Paris champions diversity, with a world-class faculty of over 120 professors originating from more than 30 different countries and an international student body comprised of 135 nationalities.
Global networks and world-class academic partners
HEC Paris achieves global impact thanks to its strong international academic network and multilateral partnerships. These provide students with limitless opportunities to internationalize their learning experience.
Close relationships with companies globally
HEC has close relationships with companies across the globe, offering student placement and career opportunities worldwide as well as providing a whole range of executive education programs.
Joint international & double degrees
HEC Paris has developed Dual Degree Programs with prestigious universities around the world, helping students develop multiple skills and a truly global mind-set.
Branch campus & international offices
HEC Paris has supported its international ambition through the opening of six representative offices across Asia, Europe, the USA, Africa and a branch campus in Qatar for the delivery of on-site executive education programs.
Over 80 alumni chapters in the world
The HEC Paris Alumni network is among the largest in Europe with 70,000 Alumni based in about 140 countries and organized in over 80 alumni chapters around the world.
Our global partners
PIM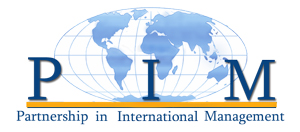 Partnership in International Management (PIM) has been co-created in 1973 by HEC Paris together with New York University (NYU) and London Business School (LBS). It is a consortium of leading business schools each representing the highest degree of excellence in the fields of business administration and management.
PIM facilitates the development of international cooperation among members, fostering the development of joint programs, students and faculty exchange, joint research and cooperation among faculty members and researchers.
CEMS

In 1988 HEC Paris together with ESADE Business School (Barcelona), Bocconi University (Milan) and University of Cologne founded the CEMS, a global alliance of academic and corporate institutions dedicated to educating and preparing future generations of international business leaders.
The joint CEMS Master's in International Management (MiM) is the main vehicle for achieving this goal.
Common to all activities is the aim of promoting global citizenship, with particular emphasis placed upon the following values:
The pursuit of excellence with high standards of performance and ethical conduct;
Understanding and drawing upon cultural diversity with respect and empathy;
Professional responsibility and accountability in relation to society as a whole.
GNAM
The Global Network for Advanced Management seeks to drive innovation and create value by connecting 32 leading global business schools, their resources, and their stakeholders.
GNAM leverages resources from business schools across continents, positioning future leaders to thrive in roles which require a broad understanding of the differences between markets and diverse stakeholders.
HEC Paris achieves global impact thanks to an international presence in 6 representative offices and a branch campus in Qatar.
Alumni Chapters
The HEC Paris Alumni network is a dynamic and fraternal network facilitating exchange and experience-sharing among its members.