Executive MBA
Choose an Intake
Choose an Intake
We have two options and five available EMBA tracks to suit your schedule and preferred learning pace. Each track amounts to approximately 45 days out of the office, and will be completed in 18 months, depending on the specialization you choose.
Choose a format
The HEC Paris Executive MBA offers 3 different study formats and 5 flexible, part-time tracks to fit your personal and professional lifestyle. Programs are held in four locations: Paris, Jouy-en-Josas (17 kilometers outside of Paris), Doha, Qatar, or Riyadh, Saudi Arabia.
For additional information about tracks and their formats, contact us.
Doha: February
---
At all-new premises at Msheireb Downtown in the heart of Doha, this track meets the specific needs of executives and professionals with high potential and already holding senior management positions in the Middle East. The 18-month program ensures that you gain comprehensive, innovative, and applicable knowledge and skills. You will fine-tune your analytical and strategic decision-making while expanding your industry network.
Paris: March
---
With premises in the upper reaches of an art deco building in the Latin Quarter, the March track offers participants the opportunity to pursue their Executive MBA from the heart of the historic Parisian center of learning. Sweeping views of some of the world's most beloved landmarks— from the Eiffel Tower to Notre Dame to the Pantheon— imbue this track with a unique Parisian air. This 18-month program is held on Fridays and Saturdays twice a month.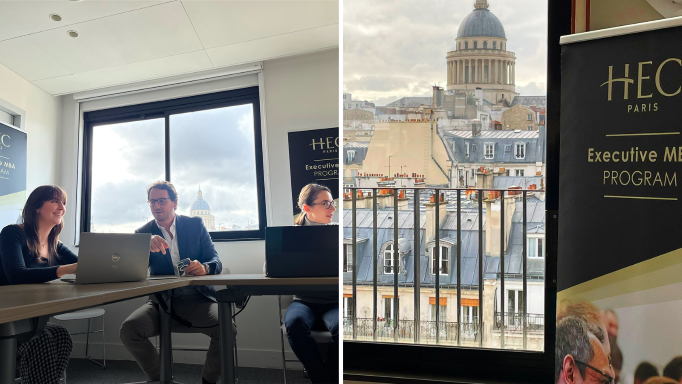 Jouy-en-Josas: January, September, November
---
The January, September, and November tracks are held at Jouy-en-Josas. Some 15km from downtown Paris, the sprawling HEC Paris campus and its verdant confines appeal to participants who wish to devote extended chunks of time to the academic experience. Each of the three tracks held here are of the modular format, with 7 modules (including 2 specialization modules) each ranging between 5-10 days, over 18 months.