The Fashion Industry Latches Onto the Technological Revolution
If the challenges remain great, the opportunities offered by Big Data, Artificial Intelligence and connected production open up "fascinating avenues towards the creation of global soft-power made-in-France," according to Gachoucha Kretz, affiliate professor in the Marketing Department at HEC Paris. The debate she hosted at a breakfast organized by HEC and Viavoice brought together fashion specialists to answer one key question: how can the fashion industry generate new business models by adapting to the digital era?
The figures are undeniable: the French fashion industry continues prospering. On its own, it represents 150 billion euros of direct turnover and generates one million jobs in France. "That's the equivalent of what French aeronautics creates, " says Gachoucha Kretz. Given this context, the four leading industry figures gathered at Café La Rotonde in Paris on December 13 insist that digital transformation represents an opportunity for development that must be seized.
"Of course ," admits Audrey Depraeter, Managing Director and Head of Fashion and Luxury at Accenture, "this raises conceptual and philosophical questions because our environment is undergoing a profound transformation. The digital age is changing customers and we are considering ways in which our company can re-organize itself to meet consumers' new expectations. And there is also the question of the place of creativity, production, rarity and standardization. "
Indeed, for the luxury market alone, online shopping could be worth 20% of all sales by 2025. Thus, the digital revolution is shaking up the fashion industry at all stages of the value chain. According to the president of The Other Store, David Sobel, in e-commerce "it's better to focus on distribution, to start with the customer and to then build the chain, using Instagram, influencers and Big Data."  He agrees that this is a reversal of the traditional value chain.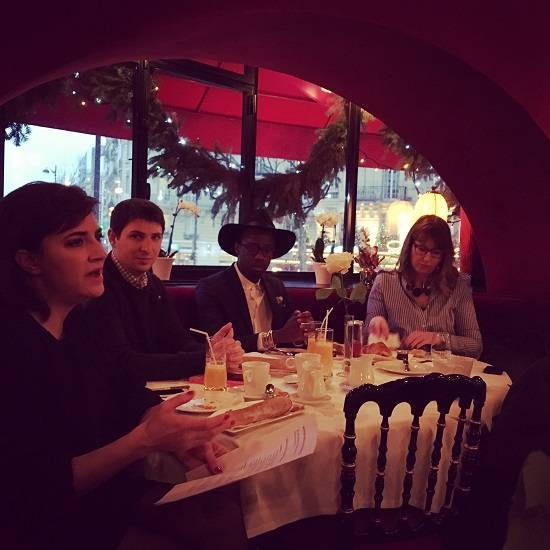 The following digital community
Steves Hounkponou, young founder of BLACKHATS Paris, embodies this new dynamic. His leather goods brand uses a clever blend of Beninese wax and French leather, a combination that reflects his multiple roots. This is what Professor Kretz refers to as "a hybrid of styles " which characterizes many new fashion companies.
"We have existed for three years and are still working on our business model ," admits Franco-Beninese modestly. "But our community is following us: we distribute here, but also in Japan, Spain, China and Mexico. It's not been simple; there is competition and codes to learn, especially for someone who is self-taught like me. Our entire strategy is based on digital technologies, AI, and our community of online influencers. These joint factors helps advance production to meet consumers' new expectations ."
According to Gachoucha Kretz, these expectations are high in terms of practicality, value for money, quality and customization. To do this, consumers rely more and more on social networks: a large-scale study shows, for example, that 45% of Instagrammers in Europe follow a fashionista or a fashion brand to inspire their personal style of dressing. "Thanks to this debate we learned the importance of service and 'customer-centricity' which creates personal stories like Steves', or the universes created by brands like Sézane, le Slip Français and The Blonde Salad. Customers have fun interacting with these success stories; they become attached to these brands. "
Growing pressure for traditional brands
Gachoucha Kretz, author of publications on the impact of blogs and social networks on brand management, notes the scale of the challenge that this demanding and constraining industry poses: "New players in the fashion industry need to be very imaginative to overcome the capitalistic constraints that has been common in this industry," she explains. "They must use the community they built online to grow their reputation, regardless of any distribution network, any capital debt. " Some examples of new players that have seen dazzling success are Farfetch, Moda Operandi and SMCP. Farfetch, for example, acts like a curation site allowing sales to be generated by e-commerce. The site rejects the traditional business model of a distributor by offering a selection of products from multi-brand stores and designers. By doing so, it bypasses issues related to purchasing and inventory management and makes each store a "logistics hub". Moda Operandi, on the other hand, offers a new way of generating value by cashing half the sales price of fashion pieces as pre-bookings. Thus, with the payment of a deposit, consumers are guaranteed to receive their favorite designers' clothes before their official date of sale in stores. "But the greatest success story of the decade ," insists David Sobel, "is undeniably Asos.com, which sells more than 850 online brands and is worth one billion euros in annual revenue ."
The rise of these young companies is forcing traditional players to accelerate their digital transformations. However, this does not worry Accenture's Audrey Depraeter: "Fashion is reinventing itself, I do not think traditional luxury brands will disappear. It is an extremely inclusive sector that is open to diversity, and there are so many new businesses emphasizing this openness. I am optimistic about the future. "
What is HEC Paris' approach to the business of fashion and luxury?
The arrival of these new players has also contributed to highlighting the social and societal responsibility of the fashion industry. "We have seen a rise in collective consciousness around the abuse committed by the fashion world, " says Gachoucha Kretz before listing the most egregious examples: "Pollution, child labor, risks of unemployment, wastage, the race to hyper-consumerism. We discuss these subjects a lot at HEC, even if it might not appear to be our primary role. Nevertheless, these debates accompany an industry that is undergoing a full evolution. "
Supporting HEC students in raising awareness of these technological developments is at the heart of all courses offered at the business school. "We regularly update our courses based on what is expected by the current market ," explains the professor. "We anticipate what is expected by recruiters in order to keep up with the digital wave, Big Data, creativity, financial analysis and modeling. We are also very aware of the social and ethical issues related to business. " As a result, graduates master the societal and social challenges of the industry and have no trouble being placed in the best fashion and luxury companies.
Demand for these premium high-quality courses continues to grow, particularly in Asia and North America. How does HEC approach this diversification of the student population? "In class, we avoid any form of imperialism," insists Gachoucha Kretz. "There are different types of luxury globally and in Europe we have a very particular luxury industry that dates back to the royal courts and the Middle Ages. We do not oppose the American view of luxury - very 'lifestyle' - nor the Asian approach (which looks a lot like ours, with different tastes and a different story). "
Gachoucha Kretz expands: "In Europe, we have structured fashion at national and state level. France has created a governance of luxury and fashion, with federations, lobbies, the Ministries for Industry and for Culture, all of which support French fashion and luxury. Our educational system brings together world-renowned fashion schools. These galvanizing factors have allowed us to gain worldwide notoriety, a form of soft-power that will continue to shine in this digital age. I think that the future of our students will be ultra-creative against machines and algorhythms that are more and more capable of doing what we do. The question remains: how do we use these machines to give the best of fashion without losing our specificities? I'm not sure, but our students certainly have an idea."
If the digital revolution is cranking up, HEC Paris certainly seems to be moving up a gear...