HEC Team's winning pitch at Société Générale headquarters impresses judges.
HEC Students give a winning pitch at the M&A Corporate Finance Competition 2018.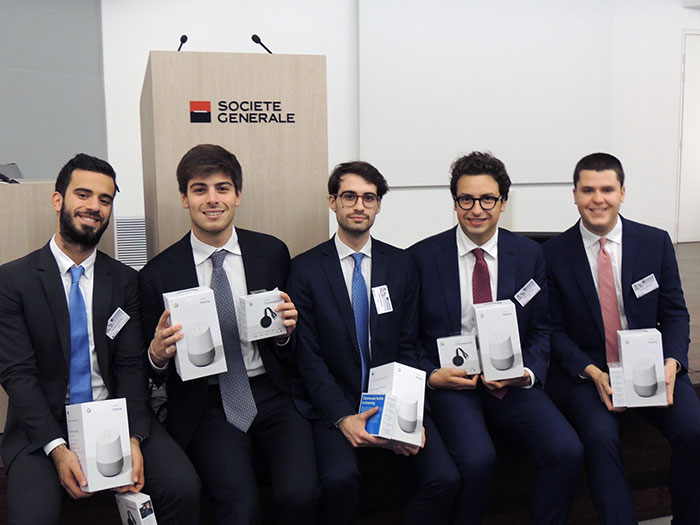 HEC Paris was delighted to see its students take home the trophy at the M&A Corporate Finance Competition 2018.
This was the first inter-school Gaming competition by Société Générale dedicated to corporate finance. The competition saw students: Tommaso Pagotto (Master in Management), Ugo Apuzzo (Master in Management), Leonardo Innocenti (MSc International Finance), Filippo Stercoli (Master in Management) and Alessandro Rossi (Master in Management) present a winning pitch to a board of global heads and managing directors at the company. Julien Benhamou, the director of corporate finance, expressed his joy in welcoming student teams to the Société Générale headquarters in Paris "Congratulations to the HEC Paris, Université Paris Dauphine, EDHEC Business School, ESCP Europe and ESSEC students who worked hard on our home-made M&A case and pitched their proposals in front of 6 Société Générale Managing Directors." 
Consisting of three rounds, HEC Paris came up against other prestigious business schools. Our student team took on various cases, presenting their insights and valuations at each round to a panel of judges. Cases required students to look into and analyse the potential acquisition of Deezer by Spotify. Coinciding with examinations, our student team worked hard on their case, examining the relevant target's value, synergies generated, competitive advantage and market analysis. In total 35 teams were considered in the second round, and only 5 were chosen. Monday 12th November was the final round at the Société Générale headquarters, for which, HEC's winning team presented a unique pitch to the board. HEC Alumni, who work at the company and who were on the judging panel, congratulated the teams on their performance and delivery, highlighting the edge HEC had on other teams "consistently selecting and forming the best minds in business". 
Learn more about the program