Innovation & Entrepreneurship Center
Join the world's largest gathering of innovators and entrepreneurs
HEC Paris is taking part in Global Entrepreneurship Week, the movement that celebrates entrepreneurs and the entrepreneurial spirit, from November 14th to November 20! For its fifteenth edition, the event gathers and highlights thousands of events and manifestations around the world, during one week.
Global Entrepreneurship Week (GEW) is an annual celebration of entrepreneurship that takes place in more than 180 countries. Organized by Global Entrepreneurship Network (GEN) partners from around the world, GEW provides an opportunity for businesses, nonprofits, entrepreneurs and ecosystem leaders to host events focused on key entrepreneurship themes: Education, Inclusion, Ecosystems, Governance. Over 40,000 events will take place over the course of a week.
From November 14 to November 20, the HEC Paris - Innovation & Entrepreneurship Center is organizing and coordinating a series of activities and events to promote entrepreneurship and help create synergies between future creators.
On the program: a conference in collaboration with the Entrepreneurship & Innovation Institute of Singapore Management School (SMU) and the HEC MBA Entrepreneurship Club; a workshop with the Start'HEC student club; a round table on female entrepreneurship ; a discovery of the entrepreneurial ecosystem in West Africa; a webinar on the importance of first-time hires by Capgemini and the Incubateur HEC Paris…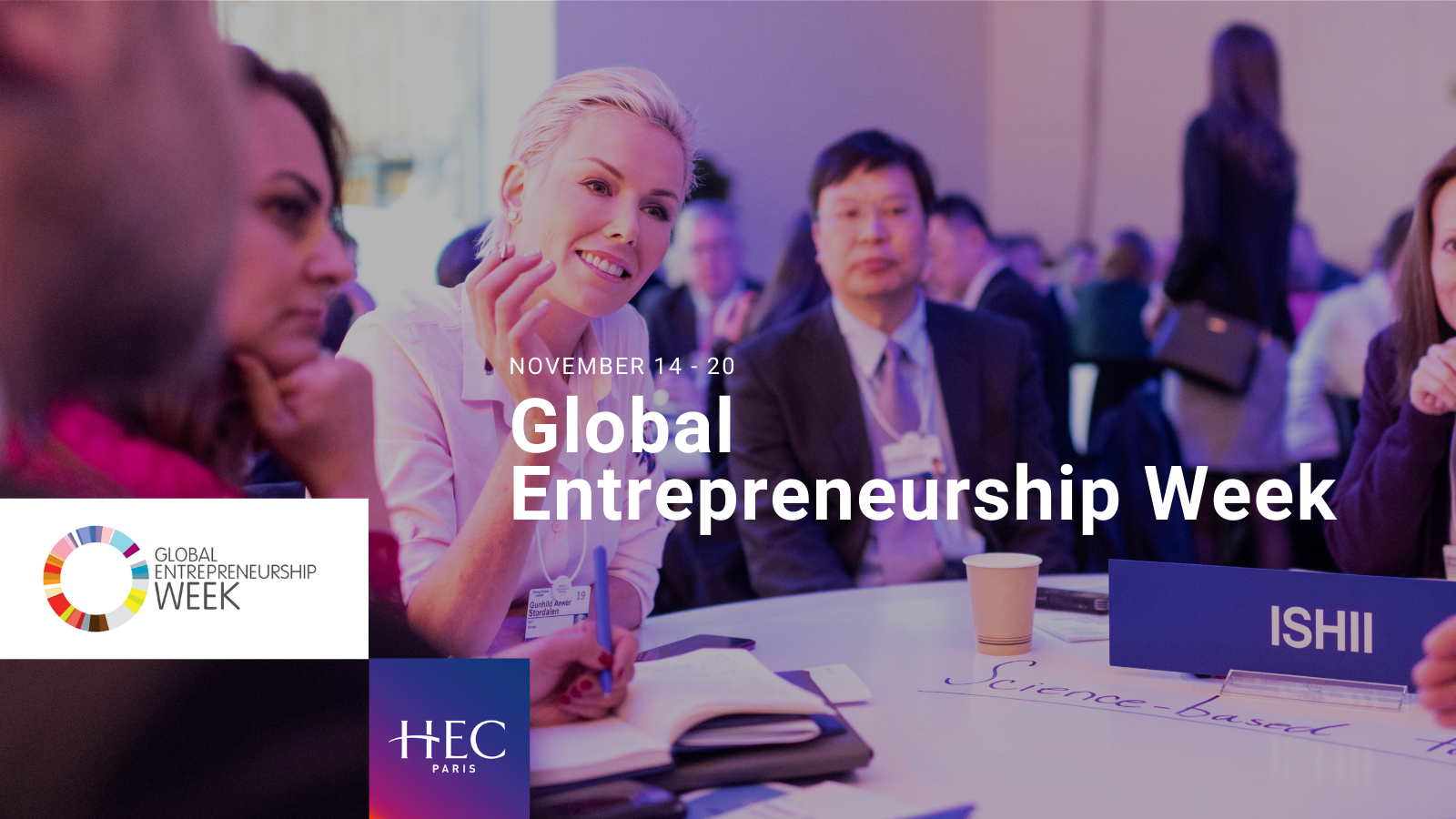 Program of the week, follow us on social networks! #GEW2022 #HECGEW2022
During the entire Global Entrepreneurship Week, HEC Paris will share content and resources (entrepreneur feedback, alumni portraits, live events...) dedicated to entrepreneurs who want to develop their business. To make sure you don't miss anything about GEW at HEC Paris, follow the hashtags #GEW2022 and #HECGEW2022 on Twitter, LinkedIn and Facebook!
Monday, November 14, 6.30pm
Go Global! Leverage on Singapore's Startup Ecosystem & Grow Exponentially in Southeast Asia
Joint Conference, HEC Campus, Jouy-en-Josas - in English
Southeast Asia has witnessed massive growth with mergers & acquisitions (M&A), venture capital (VC), private equity (PE), and initial public offerings (IPOs) topping USD$280 billion in 2021, a 230% increase from a year ago. Discover the sectors where the biggest market opportunities lie, and how student founders and early stage startups can gain access to capital to expand their footprint in Southeast Asia.
An event co-organized with the Institute of innovation & entrepreneurship of SMU, the Innovation & Entrepreneurship Center of HEC Paris, moderated by the MBA Entrepreneurship Club.
Tuesday, November 15, 7pm
Talk - Build your network to develop your business between Africa and France
LinkedIn Live - in French
Attend a lively discussion on the journey of women entrepreneurs with various profiles and the challenges they faced in developing their business between Africa and France. Ask your questions to the entrepreneurs! 
Wednesday, November 16, 5.30pm -10.30pm
Round table & Visit - "CSR: necessities and limits" - in French
Les Relais, 61 rue Victor Hugo, 93500 Pantin
Why talk again about a concept that appeared in the 50's and that has been widely abused by organizations' practices described as social washing or green washing? 
Thursday, November 17, 10am
Workshop - DOERS⋅TO⋅DOERS - Your recruits' first days can change EVERYTHING - in French
Participate in an online workshop to learn how to properly manage the onboarding and recruitment of new employees, improve the company culture and motivate its teams.
Thursday, November 17, 5pm
Women Entrepreneurs' Talk - in French
Join a lively discussion on the journey of women entrepreneurs and the challenges they face in building their businesses, informed by the perspectives of an investor and a banker.
An event organized in collaboration with Bank of America, HEC Stand Up program and Forces Femme association
Thursday, November 17, 5pm to 7pm
Talk with two successful HEC Paris alumni 
- An event organized by two student clubs: Start in Saclay and Start'HEC -
Bellon amphitheatre (Bat. S first floor), HEC Paris Campus, 1 rue de la Libération, 78350 Jouy-en-Josas
For those who are passionate about entrepreneurship, marketing and e-commerce, we will be pleased to welcome experts in personal branding, online advertising and e-commerce brand growth, Théo Lion and Paul Maher.
Théo and Paul were students at HEC until a year ago. The agency they created during their studies, Coudac, is now valued at more than 10M€. Theo is notably known for his personal branding, which allowed him to find his first clients and to be followed by more than 40k subscribers on LinkedIn, YouTube and others.
On the program, how and why they created their company during their studies, how to use personal branding to help their company, how to go from freelance to creating an agency, what are the main lessons they learned in management and customer relations, how to differentiate themselves with a very young agency in a saturated market...?
The event will be held in French only.
Learn more about HEC Paris - Innovation & Entrepreneurship Center