Society & Organizations Institute
Responsible Research Academic summit 2021 - RRS 2021
To share experiences and explore new ideas to deepen and broaden the transformation toward responsible research in business schools by deans, editors, association leaders, senior and young scholars, join the Responsible Research Academic Summit 2021 on April 26, 2021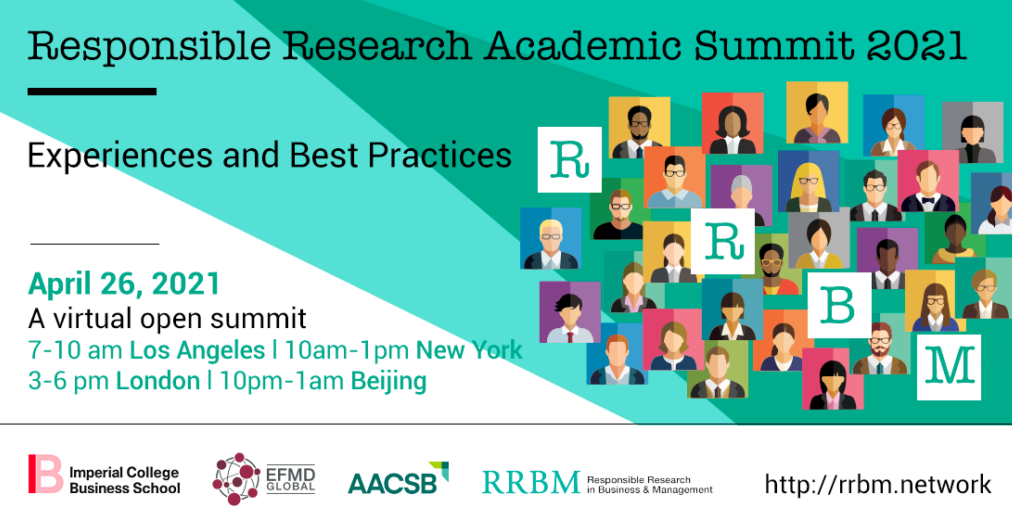 Specific Summit Goals
To share significant actions by deans, scholarly association leaders, and scholars in various disciplines in pursuing, encouraging, and supporting research to enable better business and management practices for a better world.

To discuss and share experiences or best practices in responsible research observed or experienced by summit participants.
To choose one actionable idea by participants in their role as leaders in schools or associations, and as senior or aspiring young scholars to support, encourage, facilitate, or engage in responsible research.
 
Three distinguished panels
Panel 1. How deans encourage faculty research with societal impact
Jonathan Levin, Philip H. Knight Professor and Dean, Stanford Graduate School of Business, USA
Ansgar Richter, Professor of Strategy and Dean, Rotterdam School of Management, The Netherlands
Zhixue Zhang, Incoming President, IACMR; Professor of Management, Peking University, China
 
Panel 2. How association leaders advance responsible research
Kay Lemon, Chair, American Marketing Association Board, and Accenture Professor of Marketing, Boston College, USA
Amy Hillman, Program Chair and incoming president-elect, Academy of Management; Rusty Lyon Chair of Strategy, Arizona State University, USA
Africa Ariño, President, Strategic Management Society; Professor of Strategy, IESE Business School, Spain
 
Panel 3. How scholars pursue societally meaningful research
Jeff Hales, Professor of Accounting, University of Texas, Austin, USA
Andrew Karolyi, Harold Bierman, Jr. Distinguished Professor of Finance, Cornell SC Johnson College of Business, USA
Ivona Hideg, Associate Professor and Ann Brown Chair in Organization Studies, York University, Canada
 
There will be two breakout sessions with specific discussion questions and summary of key ideas on an electronic board for sharing after the Summit. Rodolphe Durand, HEC Professor of Strategy, Founder and Academic Director of the Society & Organizations Institute of HEC Paris, will be the facilitator of group sessions.
In this action-filled three-hour summit, each participant will have a list of actionable ideas as "take-aways" and an action plan to implement at least one idea to advance or pursue responsible research.
Look at the full tentative agenda