Society & Organizations Institute
Webinar: Why Socially Responsible Firms can thrive
HEC UK Green Club is delighted to invite you to a Webinar Why Socially Responsible Firms can thrive with Rodolphe Durand, HEC professor and founder of the Society and Organizations Institute and Marie-Anne Aymerich, a former Unilever Oral Care EVP.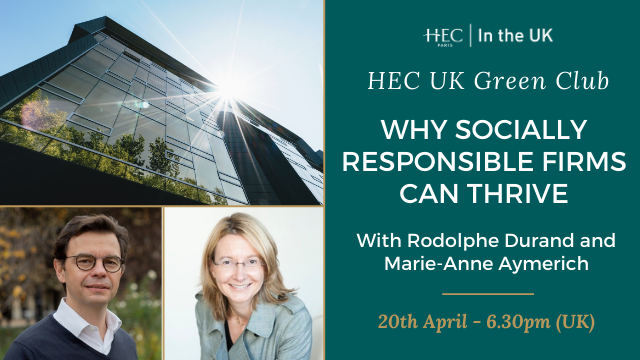 Tuesday 20th April 2021
6.30pm London Time/ 7.30pm Paris Time 
While hedge funds have frequently targeted companies with strong socially responsible agendas, companies with strong CSR and financial results can counteract them and still deliver value for shareholders, consumers and the planet. 
In this 1h interactive webinar, Rodolphe Durand will share an extensive research looking at the impact of activists funds on companies CSR policies whilst Marie-Anne Aymerich will share her personal experience at Unilever during Kraft Heinz' attempted take over and how it reinforced her views that socially responsible firms can be profitable and have strong CSR commitments.
About Rodolphe Durand:
Rodolphe Durand is the Joly Family Professor of Purposeful Leadership at HEC-Paris and the founder and academic director of the Society and Organizations Institute (S&O) which he launched in 2009.
Rodolphe's primary research interests concern the normative and cognitive dimensions of firms' performance, and especially the consequences for firms of coping with the current major environmental and social challenges.
For his work on these questions that integrate research streams from sociology, philosophy, and management, Rodolphe received the American Sociological Association's R. Scott Award in 2005, the European Academy of Management/Imagination Lab Award for Innovative Scholarship in 2010, was inducted Fellow of the Strategic Management Society in 2014, and granted a Doctor Honoris Causa in 2019 from UC Louvain.
As an advisor, senior advisor, and non-executive board member, he works with multiple organizations on assessing competitive advantage, and developing and implementing new impact strategies.
About Marie-Anne Aymerich:
Marie-Anne Aymerich has held various positions, both in marketing and general management in the FMCG and luxury industries in several countries. 
Starting her career at Unilever, she worked in the personal care categories in France, Spain and the US and launched the acclaimed and purposeful 'For all beauty' campaign for Dove. She joined LVMH in 2009 to become brand general manager of Dior perfumes and Cosmetics worldwide. Back to Unilever in 2012, she led the Oral Care category at a global level. 
She is now a non executive Board member of the Pierre Fabre group and a Vice-President of Imagine for Margo - Children with Cancer, a charity she helped founded in 2011.
 ------------------
Please contact HEC UK Alumni Relations Manager christina.keo@hecalumni.fr for feedback or help to register to events.