The 2015 HEC Paris International Finance Forum
HEC Paris campus hosted 30 financial institutions for the international finance career fair. A discussion with 2 alumni from Nomura & J.P Morgan took place
The Finance Forum is a unique opportunity for HEC Paris students to gather information about opportunities for jobs, internships and graduate programs and make personal contact with the companies' representatives. 
Two former Grande Ecole students, Thomas Lafaysse and Ivan Sytine were in attendance, representing Nomura and J.P. Morgan, respectively at the forum.
We had a chat with them where they reflected on the extensive knowledge they gained during their studies at HEC Paris. They also spoke with us about the strong links HEC Paris has with these global financial institutions.
Ivan Sytine
Equity Derivatives at J.P.Morgan (London)
MiM 2012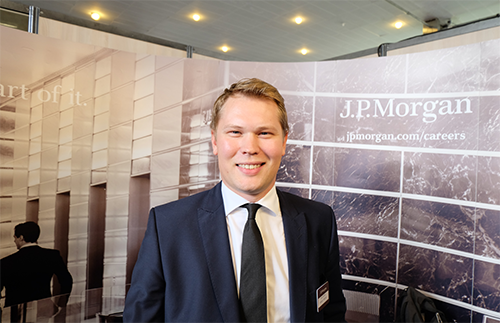 The academic background that HEC provided me with is invaluable.
Career path
My name is Ivan, I've been working at J.P. Morgan for almost 3 years now in equity derivatives and sales. My job is to advise corporate clients based in France and Francophone countries to assist them in their investment decisions, using equity derivatives products. The range of clients we work with is relatively broad; we speak largely to the key asset managers and pension funds in France, Belgium and Luxembourg. But we also work with private banks and hedge funds which makes the job very interesting.
Studies at HEC
I specialized in Finance during my last year, straight after which I joined J.P. Morgan as a summer intern. From an academic point of view, all the skills I learned here, from a purely technical perspective in finance, were extremely useful during interviews and also when I started work because it allowed get to grips with things very quickly and enabled rapid job progression.
The academic background that HEC provided me with is invaluable. HEC is a massive networking community and today's event is a perfect example of that. But even in the less formal environment, you always have the opportunity to discuss with alumni and, from my personal experience, all the alumni I communicated with were incredibly helpful in terms of giving advice on their career paths and recommending how I should achieve my career goals. I think this working community is a huge asset, even after graduating.
Work with HEC alumni/ prospective students
My managing director studied at HEC and graduated in 1992. He has played a significant role in helping me to pursue this division of this particular bank. Today, we have seen interest from very diverse profiles with achievements in many different fields, not just finance. Obviously the financial markets require some very specific, technical skills, however, we are not looking for students all from the same background, which we believe adds an interesting dynamic to our business.
Alumni in London
There is a chapter of the alumni association in London which I am part of. There are also more informal ways of interacting with other HEC alumni. For example, throughout my time at HEC I was very involved with the football club and there is a group of HEC alumni who still play in the corporate championship, including both recent graduates and those who graduated years ago.
Advice for students
I have HEC to thank for my self-development. Obviously students must have a strong academic background, but employers look for so much more. One key piece of advice for applying to J.P. Morgan is to be curious and flexible because you will work in a very fast-paced environment in which you are expected to handle whatever comes your way. Try to learn to think outside the box which will give you a certain flexibility to thrive in such an environment.   
Thomas Lafaysse
Investment Banking at Nomura (Paris)
MiM 2014
HEC students have the privilege of being in an environment where they are being prepared to enter the business world.
Career path
I've been working in Nomura's Paris office since graduating from the MiM programme in 2014. Looking back over the last year, I am extremely happy with my decision to work at Nomura as an analyst in the Investment Banking Division. My role concentrates mainly on mergers and acquisitions for both local and international clients of all natures.
Previous professional experience
I effectively discovered M&A throughout my internships at HEC Paris. My first internship was at Ernst and Young as an auditor. After that, I had another internship at Mediobanca working in M&A. These firms really motivated me to pursue a career in this industry. Therefore, in my final year at HEC I majored in accounting and corporate finance. This major provided me with a lot of useful tools, especially with regards to finding a job. From a technical point of view, I had to be very prepared with regards to evaluation skills, business approaches, strategies and so on. First and foremost, I had to fully comprehend the field of M&A. I really valued HEC's approach and all the career related activities organized by the school on campus. Forums and events organized with specific companies really prepared me for the interview process, helped me better understand the industry and decide whether this type of work was well suited to me in terms of enjoyment and self-development.
Working with HEC Alumni/students
One year ago, my department had 2 interns from HEC. Nomura sees HEC as strong source of recruitment with many employees at the London and Paris offices coming from HEC. Therefore, we aim to target them for internships and graduate positions. We are looking for HEC students for internships because we believe the teaching here at HEC is unrivalled in a technical sense. Furthermore, the school also has a depth of knowledge in the Finance industry. HEC students have the privilege of being in an environment where they are being prepared to enter the world of work. I believe that this is exactly why HEC students are highly sought after for internships and graduate positions. A lot of students came to the stand to discuss Nomura and investment banking and many people seemed very interested in the business. It's great to see that investment banking has such a good reputation amongst students and that it continues to attract many gifted individuals. 
See the list of participating companies:
ACCURACY
BARCLAYS
BLACKROCK
BLACKSTONE
BLOOMBERG
BNP PARIBAS
BPI FRANCE
CITI
CREDIT AGRICOLE GROUP
CREDIT SUISSE
DEUTSCHE BANK
EXANE
EY
GOLDMAN SACHS
IKB DEUTSCHE INDUSTRIEBANK
J.P. MORGAN
LAZARD
M & G INVESTMENTS
MERRILL LYNCH
MESSIER MARIS & ASSOCIES
MORGAN STANLEY
NATIXIS
NATIXIS PARTNERS
NOMURA
ODDO & Cie
PWC
ROTHSCHILD
SANTANDER
SOCIETE GENERALE
UBS


Learn more about the program
MSc International Finance