2022 HEC Foundation - Best Doctoral Dissertation Award goes to Claire Linares
Congratulations to Dr Claire Linares who received on Monday, March 27, 2023, the prestigious HEC Foundation Doctoral Dissertation Award 2022 for her research on consumer psychology and face perception.
Claire Linares obtained her Ph.D in Marketing at HEC Paris in 2022 and is today Assistant Professor at IESE Business School. She also holds a Master in Management from HEC Paris (Grande Ecole 2007). Her main focus of research is at the intersection of consumer psychology and face perception. For instance, she investigates the information that people can read in consumers' faces and the facial stereotypes that they hold. More broadly, she is interested in how consumers navigate today's changing world, for instance how they respond to technology or to distrust in institutions. Prior to joining academia, Claire Linares worked for 10 years in brand management at international cosmetics groups.
"Claire's research on the existence and consequences of facial stereotypes in marketing and management is very interesting. In two of her three papers dedicated to the topic, she's applied techniques of face perception research to consumer and management research. This is quite promising. In particular given the recent progress in facial detection technologies and access to facial data online".
Well-deserved Claire! The Jury.*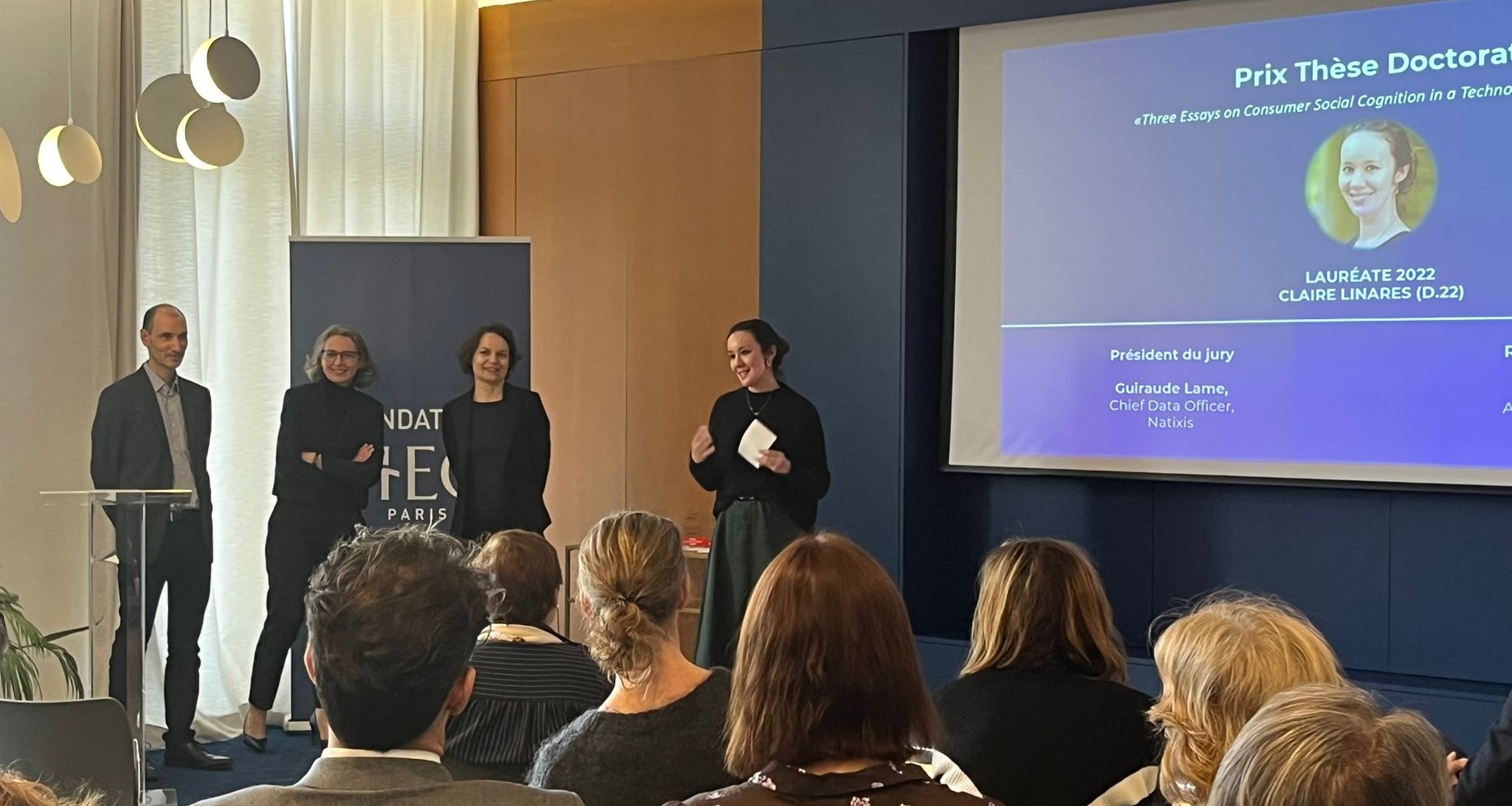 Subject: Three Essays on Consumer Social Cognition in a Technology-Rich World.
Advisor: Anne-Laure Sellier, Cartier-Chaired Professor of Creativity and Marketing at HEC Paris
Read the interview of Dr Claire Linares and her advisor Anne-Laure Sellier' s research on "The Smartphone: Not the Behemoth Feared by Business and Researchers" on Knowlegde@HEC.
Read Claire's story on the PhD web-site. 
* The Jury: Guiraude Lame, Chief Data Officer, Natixis - Delphine Colson (H.94), Executive Director, HEC Foundation - Johan Hombert, Associate Dean PhD, HEC Paris  -  Jean Deichtmann, Chief Revenue Officer, Graitec - André Benoît De Jaègere, Consultant, Capgemini Consulting - Bertrand Schwab (H.87), Private Investor/Managing Director, Loki Consulting Ltd - Jean Serrière, Director RSE and sociétariat, BredBanque Populaire.