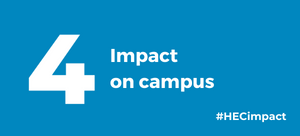 Offering our students the best possible environment for learning, entrepreneurship and understanding the world is a key challenge for our campus. The renovation will revive the culture of boldness that prevailed when the campus was first built, and will establish it as a leading European campus by 2030.
2024 projects for the campus

Creating a new student center on campus: The Agora
The construction of Agora represents the first phase of the campus renovation project.
A student center in the heart of campus, where students enrolled in the MBA, Executive Education and Grande Ecole programs can meet up, where professors and students can interact outside of the classroom. The center will provide students with a place to work, meet up, discuss or enjoy a meal, making for a more seamless campus experience.
To make the distances between key campus locations shorter, Agora will fulfill expectations for sociability, diversity and services for all students. The site will feature cutting-edge technology. It will serve as both the heart of campus and a laboratory for innovation and will be directly linked to modern, modular, collaborative learning spaces. 
Reinventing training for leaders of the 21st century
In light of technological advances and the social and environmental issues that have an impact on all business activities, decompartmentalization of higher learning institutions and connections between academic disciplines are drivers for innovation and competitiveness for HEC Paris.

The strategic alliances we have formed with leading technological institutions – such as Ecole Polytechnique and the founding schools of Institut Polytechnique de Paris – help prepare the leaders of tomorrow.

Our aim is to be able to continue to provide these students, trained at a multidisciplinary institution of excellence, with the wide range of knowledge required to generate the inclusive growth of tomorrow, which must be open to the world in all its technological complexity and diversity. We will go even further, by developing tailor-made training programs in addition to our current dual degree and other joint programs, and also facilities such as a Data Factory and a dedicated innovation fund.
Combining experience and digital learning on a digital campus
We have ranked among the pioneers in the world of digital learning by creating MOOCs,certificate and degree programs completed 100% online.
The school will build on this success in order to stay a step ahead, and plans to develop online learning offerings in partnership with Institut Polytechnique de Paris and Sciences Po. The digital experience must be combined with the campus experience. In today's digital age, university campuses fulfill a new role for leading global institutions: they must provide connected meeting spaces, placed at the center of the learning experience and academic study. Such spaces allow students to gain valuable insight through interacting with others from diverse backgrounds while developing meaningful relationships, aspects which are crucial to our students' success.

The renovation of digital facilities on campus will support changes in teaching methods. Students' lives will also be facilitated during their time at HEC Paris, contributing to a stronger sense of community.
This spring, the HEC Foundation launched HEC Village with the support of the School, a project focused on quality of student life and part of the campus renovation and modernization project. The first milestone of this multiyear project has been achieved: €500,000 of donations and