Impact on knowledge production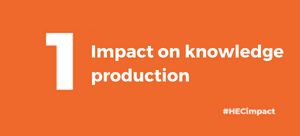 Academic excellence is based on the quality of the faculty. In order to become one of the most influential management schools in the world, we must invest heavily in developing a faculty of excellence. Discover the latest in cutting-edge research conducted by HEC Paris faculty with Knowledge@HEC
2024 projects for impact on knowledge production

Create 15 new research chairs
In keeping with Anglo-Saxon models, our goal is to develop chairs that combine high-level research programs, knowledge dissemination and teaching in the school's areas of expertise.
These chairs are essential to expanding our international reach and allowing us to attract and retain research professors, whose work changes the world and whose teaching transforms students.
The PhD program plays a key role in knowledge production. Students carry out their first research projects in collaboration with HEC professors and take their first steps in teaching excellence.
After completing their PhD, students take positions at prestigious universities around the world and contribute to enhancing the reputation of HEC and France on the global stage. For the future, it is vital to expand the scholarship program to continue recruiting top PhD students from around the world.
Create 6 "Corporate Initiatives"
We plan to continue our efforts to further teaching based on key topics for corporate strategies, develop innovative training programs, and give rise to new ideas by organizing teaching activity within a unique ecosystem bringing together companies and students (conferences, challenges etc.)
Corporate Initiatives represent real opportunities to bring together the academic and corporate worlds.
Like the research chairs, each initiative pursues its own goal within the field of teaching.
Create a special fund to finance 10 research projects a year
Create a special fund to finance 10 research projects a year
We will set up a fund in order to give HEC Paris the agility to fund innovative research projects. 
Achievements already made possible through donations
More information about knowledge production at HEC Paris