Impact on talent inclusion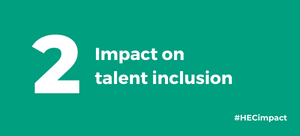 Diversity, whether social or international, is a key factor in the performance of any academic institution. It gives individuals the opportunity to learn from others from diverse backgrounds, develop a global outlook and engage in the major changes ahead.
What will your donations help us to achieve?
Diversity in our student body in terms of culture, background and viewpoints makes for a uniquely vibrant environment at HEC. This helps us attract top international students and train responsible leaders in an increasingly open and multicultural society.Andrea Masini Associate Dean, HEC Paris MBA program
2024 projects for talent inclusion
Overcome self-censorship prior to the competitive HEC entrance exam
Fighting against the self-censorship that limits young people in their educational choices and encouraging them to dream bigger are fundamental aspects of the policy carried out for high school and preparatory class students. Confidence-building is the watchword of HEC's equal opportunity programs.Our goal is to support 400 high school students from disadvantaged and rural areas to ensure that 100% of them pass their Baccalaureate exam with honors and enroll in ambitious higher education programs.
Similarly, we will support 400 scholarship students in preparatory classes every year with the goal ofensuring that 100% of them enroll in French business schools.
Affirm our commitment to equal opportunity
Since 2009, tuition fees for students who receive scholarships based on social criteria established by CROUS have been entirely or partially covered by the HEC Foundation.
This funding measure has had a dramatic impact on the proportion of CROUS scholarship students at HEC, which has increased from 5% in 2009 to 15% in 2019. Within the Grande Ecole program 18% benefit from means-tested financial aid from the HEC Foundation. We must now intensify our efforts with an aim for scholarship students to represent more than 25% of our student body, while maintaining our standards for excellence. 
Promote exchange by creating the "HEC Village"
By creating dedicated spaces for clubs andassociations, sports facilities, shared kitchens, a family area, a dance studio, an administrative service center and more, we plan to create an array of student spaces where art, a source for inspiration and innovation, will play an integral role, in an effort to improve quality of life and promote exchanges between students.
Develop students' soft skills
Soft skills are essential to working as a team,becoming an inspiring leader and are sought by companies of all sizes. Through its Career Center, HEC Paris strives to support all students in degree programs who want to learn more about themselves and fine-tune their career goals as a result. 
Consolidate HEC Paris' position as a top-ranked international business school
One of the keys to HEC Paris' success is its ability to attract top international students from the world's most prestigious institutions. This diversity acts as a driving force for promoting the HEC trademark among leading global recruiters. At the same time, cultural differences in the classroom give students a preview of the intercultural career opportunities that await them.
Develop international representative offices
Today HEC Paris is present in London, Berlin, New York, Tokyo, Beijing, Abidjan and Qatar.
Expanding our offices means supporting the HEC trademark in countries where the school is not yet represented and making the HEC trademark more visible in major global business hubs such as Hong Kong, Singapore, San Francisco, Mumbai, Sao Paulo, Nairobi, Lagos etc.
Lastly, it provides an opportunity to develop relationships with companies or local employers in connection with the Corporate Partnerships and Careers Department and to support Alumni services. 
Africa, a challenge for the future
Africa has an important role to play, both demographically and economically. Training its elite is a major challenge facing the continent.
HEC supports this challenge by offering training programs for business executives, helping creat promising start-ups and financing the education of its finest talents. 
Achievements already made possible through donations
More information about inclusion talent at HEC Paris