Society & Organizations Institute
S&O INCLUSIVE ECONOMY DAY 2023
The Inclusive Economy Center at the S&O Institute of HEC Paris is very pleased to invite you to the first edition of the Inclusive Economy Day on April 13, 2023 on HEC campus, Z building, all day long.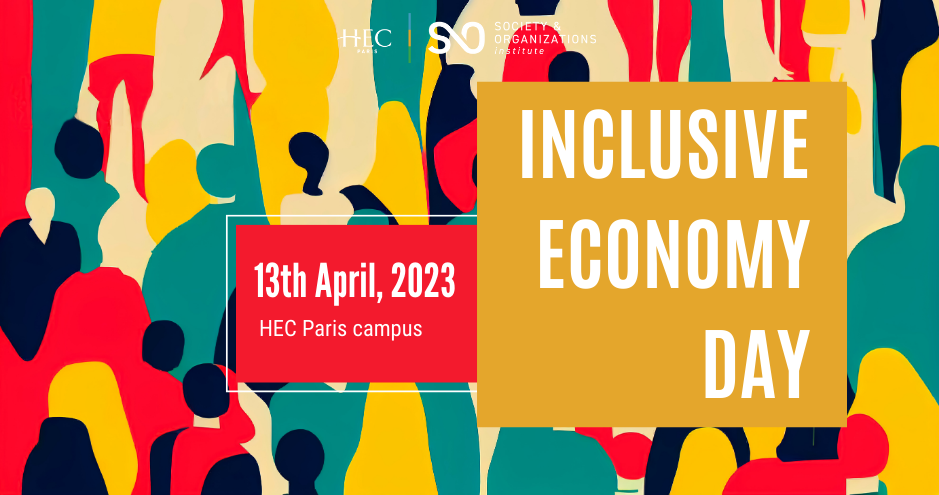 Management scholars and practitioners are invited to join us for a series of discussions exploring the latest research at the intersection of management, social issues, inequalities and impact. Academics will present original research on building inclusive workplaces, inclusion and entrepreneurship, corporate responses to the refugee and forced migration crisis, delivery of essential services to disadvantaged groups, enriched by diverse practitioners' perspectives. We will also break out in small group discussions to explore how experimental research could help real-world organizations address concrete social challenges.
Agenda
9:00: Welcome Address
Eloïc Peyrache, Dean of HEC Paris, Rodolphe Durand, Co-Founder and Academic Director of the S&O Institute and Bénédicte Faivre-Tavignot, Co-Founder of the S&O Institute and Executive Director of the Inclusive Economy Center at HEC Paris.
9:15 – 10:15: Research session 1: Inclusive workplaces and mission-driven corporations
Maria Guadalupe, Professor of Economics, INSEAD
Fostering Psychological Safety in Teams: Evidence from an RCT (full paper here)
Kim Hyunjin, Assistant Professor of Strategy, INSEAD
The Impact of Communicating Multiple Goals: Evidence from a Field Experiment in an Energy Corporation
Nathan Wilmers, Sarofim Family Career Development Associate Professor of Work and Organizations, MIT Sloan 
The End of Inequality? Effects of Work Reorganization Amid Resurgent Worker Power
with the practitioner's perspective of Gilles Vermot Desroches, Director of Corporate Citizenship and Institutional Relations, Schneider Electric
10:30 – 11:15: Research session 2: Inclusion and Entrepreneurship
with the practitioner's perspective of Nathalie Riond, Executive Director, StandUp
11:30 – 12:30: Research session 3: Zoom on Migrants and refugees
SM Musa, PhD candidate, Department of Strategic Management and Entrepreneurship, Rotterdam School of Management
Enacting Social Inclusion and Exclusion through Necessity Entrepreneurship: an Ethnographic Account from Kutupalong (full paper here)
Sandra Portocarrero, Postdoctoral Research Scholar in the Management Division, Columbia Business School
Entrepreneurship and Immigration Status: A Glimpse on The Experiences of Undocumented Entrepreneurs in the U.S.
Marieke Huysentruyt, Associate Professor in Strategy and Business Policy, HEC Paris
Corporate Social Responsibility, Financial Materiality, and the Challenges of Forced Migration: Evidence from Tragic Refugee Incidents in Europe (full paper here)
with the practitioner's perspective of Maureen Sigliano, Founder & Chief Igniter, Cascine PAL and Chief Impact Officer, Each One
Buffet Lunch
13:30 – 14:15: Action-research: Panel discussion on the power of experimentation with corporation and their ecosystem partners
with Benjamin Cavalli, Director, Programme Malin, Maria Guadalupe, INSEAD, and Marieke Huysentruyt, HEC Paris
14:15 - 16:00: Action-research - Brainstorm in small groups around practical challenges, possible solutions and action-research
Break-out groups on:
16:15 - 17:45: Research session 4: Fostering inclusion of disenfranchised beneficiaries
Dan Wang, Lambert Family Associate Professor of Social Enterprise, Columbia Business School
Community Connectedness, Small Business Advising, and Venture Growth
Sarah Wolfolds, Assistant Professor of Strategy, Charles H. Dyson School of Applied Economics & Management, Cornell SC Johnson College of Business
Nudging into Mission? An Examination of the Low Income Designation for Credit Unions
Leandro Nardi, Coming Assistant Professor of Strategy, HEC Paris
Supporting Platform Complementors From Disadvantaged Communities in Times of Crisis (full paper here)
with the practitioner's perspective of Jacques Berger, Director of Action Tank Social & Business
17:45 – 18:00: Wrap-up by Marieke Huysentruyt and Bénédicte Faivre-Tavignot
18:00-18:15: Spotlight on the new Impact Company Lab with Schneider Electric 
18:15-19:15: Cocktail and networking
With the participation of: 

Event made in partnership with:

For more informations about the event, please contact Elisabeth de Réals: dereals@hec.fr