MBA
Learning Experience
Learning Experience
With its concentrated focus on learning-by-doing and real-time problem solving, our challenging 16-month-long program will have a real impact on your future career. You will develop a skillset that truly differentiates you in the global marketplace.
with two intakes: September and January
Our 16-month-long program is specifically designed to give you the time needed to learn new skills, as well as gain specific work experience in a new sector or job function. It incorporates a personalized career-development program with HEC Talents, our career center, as well as unique, hands-on learning and leadership opportunities.

It is an ideal length of time to make a real impact on your future without keeping you out of the workforce for too long.
 
We have two intakes each year, in September and January. All of our MBA students follow the exact same core curriculum, regardless of intake and specialization.
 

Students from both intakes have the opportunity to merge together into one class during the second half of their programs (during the Customized Phase), creating a sense of teamwork in a collaborative community.
 
* The HEC Paris MBA and EMBA are accredited to grant a Master's degree under European Standards and, by extension, are registered on RNCP (Répertoire national des certifications professionnelles).
 
The Training consists of a total of 600 to 681 teaching hours in 16 months, depending on the options chosen, partly delivered in classroom and online.
Fundamental and Customized Phases
Whether you choose to enter the HEC Paris MBA in January or September, you'll follow a curriculum that is divided into two phases: Fundamental and Customized.
Fundamental Phase
In the 8-month-long Fundamental Phase, a rigorous combination of academic training and hands-on learning teach core business skills. After eight months, you have developed the exact skills needed to transform business performance.
Customized Phase
During the 8-month-long Customized Phase, you tailor the MBA program to match your personal aspirations and professional objectives. We offer a wide range of options including MBA Specializations (concentrated learning in one sector), elective courses, international exchanges and internship opportunities, as well as in-depth learning projects.
With the HEC Paris MBA's learning-by-doing approach, which puts leadership theory that is learned in the classroom into practice, you'll be immersed in unforgettable hands-on, leadership-development experiences in unusual contexts.
Electives and Intensive Courses
A variety of Electives and Intensive Courses are offered in the HEC Paris MBA to enhance your academic journey. A wide range of topics are covered in the more than 50 electives offered that can help students gain skills in their area of interest or explore topics outside of their fields of expertise.

In addition, adding to the flexibility and customization of the HEC Paris MBA, Intensive Courses are offered in 3-day blocks, four times a year, and work with the MBA schedule.

These intensive, crash courses address professional and industry specific skills and cover a range of topics, from blockchain and fundraising to leadership and investing. These Intensive Courses are held on our campus in Jouy-en-Josas or at the HEC UK Alumni House in London.

During these weeks, students also have access to some Afterskills Certifications, which are held online over 1-2 day sessions and cover topics such as data & AI.

World-Class Faculty
Place yourself at the receiving end of the most important strategies and ideas in business today. At the HEC Paris MBA, you will discuss, debate and brainstorm in a personalized and rigorous environment, with professors who sharpen your analytical skills and give you rock-solid insights for making decisions.
Our 140 permanent professors hold PhDs from the world's leading universities, including Harvard, MIT, Princeton, Stanford and top European institutions. In the previous five years alone, our professors have published more than 500 research articles, making a substantial contribution to how the world understands business.
Accreditation Information
Vigorously seeking and maintaining accreditation follows a desire to benchmark our strategies and processes against global norms in business education. Accreditations confirm that the HEC Paris MBA and EMBA have programs and management that meet or exceed international standards. The accreditation of the school is driven by a commitment to improve the quality of management education. Both processes involved a self-assessment analysis followed by an external audit.


 
HEC Paris MBA Programs has received accreditation from AACSB International (The Association to Advance Collegiate Schools of Business, based in the US), from AMBA (The Association of Masters in Business Administration) and re-accreditation from EQUIS (the accreditation arm of the European Foundation for Management Development - EFMD). HEC Paris is among only 108 institutions worldwide that hold all three accreditations simultaneously.
 
The HEC Paris MBA and EMBA are accredited to grant a Master's degree under European Standards and, by extension, are registered on RNCP (Répertoire national des certifications professionnelles).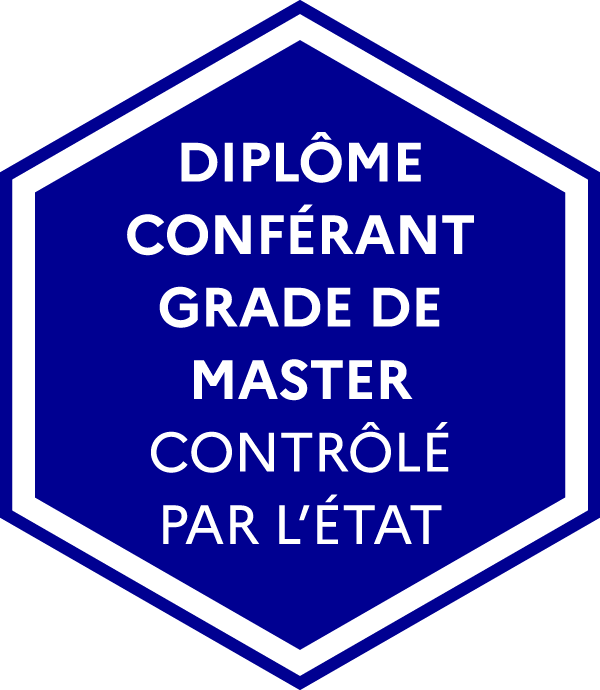 The grade de master, or master's degree, is acquired through various diplomas, officially establishes the level of training at bac + 5. It comes after the bachelor's degree (bac + 3) and precedes the doctorate (bac + 8). It is translated into a number of credits (ECTS): a student with a diploma conferring the grade of master has accumulated 300 ECTS (180 during their bachelor's degree and 120 for the master's degree) during his or her higher education studies, allowing him or her to continue on to a doctorate. Degrees were introduced in France to facilitate European mobility of students and the integration of diplomas between European countries.
Objective: to help participants to become responsible leaders in a global world. The Training aims to develop 3 specific competencies: 
• Conceptual and analytical competencies
• Leadership skills
• Capability to create links with the business world in a global community