MBA
Student Life
Student Life
The small size of our cohort - limited to 300 students - creates a very welcoming and fun campus experience. Students are able to establish strong links with their peers, often forging bonds that last a lifetime.
Extracurricular activities are at the heart of the HEC Paris MBA experience. Whether you prefer groundbreaking panel discussions organized by our MBA clubs, experiencing the best of French culture with your partner and family, or serene walks through HEC's forest, there's always something new to discover in and around campus.
Campus Life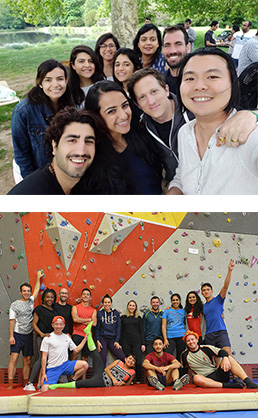 HEC Paris is located on a 340-acre wooded campus, 10 miles (17km) southwest of Paris, from which the culture, history, and charm of the French capital are easily accessible.
Strategically situated in the Paris-Saclay Innovation Cluster, our location enables our students to draw upon the expertise of the cluster and team up with scientists to bring their technological inventions to market. Our proximity to Paris allows students to easily find an internship in the city and to take advantage of Paris' location as a travel hub for all of Europe.  
Living on Campus
Many of our MBA students choose to live on campus, in one of our residence halls. We offer individual rooms, and a small number of apartments that are reserved for couples and families. In order to take advantage of on-campus housing options, we suggest that you apply as soon as possible after you've been accepted to the program. 
Our location in the picturesque village of Jouy-en-Josas offers something for everyone. Whether you want to study, party, play sports or go out, the HEC Campus has it all: a cafeteria, a bar and cafette, study rooms and a lounge, a newly built gym and sports hall, not to mention 8,000m² of sports fields. Our library offers 60,000 books and e-books on management, as well as 1,500 periodicals in a variety of languages to help keep you up-to-date. 
Our Languages Center offers students the chance to practice their French (as a foreign language) or learn a completely new language. All of this is located in the beautiful surroundings of the French countryside, with acres of woods, lakes and fields to be discovered.
The town of Jouy-en-josas
The HEC Campus is located just a 10-minute walk from the charming medieval village of Jouy-en-Josas.
There are two supermarkets within walking distance; one just opposite the HEC main entrance, and the other in the heart of Jouy. There is also a selection of banks in Jouy for students to organize their finances: these banks will visit HEC during Orientation Week to help you to open your French bank account. There is also a hairdressers and spa just opposite the campus' main entrance so that our students can relax and put their feet up after a hard day's work.
Jouy-en-Josas is well-equipped with restaurants, all offering good food at reasonable prices for our students. There is also a pharmacy, bakery and a newsstand, as well as St Martin's Church in the village. 
Jouy-en-Josas station is located just a 10-minute walk from the middle of the HEC campus, and from there students can get RER C trains; the historic town of Versailles is only a 10-minute train ride away, and Paris is a mere 45-minute journey away.