Today it has become common practice for larger corporations to publicly report on their Corporate Social Responsibility (CSR) activities. The quality of a CSR report decisively influences a firm's CSR rating: In their evaluations, CSR rating agencies consider whether these reports are sufficiently comprehensive, balanced, and quantified. In the future, it is expected that corporations report on their financial and CSR-related performance in an increasingly integrated manner.
Download the PDF: How to report on CSR?
What is a CSR report?

A CSR report is a written document, published at regular intervals (generally annually or every other year), in which a firm: 
presents its commitment to social and environmental causes;
demonstrates how its strategy and business model connect to this commitment; 
reports on initiatives and actions it has undertaken, or plans to undertake in upcoming years, in order to further this commitment; 
reports on the social and environmental impact of these actions. 
How has CSR reporting evolved over time?
CSR reporting has developed rapidly over the past 20 years. While only a minority of companies systematically reported on their CSR activities in the late 1990s, it has now become a de facto standard among large corporations to publish a CSR report. In some countries, doing so has even become a legal requirement. 
Another noticeable trend is that firms increasingly let the data in their CSR reports be reviewed by third party organizations, in order to ensure higher data reliability. By now, around two-thirds of the 250 highest-revenue firms let their CSR data be reviewed by a third-party assurance company.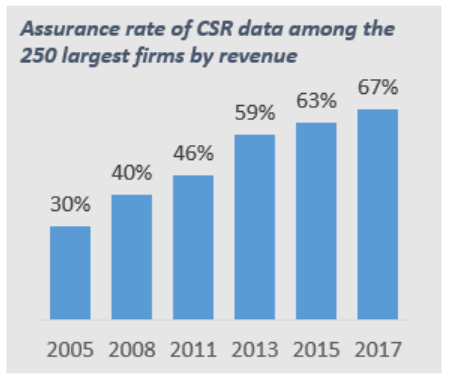 Source: The KPMG Survey of Corporate Responsibility Reporting 2017. 
Why is it important to report on CSR activities?(1)
CSR reporting brings several advantages: 
CSR reports function as a planning and control tool for CSR activities: They help corporate management to set and prioritize objectives in terms of CSR, and to track progress against those. 
CSR reporting is a manner to publicize a firm's CSR engagement among internal and external stakeholders. 
CSR reporting decisively influences a firm's CSR ratings because CSR rating agencies utilize publicly disclosed CSR information to assess and rank a firm's CSR performance. 


What makes a good CSR report? 

Companies enjoy great freedom in defining the form and the content of their CSR report. Nevertheless, there are generally accepted quality criteria against which CSR rating agencies commonly evaluate a CSR report. 
These criteria include, among others:
The criterion of comprehensiveness, meaning that a CSR report should cover both environmental and social topics, such as the respect of basic human and labor rights, the prevention of corruption, and the protection of consumers. The ten principles of the UN Global Compact represent a good overview framework of topics that a CSR report shall cover in order to be considered "comprehensive". 
The criterion of materiality, meaning that a firm should prioritize issues on which it can exert influence, and which are at the same time of high relevance to its stakeholders. 
The criterion of accountability, meaning that the firm should set itself quantified objectives in terms of CSR, and consistently track progress against those throughout the years. 
The criterion of balance, which demands from companies to not only emphasize positive aspects of their CSR engagement, but also to openly disclose encountered difficulties and "non-achievements".

A good way to ensure quality reporting is to abide by the guidelines of the Global Reporting Initiative, which currently constitutes the most prominent CSR reporting framework. 
 
What comes next? 

CSR reporting practices continue to evolve. Recent developments include: 
The fact that an increased number of firms connect their CSR activities to the UN Sustainable Development Goals (SDGs) in their reports.* 
A willingness to further the integration of corporate reporting. In 2010 was launched the International Integrated Reporting Council (IIRC), which promotes the evolution of corporate reporting towards an integration of financial and CSR-related reporting. The underlying idea is that this should foster a more holistic understanding of how firms create value to broader society. While the idea of integrated reporting has found broad resonance and support in the corporate world, its implementation remains embryonic for now. 
* Source: The KPMG Survey of Corporate Responsibility Reporting 2017. 
More about the Movement for Social*Business Impact
Discover the Inclusive and Social Business Certificate
Discover the Master on Sustainability and Social Innovation