Master's programs
Double Degree Data & Finance X-HEC
Double Degree Data & Finance X-HEC
Master the key skills in both data science and finance with the best engineering school and the best business school in France.

Impact strategy at the highest level through data mastery
This program is a double degree offered jointly by Ecole Polytechnique and HEC Paris, combining over two years the academic expertise of the best engineering school in France and the best business school in France.
1st year at Ecole Polytechnique
During your first year at Ecole Polytechnique, you will get a thorough training on data science, with courses in statistics, probability, regression and classification, as well as more focused modules on optimization, machine learning and notably deep learning, with hands-on hard skills training using Python and R programming languages. You will also start to explore Financial Markets and numerical processing of Financial Data.
2nd year at HEC Paris
During your second year, you will join the Master in Finance program at HEC, which has been at the top of the world rankings by the Financial Times for over a decade now. After a generalist first semester, where we will train you on the full spectrum of fields in Finance, both Corporate Finance and Financial Markets, you will join during the second semester an elective concentration dedicated to Data and Finance, with the following courses covering new frontiers: Blockchain, Introduction to Data Science & AI for Managers, Data analysis in finance, Regulation & Policy of Digital Finance and Algorithms, Data and Trading.
In addition to your concentration courses, you may also take additional electives provided that there are remaining seats in the classroom and that the schedule doesn't conflict with your concentration courses.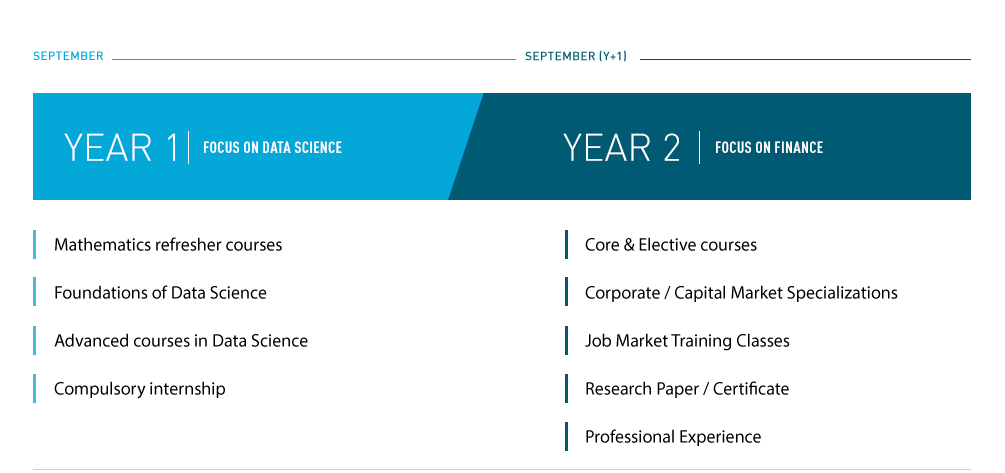 Why join the Double Degree Data & Finance X-HEC?

Get the best education in Finance and Data Science
HEC Master in International Finance is ranked number one worldwide (2022 FT Rankings / QS RANKING 2023)
Ecole Polytechnique- HEC MSc Data Science for Business is ranked number 3 worldwide (2022 FT Rankings ).

 Benefit from a perfect balance of theory and practice
 This program is taught by world class researchers as well as influential practitioners.
 

 Harness the full potential of a customizable program
 Thanks to a wide variety of electives this program is fully tailored to your needs and ambitions.
 

 Tap into HEC Paris and Ecole Polytechnique extensive professional opportunities 
HEC's expansive alumni network gathers more than 70,000 graduates in over 130 countries. It is composed of 75 chapters and over 1000 networking events are organized each year. With Ecole Polytechnique, you are part of an alumni community of                                       more than 30,000 members, whose commitment is decisive in supporting the development and influence of the School. 

 Make the most of 2 world-renowned institutions for career placement and opportunities
 Numerous fairs, workshops, conferences with leaders and one-to-one sessions are organized to help you fast-track your career. 
76% International Students