The HEC campus provides a wide range of accommodation facilities, which give students full access to the HEC experience.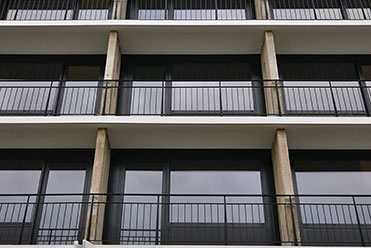 Surrounded by woodland and varied sports facilities, an exceptionally diverse student body representing more than 40 nationalities comes together to share unique moments. These close ties facilitate team work as well as the building of an international network.
HEC students are offered the possibility to live on Campus by renting a room in one of the 18 student halls, which are divided into 1763 furnished rooms and apartments.
For September 2022, accommodation prices are expected to be as follows (may change):
Single room (BAT. L1-M1-AP): 550€
Single room T1 (BAT. B-C-D-E-F-G-H-I-J-K-N1): from 564€ to 780€
Single room T1 PMR (BAT. B-C-D-E-F-G-H-I-J-K-N1): from 710€ to 780€
Apartments T2 and T2 PMR (BAT. B-C-D-E-F-G-H-I-J-K-N1): from 780€ to 1160€
Single room (BAT A): 649.35€
Apartment (BAT A): 898.95€
OFF-CAMPUS OPTIONS
ECLA Residence
ECLA is a brand new residence located in Massy, 25 minutes from HEC Paris and central Paris, with good bus and train links.
Shuttle service between Massy and HEC Paris is available in the morning and evening.
If you want to make reservation, please click on the following link :
https://hec.studapart.com/fr/residence/1739
A multilingual support team is available 6/7 a week to assist you, do not hesitate to contact them at:
Studapart
Searching for accommodation outside HEC Campus or the exclusive student residence ECLA ?
Use our dedicated housing platform : hec.studapart.com/en
With our partner Studapart, access hundreds of exclusive offers in Paris and its region : studios, flatshares, homestays… and benefit from personalized support throughout your rent!

From applying to booking, take all your steps online on the platform. To get started, click on "Tenant space" and sign up using your personal email address.

Book accommodation online to benefit from the Studapart Guarantee and support from a team of multilingual experts available 24/7. You don't have a guarantor living in France? Studapart can replace your guarantor over the whole duration of your stay.