The HEC campus provides a wide range of accommodation facilities, which give students full access to the HEC experience.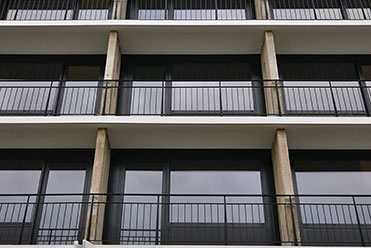 Surrounded by woodland and varied sports facilities, an exceptionally diverse student body representing more than 40 nationalities comes together to share unique moments. These close ties facilitate team work as well as the building of an international network.
It's wonderful to live on campus. From meeting people in the hallway to unexpected dorm parties, it is the ultimate campus experience. And it's a romantic idea, almost, to know you will eat in that same student restaurant for a year. Not because the food is great, it's definitely good by the way, but because you do it together with your friends.Felix Peeters (Belgium),M1 student
HEC students are offered the possibility to live on Campus by renting a room in one of the 18 student halls, which are divided into more than 1,400 furnished rooms and apartments.
For September 2018, accommodation prices are expected to be as follows (may change):
Shared -Shower room (BAT.H): 450€
Shared-room with individual bathroom (BAT.L1-M1): 275€ per person
Single room (BAT. L1-M1-AP): 550€
Single room T1 (BAT. B-E-F-G-J-K-N1): from 564€ to 780€
Single room T1 PMR (BAT. B-E-F-G-J-K-N1): from 710€ to 780€
Single room T2 and T2 PMR (BAT. B-E-F-G-J-K-N1): from 810€ to 1160€
HEC Paris is currently undertaking important construction and renovation programs in order to increase the number of rooms available and to provide students with even better facilities.
The building of a new 96-room residence and renovation projects of 10 buildings have started. The program of works will be totally finished in 2019, increasing the total accommodation capacity by 20%.
Students living on campus have access to a 650-seat restaurant offering continental breakfasts, buffet lunches and hot dinners. 3 cafeterias and 1 bar are also littered across campus, for snacks and beverages on the go. A supermarket is located across the street, next to a pizzeria: a firm favourite on a Friday night!
HEC Paris has also launched a new social network for accommodations: Studapart.
On the platform, you will be able to:
Find/Offer a rental in France or abroad
Find your roommate(s) and form shared rentals in France or abroad
Find/Offer a subletting in France or abroad
Find/Offer a temporary room in France or abroad
Log into the platform http://hec.studapart.com using the following enrollment key: HECHOUSING