HEC's extensive selection of resources support and enhance your studies
The HEC library is packed full of books, articles, databases, videos and other learning tools, many of which are fully accessible online. Nevertheless, it stays open 24/7 for your convenience, providing a positive study space for single and group work.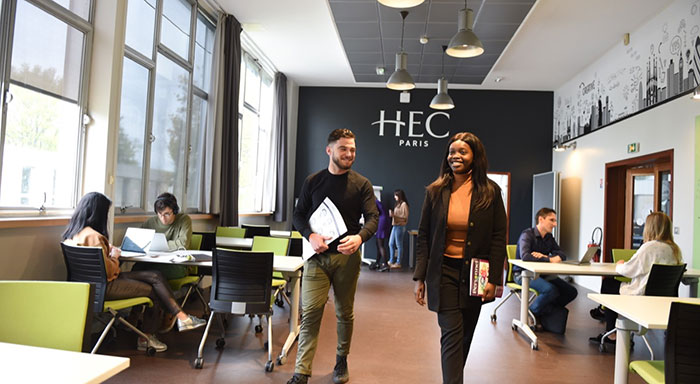 The HEC campus offers:
1 lecture hall with 500 seating capacity and 1 auditorium with 250 seating capacity
29 lecture theaters with 50 seats, of which 4 are equipped with iTunesU video recording equipment
14 lecture theaters with 20 to 48 seating capacity
80 classrooms with 10 to 50 seating capacity
3 language labs and a language resource center
2 business bookshops
A multimedia resource center with 60,000 books
A trading room (in collaboration with Thomson Reuters)
The Language Resource Center is a multimedia facility open to all students, dedicated to the learning and practicing of languages. A unique, devoted space on campus, the Language Resource Center  provides high-quality materials and resources with a wide range of activities offered to suit all needs.
Whether it be to supplement language courses, to prepare for an exam, discover a culture or improve business vocabulary, the Language Resource Center is equipped to put a wide variety of resources at the disposal of all students. Students can benefit from individually-tailored advice and support, allowing them to progress in their speaking abilities at their own pace and in the best possible conditions.
The Language Resource Center is open 50 hours each week for students to drop-in with no need to make an appointment.
The Language Resource Center is available to provide:
850 DVDs available in 17 languages
300 CD/DVD-ROMs and Audio CDs in 23 languages
850 Language method text books (for language exam preparations, assessment tests, business languages, grammar, etc.) covering 24 languages.
The Language Resource Center is located in the L Building (just above the Medical Center) and is open Monday to Friday, from 9 am to 1 pm and from 2 pm to 8 pm.
During the HEC Summer School, the Language Resource Center is open Monday to Thursday, from 9 am to 1 pm and from 2 pm to 9 pm. 
With regular visits to the Language Resource Center, students can substantially improve their listening and written comprehension, their grammar and vocabulary skills – and much more - thanks to the additional activities and services available.
For more information, visit the Language Resource Center's website and follow the Language Resource Center on