HEC Turns Up the Volume on African Programs and Debates
The month of May saw HEC Paris lead a turbo-charged drive to enrich its investment in Africa-related programs, certificates and sensitization campaigns. This included the fourth edition of Africa Days, featuring the likes of Carlos Lopes, Rebecca Enonchong and Thione Niang. This was followed by a Challenge+ roundtable and press conference on entrepreneurship in Africa. The latter marks HEC's decision to launch new Challenge + courses for Africa in the next academic year.
(© Unsplash.com | Wikilmages]
"Is this a good moment to invest in Africa?" Etienne Krieger asked the large online audience to kick off an exchange featuring guest CEOs Talibi Haidra and Redda Ben Geloune. To find out, the HEC Affiliate Professor conducted a lightning straw poll, before sharing the results:  "Just look, 92% of those following this conference say yes to putting their money in African-based business!" Krieger then drew parallels with his own feeling of confidence in the business future and acumen of the African continent: service sectors are flourishing, the demographics show a young and growing generation of worldly-wise youth, the middle-class is swelling – all of these promising signs nourished Krieger's optimism. And the co-director of the HEC Startup Studio program should know: in his long career, the professor in entrepreneurial finance has accompanied almost 1,000 innovative companies on their roads to stability.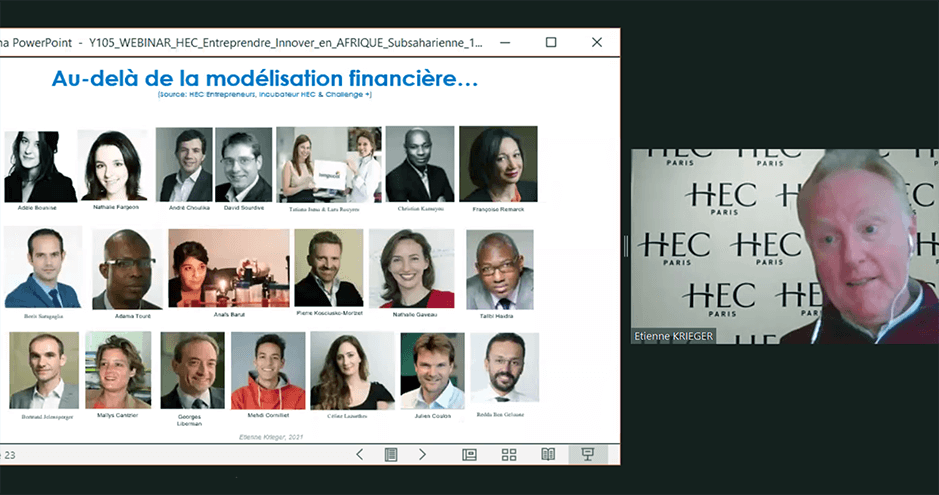 Krieger was chairing a high-powered May 19 conference on African entrepreneurship organized by Challenge+. This is one of the business school's flagship programs, launched back in 1990 and designed to help startup initiators in their development strategies. "There is a strong entrepreneurial spirit in West Africa," underlined Alexis John Ahyee, the Director of the HEC Paris bureau for West and Central Africa, based in Abidjan. "But many of the continental talents need professionalization. We also need to help them to leave the informal sector, in ways we're seeing in 'English-speaking' Africa."
Challenge+ to Deploy in West Africa
Ahyee is part of a team spearheading a pioneering Challenge+ program in the next academic year. Unveiled to the press on May 31, it combines remote teaching and in-person classes over an eight-month period, focusing on growth strategies, marketing, commercial development, startups and the law, financing, modeling and financial engineering. For co-director of the academic program, Redda Ben Geloune, these are vital tools for local entrepreneurs to help reposition Africa as "the engine room of the world's economy". He told gathered reporters: "This program is testimony to the entrepreneurial dynamism in which Africa is anchoring itself day-by-day." The president of the HEC Alumni branch in Côte d'Ivoire, Daouda Coulibaly, then applauded the arrival of the program in the region: "This is a real opportunity for our zone, as it provides the necessary tools for innovative and effective entrepreneurship. It will allow our entrepreneurs to reach scale up in the same way as their counterparts in more developed nations."
During the May 19 conference organized by the HEC bureau of Abidjan, Ben Geloune alluded to Darwin in encouraging African agility: "Darwin said that survivors are not those who are strongest, but those who adapt the best. But to adapt, you have to learn by doing. And you must be sure you are answering a need. It's no good launching a product and hoping for the best. Hope is not a strategy! It might be good for religion, but not for business." Ben Geloune is also the charismatic founder and CEO of the highly-successful Aitek group. During the 90-minute exchange, he insisted that cash is no problem when creating a business in Africa: "The issue is not money, don't put up barriers which don't exist! I started without money, and the banks followed. What you need to find is a latent opportunity and then structure your project around it. And, most of all… think big!"
Africa Days
Thinking big has been the driving force which has propelled Rebecca Enonchong into a long and glittering international career. The Cameroonian businesswoman was one of the stars of a highly successful Africa Days conference on May 11,  "L'Afrique, un nouveau modèle". This year, it was devoted to African women entrepreneurship and green industrialization. Over 900 people signed up to this first-ever online edition, which enjoyed the presence of other topnotch speakers, including Carlos Lopes, Thione Niang, Laureen Kouassi-Olsson and Mbasse Sène. "When I began, I had to think beyond gender, put the product before the person," said Enonchong, founder and CEO of AppsTech. "In building my website, which provides enterprise application solutions, I hid my identity for the first two years." The recipient of several prestigious awards, Enonchong began her career in Washington DC before turning her attention to her home country of Cameroon, with initiatives like ActivSpaces.
Alongside Enonchong, Laureen Kouassi-Olsson appeared radiant, energized by the successful launch of Birimian investment fund in April: "This is an operational investment company focused on scaling up African fashion brands into luxury houses – and its staff is 100% women!" The fund is backing African designers from Ghana, Côte d'Ivoire and Belgium, and hopes to invest or mentor a total of 30-35 brands, explained its founder. "We're seeking to change the image of women entrepreneurs, create our own narrative and history," Kouassi-Olsson added with feeling. Her ambitions reinforce widespread attempts to boost businesswomen in a continent where a quarter of the female workforce are entrepreneurs - a world record. Women nevertheless continue to face discrimination, earning an average 34% less profits than their male counterparts. For HEC alumnus Christian Kamayou, one of the issues remains financing: "Our studies show that women only have a 30-50% chance of acquiring loans."
Green Industrialization in Africa
The earlier debate, ably hosted by The Africa Report editor, Nicholas Norbrook, explored the challenges in balancing expanding industrialization with concerns over the environment and sustainability. The veteran economist from Guinea Bissau, Carlos Lopes, insisted he remains optimistic in the face of all obstacles: "Africa is becoming competitive in terms of renewables and these cost less than fossil fuel. There is also young population which is absorbing the tech-intensive industries with aplomb." But the author of "Africa in Transformation" warned that labor costs need to increase to encourage this new generation: "Now, workers must drive for decent wages by reducing other costs, thanks to developing automation in the textile industry, for example. African leaders must also deepen inter-African exchanges, especially in agriculture. There is a huge demand in this sector as the middle-class and the demography grow." Lopes illustrated his thoughts by comparing emerging African nations with the Thai experience: "Yes, Thailand has known 13 coup d'état, turmoil and poverty. But their exports have shot up at the same time: they are exporting the equivalent of $40 billion in IT alone!"
Successful entrepreneur Thione Niang turned to Mexico as part of his exposé on how green business can combine with successful industrialization. The co-founder of Akon Lighting Africa was visiting the Central American state to inspire himself in ways to exploit the wind and solar power in his home nation of Senegal: "Energy is key to our development. Here in Mexico they are utilizing the sun that God has given them. They have developed a huge infrastructure around solar and wind energy - why can't we do the same with our 365 days of sun annually?"
Born into a family of 28, Niang insisted education is also crucial to the continent's green development. "We need an educational revolution! We need to acquire skills to innovate, renovate and compete in the ICT world. We need to transform the agricultural sector which employs 80% of the workforce while, at the same time, reducing greenhouse emissions, replace fossil fuels and stop polluting our beautiful continent." These changes are urgent, maintained Niang: "At present, we're importing $40 billion-worth in food; by 2025 that figure is set to quadruple! Yet we have the land, the youth, the sun at our fingertips. Nothing is missing except a transformation in leadership to create a modern infrastructure and decent education system."
HEC and African Banks
Despite some technical hitches, this fourth edition of Africa Days clearly caught the public's imagination - again. Almost 400 people tuned in to the three hours of debate around topics that touch the very heart of development. As one spectator put it, "creating sustainable business in Africa speaks volume simply because the untapped needs are huge. You can say the same thing about innovation because, to find answers to the enormous challenges which need to be resolved, you need to abandon the highways of conformity."
Meanwhile, in order to solidify agile leadership, HEC Paris recently committed itself once again to a partnership with The Central Bank of West African States (BCEAO) and the continent's top bank managers. During the May 25 launch, the bank's governor Tiémoko Meyliet Kone announced that over 200 African leaders are to begin the Certificate with a course on digital transformation in the banking sector, kicking off on June 21.
Yet another HEC program which hopes to catalyze economic, financial and ethical solutions for the continent.