Stand Up Celebrates Birthday with Powerful Photo Exhibition
The HEC Stand Up program marked its 10th anniversary by inviting photographer Steve Fiehl (H88) to shoot a series of portraits of women whose passage at HEC helped them launch their entrepreneurial career. The result was unveiled at the school's Hall d'honneur in early May: 16 majestic color photos of as many "entrepreneuses". They reveal their doubts, desires, courage and resilience through Fiehl's lens. We talk to the photographer who traded in a successful business career to pursue his visual passion.
"I've always been interested in resilience." The word returns again and again in a half-hour exchange with Steve Fiehl before inaugurating the May 10 vernissage. It's a rainy spring day and around 50 people are gathering in the cavernous Hall, a motley mix of HEC staff members, Stand Up alumni and current students, former Equal Opportunity Minister Elisabeth Morano, representatives of the HEC Innovation & Entrepreneurship Center and the school's Dean Eloïc Peyrache. "People with challenging life experiences have always taught me so much," says the former entrepreneur. "And my photography is an attempt to pay homage to their vulnerability, legacy and, yes, their defiance. They have so much to teach us."
Hard to imagine that Fiehl has much to learn. The bespectacled photographer first enjoyed the ups-and-downs of an entrepreneurial career which featured the pioneering success of the CrossKnowledge platform he cofounded – a suite which revolutionized blended learning in the 2000's, both in France and the USA. The online education platform blossomed into companies employing 400 people in 10 countries before he resigned in New York in 2018 to follow an old passion for visual arts. As part of his one-year course at the renowned International Center for Photography, Fiehl began a "people & places" project at Manhattan's Bowery Mission. "This is a closed center which helps the homeless get back on their feet after years of drug addiction. They've always refused to allow any cameras in but they saw this funny French guy who promised to stay around for three months to tell their story and said, well, okay." The result? 18 months of induction in the Mission, visited three-four days a week. It gave birth to a series of exhibitions, a poignant testimony in black-and-white of the hardships of street living. But why the choice not to shoot in color? Fiehl laughs: "I'll let you in on a secret: I'm color blind! Today's exhibition is the first time I've gone for color."
Yet, the 16 photos hanging around us radiate a form of life and intensity that color only enhances: "You're right," Fiehl admits. "Until now, I've been attracted to people on the bottom rung of society, desperate yet somehow defiant in the worst social conditions. So, black-and-white deepens these traits. That wouldn't have been the case with these women who've resisted and turned their vulnerabilities into strength. They radiate an energy; these are leaders who are doing something they've always dreamt of." Yet, Fiehl remains faithful to his quest for depth: "I wanted something that wasn't corporate, so we explored their deep-seated convictions, their doubts, anger, negative energies, too. We discussed the huge challenges they had to overcome to reach their goals. And my photos tried to reflect that depth."
As a result, there is the trenchant look of Fatoumata Kebe, the exhibition's poster entrepreneur, staring with intensity and a certain melancholy into the lens, an ethereal yellow glow behind her. The cofounder of Beauté Inée used HEC's Start Up program to develop a pioneering virtual institute for dermatological problems. There is the defiant posture of Djihene Abdellilah, former grappling world champion whose look reveals a tenacity that helped her overcome the countless challenges life threw her on the way to founding Djihene Academy. The motto of her institution reflects this determination: "Either you stay in here and cry, or you go back down and get what you came for." We turn to the earnest look of Veena Subarayadu whose never-say-die attitude helped her set up Kissy Pop Up, an Ayuverdi cosmetic startup which mirrors her Mauritian heritage.
 Successful entrepreneuses in front of their portraits © Daniel Brown
Three examples among 16 which do honor to women with a remarkable diversity of career paths. The photographs delineate a trajectory towards the women's hidden stories through their looks, their gestures, their posture. Fiehl elaborates: "I asked them to travel deep inside, into what were often very difficult stories. It's a psychological journey which can unify your positives with negatives. And, for me, this is the foundational stepping-stone towards becoming a leader. In a word, if you want to give your best and lead people, you have to acknowledge your weaknesses. It's only then that people follow you." The photographer who continues to be a business angel for a half-dozen startups says he drew much of his inspiration from Neurolinguistic Programming, NLP, a concept born in California in the Seventies.
"These magnificent portraits reflect the hundreds of women the HEC Stand Up program has accompanied every year for the past decade," notes Dean Eloïc Peyrache at the inauguration. "I can only be subjugated and admirative of their professional careers. These 16 portraits are a homage to their courage, their determination and their ambition," he adds, reminding the audience of how the program has blossomed from helping dozens to accompanying hundreds.
Both Peyrache and Fiehl go back decades, to Grenoble when they collaborated on the CrossKnowledge project. "Eloïc and I have been talking a few years now about increasing exposure to art on the campus," explains Fiehl. "Last September, this became more concrete. The 10th anniversary of Stand Up gave us the idea of a joint project with social impact. Eloïc told me about his desire to bring art to the campus and open up the hearts and minds of the students. I further discussed it with Emma France (the Director of Impact Entrepreneurship Programs at HEC Paris, ed) and it just seemed natural to work on these remarkable women entrepreneurs, thus marking the landmark anniversary of this HEC program."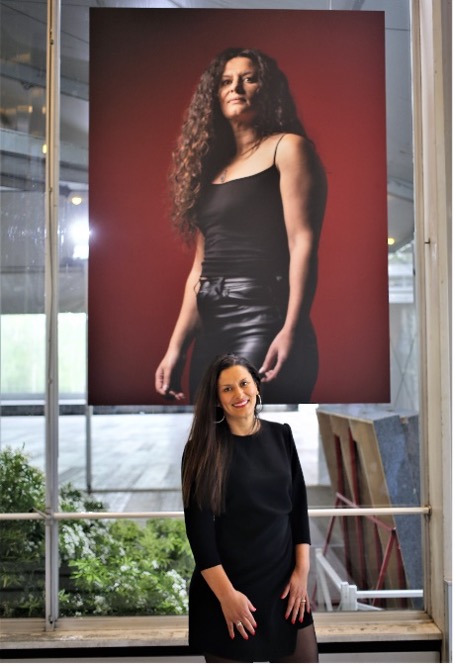 The half-hour sessions in Fiehl's studio rendered the portraits intimate and glowing. He uses a Fuji GFX, a camera known for its excellent optics. "The intensity of the sessions was lightened by music to their liking. Sometimes it was from their countries of origin, North or West African, sometimes it was dance music to go even deeper, like a trance." And the impact on the women themselves? "I came out of it exhausted!" laughs Djihene Abdellilah in front of her portrait. "He really pushed me to look at the path I've taken to reach here, which has been quite an uphill one. Coming from an isolated rural part of France, I've always dreamt of making it to HEC. So, the picture is something of a consecration of the long road I've taken."
Djihene Abdellilah © Daniel Brown
 
Veena Subarayadu insists on the positive therapeutic side of the photo shoot: "He gives you confidence to drop your guard and tell your real story." And she turns to the 10 weeks of Stand Up and its impact: "The program was a revelation. I was alone with only a vague idea of what I wanted. The program director Nathalie Riond brought me out of my shell. We worked with such intensity that… Paf! We grew it to the cosmetic brand I've since founded."

Veena Subarayadu © Daniel Brown
Nathalie Riond looked on at her graduates with a smile: "I simply don't recognize them in these photos! They radiate such strength and benevolence at the same time. But all my students are like this. For me, they reflect the power of women. I'm convinced they have the world in the palm of their hands."
Steve Fiehl continues his exploration of strength in vulnerability with a ongoing series of photos on French hospital patients in the final stages of their lives, called "Passeurs". See https://stevefiehlphotography.fr/passeurs/.