Society & Organizations Institute
HEC Researchers Unite in Inter-generational Conference that Spans the World
The eighth edition of S&O Research Day saw 25 high-pedigree presentations by scholars devoted to advancing interdisciplinary explorations in fields as diverse as disability inclusion in Brazil, the perception of greenwashing in multinationals and gender "pinkwashing" in India. This range reflected the engagement by the Society & Organizations Institute (S&O) to nurture inter-generational exchanges between HEC faculty, its Ph.D. students, and selected guests from round the world.
Some of the 40+ participations in S&O Research Day enjoying a late sunset at the end of the conference. © Marcella Barbieri
The event poster said it all: a young bespectacled woman waves to us before resuming work with a rotary percussion drill to penetrate the Earth's surface in search of some rare nuggets. In the case of the conference, the attendants were seeking exceptional nuggets to enhance the research on display at this annual gathering. "This eighth Research Day conference marks an incredible journey that S&O started 15 years ago," said Andrea Masini to open the two-day event. The HEC Dean of Research insisted on the informal and friendly approach the S&O Institute has instilled at Research Day: "And this undoubtedly helps to advance research."
The June 1-2 gathering featured several outstanding presentations that left a lasting impression of impactful and variegated research pushing back boundaries in all fields. These included LBS'Aharon Cohen Mohliver's study on uptalk usage by CEOs during conference calls; HEC's Yeonsin Ahn's exploration of organizational culture transfer in the startup realm; and Cambridge University's Thomas Roulet's intriguing study on the transformation of pirates into privateers. All showcased the depth and diversity of research presented.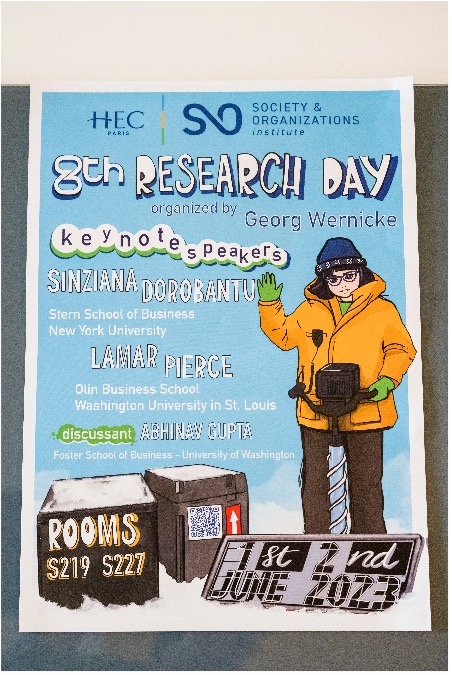 But there was also the work by HEC professors Leandro Nardi and Marieke Huysentruyt, who introduced a captivating project on the inclusion of workers with disabilities in Brazil. INSEAD professor Ilze Kivleniece (who holds a Ph.D in strategic management from HEC) delved into the differences between public and private promotion of desalination technologies; and associate professor Abhinav Gupta of Foster School of Business shared groundbreaking insights on women's advances to top leadership positions. Meanwhile, HEC assistant professor Stephen Michael Impink's work on ethical principles in AI startups and the project by Venkat Kuppuswamy (assistant professor at the D'Amore-McKim School of Business) explained his work on board gender quotas in emerging markets.
"In these two days, we delved into discussions on the perception of greenwashing in multinationals and smaller companies, corporations in the wine industry," noted co-organizer of the conference, Georg Wernicke, delight in his voice. "There were papers on women leadership in big companies, stakeholders' reactions to firms' displays of compassion, employment reentry after incarceration, workplace safety and employee mobility, diversity and inclusion, transmission of corporate culture, the benefits and costs of deviating from enforcement, among many others. I thought last year's edition was good, but we just go from strength to strength!"
 
Inter-generational Exchanges
It was all eye-swimmingly intense and rich in a gathering aimed at fostering knowledge transfer and nurturing the growth of junior researchers. Patricia Thornton has been visiting distinguished professor in social entrepreneurship at HEC since 2019. She sees these annual exchanges as vital in building bridges between the generations: "I see this as a developmental conference" she said during a coffee break. "With its mix of junior and senior scholars it's a great way to transfer knowledge. It helps junior academics develop their work so they too can question and reevaluate prior classic works that are highly cited. If our research is about accumulating knowledge, what we should be doing is refining those earlier works and questioning them. I've done some of that in my own work. It's very hard to get published, but it's really essential to the building of the profession."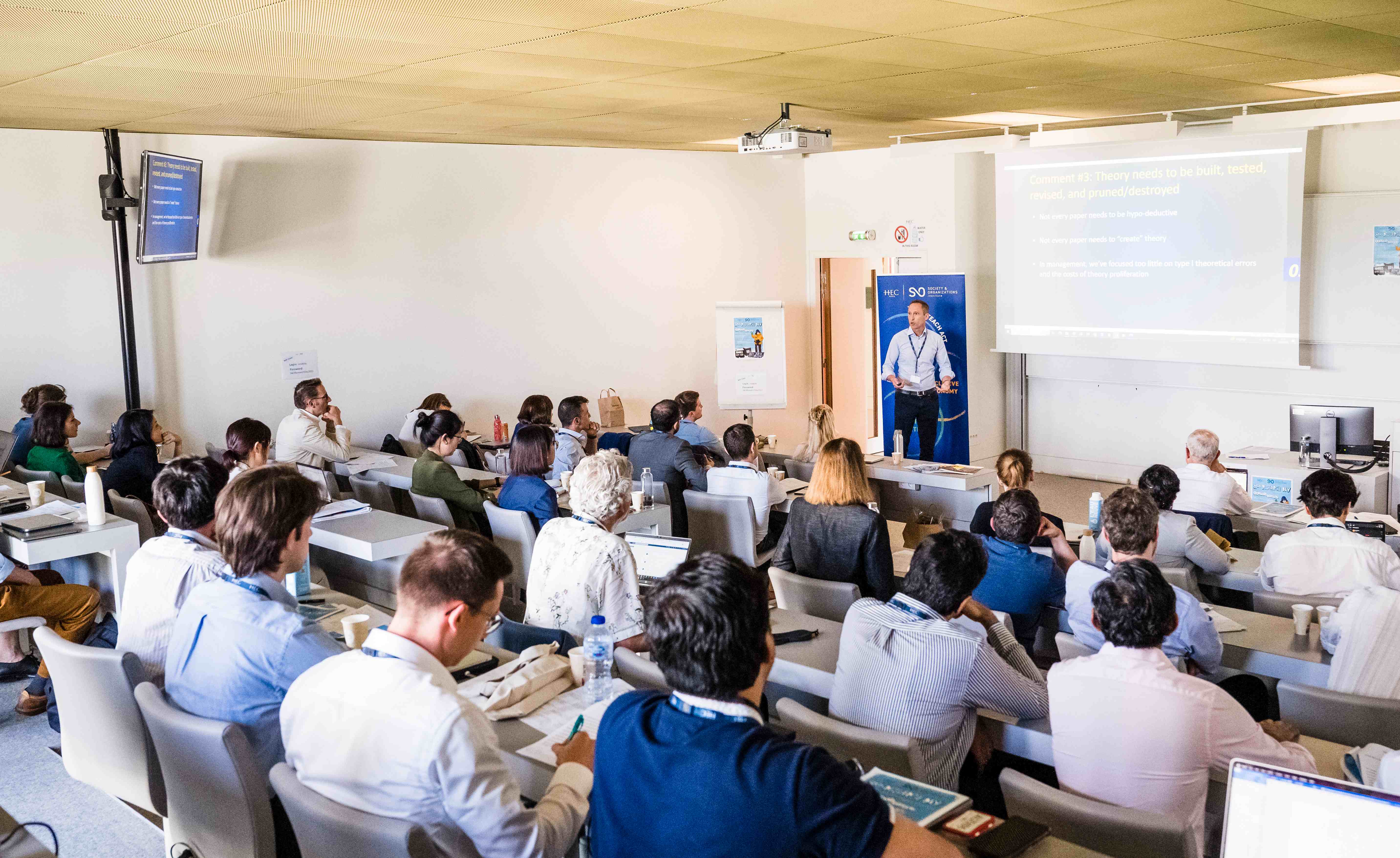 Professor Lamar Pierce addressing a packed classroom. © Marcella Barbieri
This was very much in line with the approach by keynote speaker Lamar Pierce from Washington University in St. Louis. In his presentation, the strategy professor captivated the audience with his exploration of the transformative impact of solving problems through a portfolio of scientific papers. Afterwards, Pierce shared his thoughts on a new generation of researchers: "They are doing work that's cutting edge and reaping the rewards of the excellent networks they've already set up. They are far more representative of a diverse population in our faculties. So, if we're serious about having diversity in leadership positions, we need more junior scholars. That's why I have so many associate professors as editors (in Organization Science where Pierce is Editor-in-Chief, ed.). They give us a far more diverse group on a number of dimensions."
At the same time, Pierce's own insights at the conference provided a roadmap for future advancements in the field. His paper highlighted both the importance of addressing managerial and societal issues and emerging research on organizations management. This includes field experiments, ethnography, and the exploration of understudied populations and settings.
 
Pushing the Boundaries
The new academic generations were indeed well represented among the 25 speakers. HEC Assistant professor Yeonsin Ahn, for example, described the organizational culture in startups and how leaders foster the culture of their startups. "We concluded that founders transfer the cultural elements from their previous organizations, and we revealed previously unexplored contingencies of cultural transmission," explained the specialist in culture and computational social science. "Many founders claim to have generated unique cultures, and some even contrast their startup culture with that of their prior employer, but this study shows that it is very difficult to deviate from what they already have learned even before establishing the startup."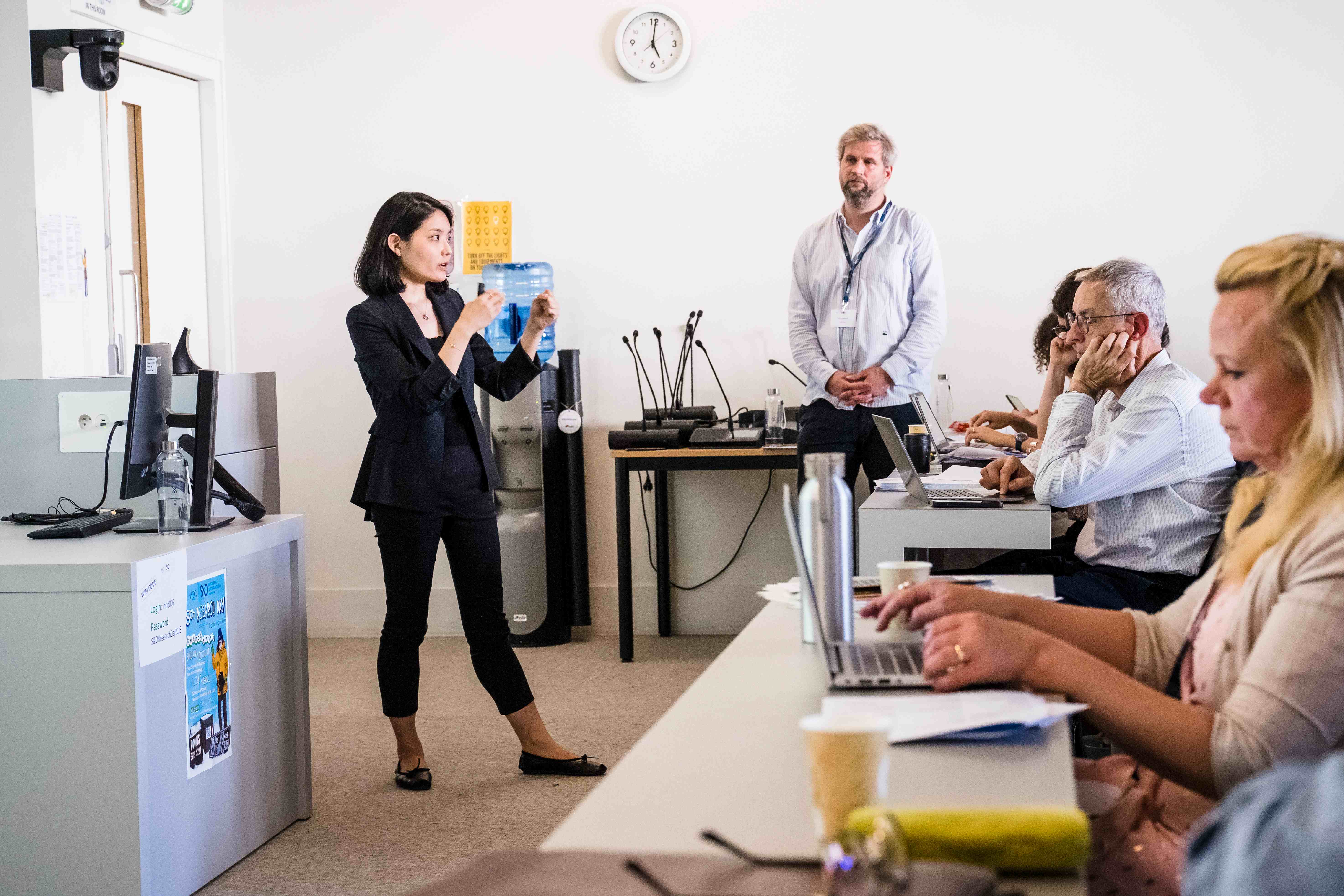 Yeonsin Ahn, under the watchful eye of co-organizer of Georg Wernicke. © Marcella Barbieri
Meanwhile, in his solo paper, Yuhao Zhuang shared his research on grassroots-oriented corporate philanthropy in his native China. This, the young visiting research scholar believes, is an extension of Chinese companies' core business activities: "This research took 20 months and was nourished by 69 interviews and a large data set. I wanted to talk about the political status of nonprofits and what kind of strategy the donating firms are choosing. My research shows that these unaffiliated nonprofits are more prone to commercialization by the firms. But there could be different strategies imagined for them: they could promote beneficial social groups together. This would be a huge change in a sector which has swollen by $130 billion between 2008 and 2018."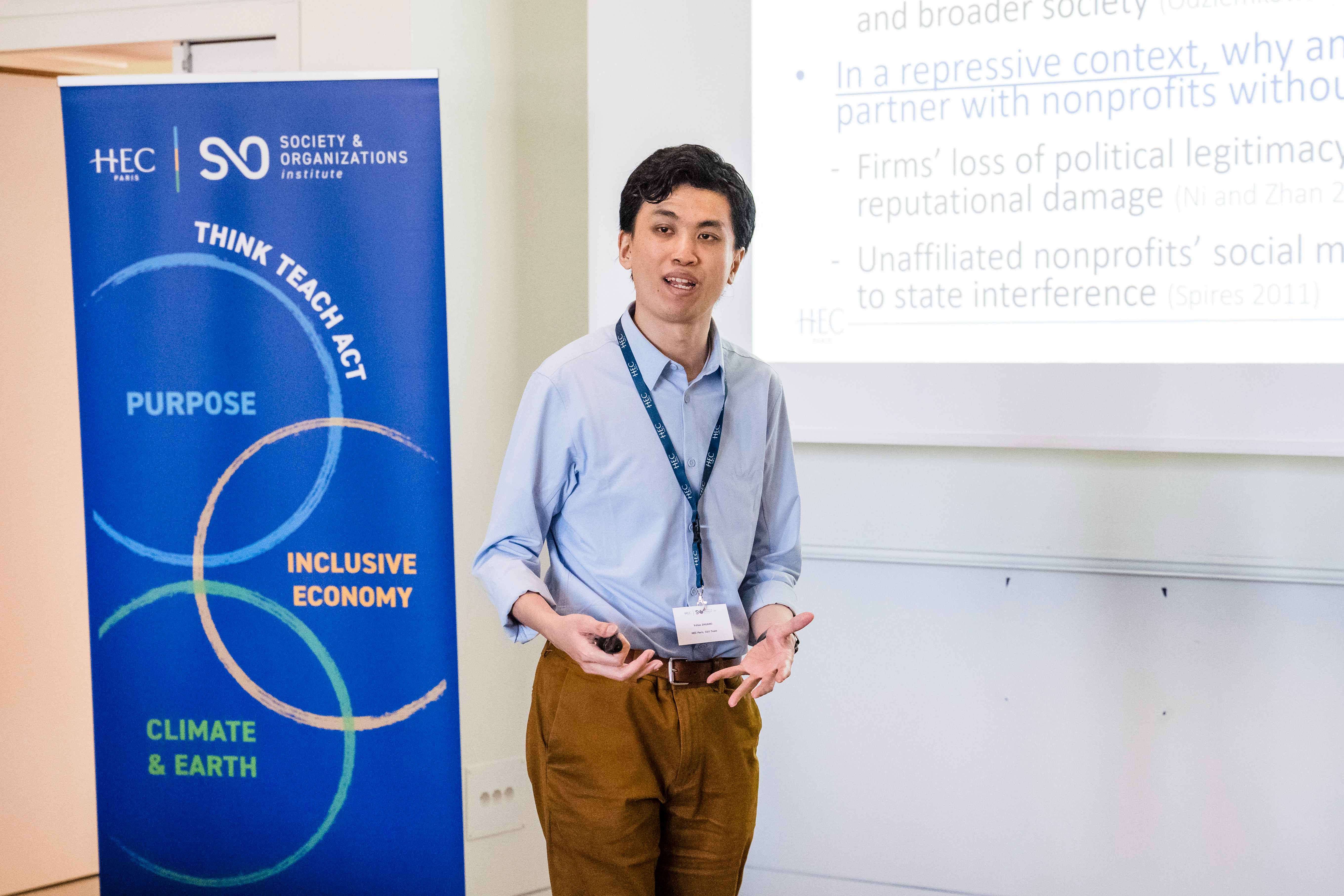 Yuhao Zhuang elaborating on his work on grassroots-oriented corporate philanthropy in China. © Marcella Barbieri
Another up-and-coming researcher, Camille Doche, shared her Ph.D. explorations of France's wine industry and the cooperative organizational form its farmers are choosing in a challenging environment. "Agriculturalists have an amazing way of collectively organizing themselves in a cooperative, but many cooperative members are leaving to operate independently. Why?" asked the HEC student who is exploring the business strategies in a sector where the agriculturalists' shift away from collective structures is threatening the cooperatives' very survival. "I hope that my work can contribute to clarifying the cooperatives' strategy. I'm also broadening the current literature to understand resource heterogeneity and its impact on the shift between organizational forms."
Exploring Social License
For the second keynote speaker at Research Day, such insights from the younger generation have given the academic world a breath of fresh air. "Events like this, bringing junior researchers to meet more senior or more experienced people to exchange ideas are incredibly valuable," said Sinziana Dorobantu. The professor from NYU Stern School of Business underlined the novel toolkits used by these younger academics: "I'm always fascinated at how they bring new methods, new data, new contexts in studying these challenging questions."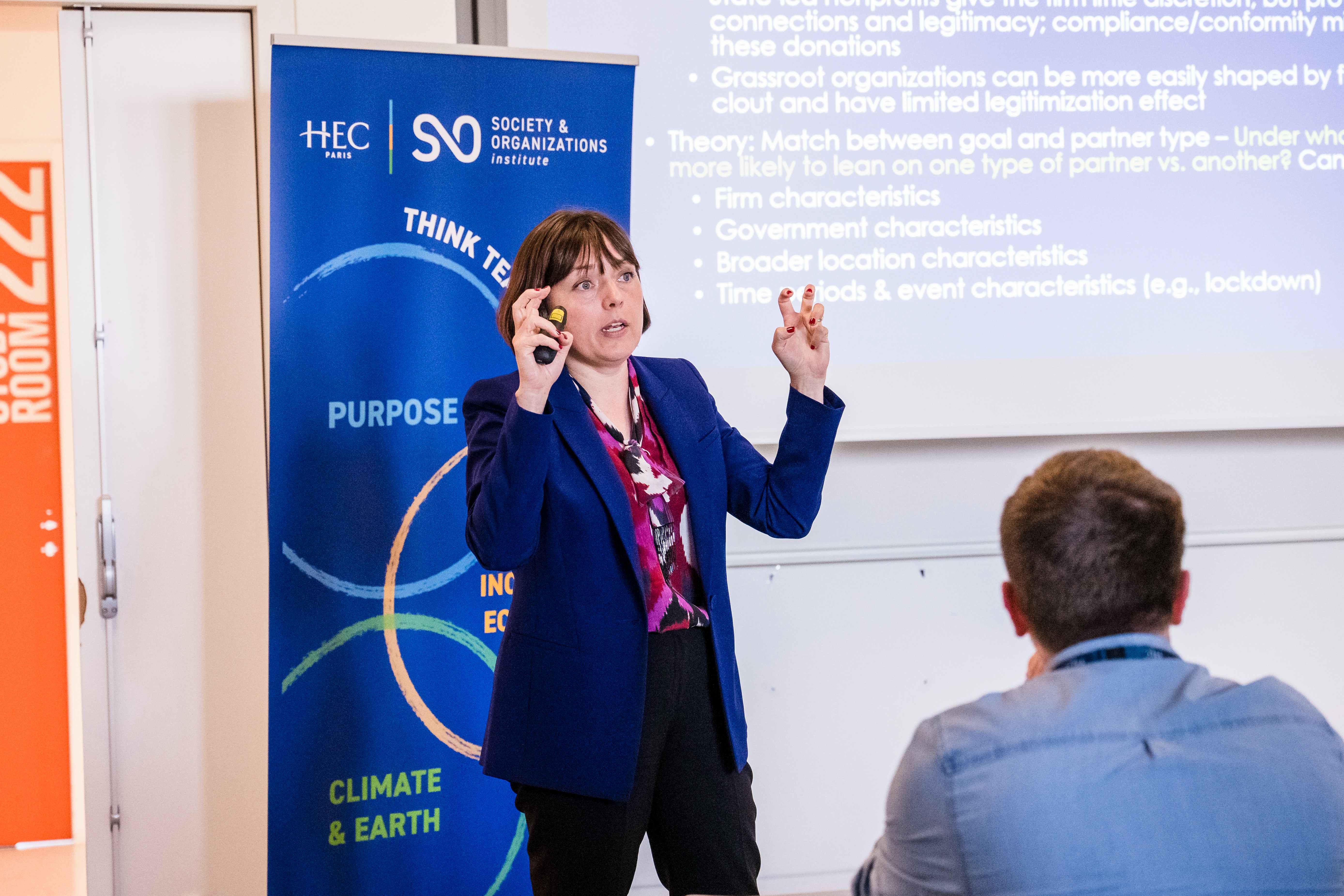 Professor Sinziana Dorobantu describing her pioneering work on social license. © Marcella Barbieri
Dorobantu presented research in her field of stakeholder governance and the social license to operate, in a study which span continents. Social license refers to the ongoing acceptance of an industry's standard business practices and operating procedures by its employees, stakeholders, and the general public. Dorobantu's work shed light on the significance of social license and the strategies needed to maintain it. She brings her knowhow in the areas of nonmarket strategy and stakeholders to bear with examples rooted in Dakota, New York and Transylvania (where she's from) – to name but a few. "What do these geographically distinct regions have in common?" she asked the audience. "All have major extractive companies which lacked social license to operate. My research indicates how important it is to have this license, how to acquire it and how to hold onto it." The Rumanian academic mapped out the conflicts around goldmining companies in 20 countries, from Kazakhstan to Venezuela and pointed to the importance of signing Community Benefits Agreements (CBAs), like the ones between Chevron and communities in the Niger Delta. "Companies operating in countries with very weak rule of law focus on who they know. Companies working in countries with strong rule of law focus on what they know. But, in this period of big energy transition, the former must reflect on what is happening upstream. Without social license, they are closing their eyes and ears to change."
The World's Largest Minority Targeted
Social license was also indirectly called into question by the research by Leandro Nardi and Marieke Huysentruyt. The two HEC academics have studied institutional change promoting the inclusion of workers with disabilities in private Brazilian firms. "People with disability are rarely evoked in research," said Huysentruyt. "And yet they represent the fastest growing minority in the world, one-sixth of the population. Our responsibility is to put pressure on firms to be more responsible towards this workforce." Huysentruyt and Leandro pored over data on all formal labor contracts in Brazil between 2003-2017 to see how non-monetary incentives at firm-level attributes shape the impact of monetary incentives for the inclusion of these minorities in the workforce. "Results suggest that non-monetary incentives complement the existence, but not the intensity, of monetary incentives for conclusion."
This captivating project was just a small example of the groundbreaking work coming through sessions that left a lasting impression. "We cherish such interdisciplinary approaches," Rodolphe Durand told those assembled for the two days of exchange. "On this birthday year for S&O, this our Research Day is a timely reminder of values we hold dear: promoting inter-generational dialogue between academics; and a certain way of listening to each other which brings us broader perspectives and different layers of awareness. This, we hope, will push back from the social networks isolating us, where we only speak to people in the same community." The co-organizer Georg Wernicke added: "What an incredible workshop we had! Scholars from the fields of Finance, Strategy, Organization Theory, Marketing, and Accounting showcased their outstanding work, creating a vibrant atmosphere filled with excitement and passion. The diversity of research approaches - ranging from quantitative and qualitative methods to brilliant conceptual work - left us in awe. It was truly inspiring to witness how these diverse research fields and methodologies seamlessly came together, breaking down the barriers that often separate them. This collaboration highlights the power of society and organizations topics to unite researchers and bridge gaps, leading to innovative insights and groundbreaking discoveries."
A celebratory drink after two intense days as researchers prolong their exchanges in anticipation of Research Day 2024…  . © Marcella Barbieri