Itzhak Gilboa receives 2014 Best Researcher prize for his work in decision science
The 2014 edition of the HEC Foundation awards was held on 15 December 2014 in the presence of Guillaume Poitrinal, president of the HEC Foundation, and Bernard Ramantsoa, director of HEC Paris. In their 38th year, the awards highlighted excellence in management science and rewarded value creators. Congratulations to the nominees and winners for the academic rigor of their analysis, as well as the relevance of their achievements to the business world.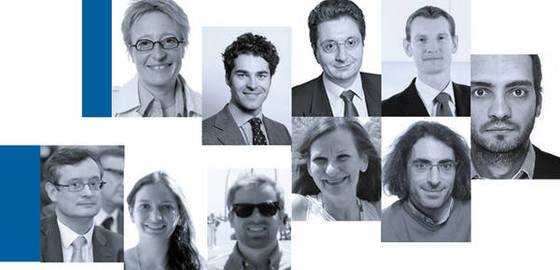 Best researcher award: Prof. Itzhak Gilboa
The Foundation awards this prize to the research professor at HEC Paris who has written over the past three years the largest number of articles published in 'alpha' journals, i.e. the best international academic journals. This year's winner is Itzhak Gilboa, who holds the AXA Chair in Decision Sciences. An internationally-renowned researcher, he studies the theory of decision under uncertainty, game theory and microeconomics. He has taught at Northwestern, Boston, Pennsylvania, Tel Aviv and Yale.
"Thank you for this award. It is a great honor for me," he said. "I am proud to be part of HEC Paris, a school that furthers itself every day in terms of research. Our work is increasingly well recognized, our teaching is being transmitted more widely, and we're attracting new teachers and transferring knowledge to our students. The AXA chair also helps to promote our work, allowing us to invite the highest level thinkers to our conferences, including in areas other than the decision theory. Two years ago, we hosted Nobel laureate Thomas Sargent, and this year Nobel laureate Lars Peter Hansen. We try to approach different themes each year to enrich our discussions with all participants who are present. HEC Paris is doing well and we're constantly looking to improve. Progress is also strong in recruiting new researchers. Thank you again for this prize!"
Best paper award: Prof. Laurent Calvet
This award recognizes the author of an article published in an 'A' category journal with an international scope of research.
Winner: Laurent Calvet, 'Twin picks: Disentangling the determinants of risk-taking in household portfolios'. This article seeks to understand the reasons for individuals' decisions in financial matters. It takes an original approach, analyzing twenty years of behavior by twins. Laurent Calvet and his co-author show that household choices are not predetermined by their genes but by life circumstances (level of wealth, expected income) that greatly influence their decisions. His paper is at knowledge@hec.
Bruno Roux de Bézieux prize for educational initiative: Prof. Alberto Alemanno, Prof. Pascal Quiry and Vanessa Klein
This award recognizes educational initiatives developed at HEC Paris, distinguished by their originality, relevance and effectiveness. These innovations may concern the creation of content, equipment, innovative pedagogy or new teaching curriculum. Funded by the Bruno Roux de Bézieux Foundation under the watch of the HEC Foundation, with the support of Didier Pineau-Valcienne (HEC '54), this prize is awarded in memory of Bruno Roux de Bézieux (HEC '55), who played a major role in the 1960s in introducing to HEC a new pedagogy sourced from the United States, the case method.
Winners: Alberto Alemanno, Vanessa Klein and Pascal Quiry (HEC '84), for creating a MOOC that has allowed HEC Paris to highlight the worldwide competitiveness of its teachings and its mastery of online education.
Best doctoral thesis award: Jérôme Dugast
The HEC PhD program prepares students for careers as research professors in management, with the objective of working at the best universities and business schools worldwide. It is based on an international faculty conducting management research at the highest scientific level and ensuring advanced training with an international dimension.
Winner: Jerome Dugast (HEC PhD '14), for 'Essays in financial market microstructure'. One of the conclusions of the thesis is to show that when the high-frequency traders are implementing strategies involving fast reactions to market events, they increase their risk to react to noise and thus generate 'mini flash crashes'. However, they increase the informational efficiency of the market.
Best Grande Ecole or Specialized Masters paper award: Anouk Lazare
During their final year of study, students of the Grande Ecole  write a dissertation, the result of a personal reflection on a specific field of management. This work is performed under the supervision of a professor at HEC Paris.
Winner: Anouk Lazare (HEC '14), for 'How to react to pirate organisms' new market proposals: Fight, adapt or cooperate?' The jury particularly appreciated the quality of the subject of reflection, editorial clarity and relevance of the analysis.
Best Executive MBA paper award: Martine Garnier
At the end of their course, the participants of the EMBA produce an individual memoir to implement the particular training in general management that they followed. This project presents an analysis of management committee level issues, either internal to the company or for external participants in the case of the recovery or creation of a business. It then leads to the clarification of a policy recommendation supported by an action plan.
Winner: Martine Garnier (EMBA '14) for a project analyzing the problem of dementia diseases such as Alzheimer's, and laying the foundation for the creation of a start-up whose mission is to strengthen the strategic bridge between innovators, research organizations and developers.
MBA student prize: Samuel Perlmutar
This year, the prize of the HEC MBA Foundation awarded an MBA student with demonstrated interpersonal leadership qualities in his group work for the current business plan workshop.
Winner: Samuel Perlmutar (MBA '14) for showing resilience and motivation in the entrepreneurial process. For several months, he has had numerous appointments in order to create or work in a start-up. His efforts were rewarded in June, and is now one of the leaders of the Israeli business TempDrop as director of business development.
Prize for the best professional Executive Specialized Masters thesis: Charles-Alain Labit
These specialized programs in a field of management are intended for functional or operational managers wishing to enhance their expertise and enhance their managerial skills. The professional thesis aims to provide an answer to a management problem based on existing knowledge. The originality of this work involves the combination of an academic and a professional dimension.
Winner: Charles Alain Labit (EM '14) for 'How to set up a sales and operational plan (S&OP) of the highest order?' This thesis attempts to answer a key question for companies and marks a renewed interest for policymakers today.