Research on Inclusive Economy
Our mission: Combine original data collection and rigorous scientific research in order to offer reliable solutions for decision-makers seeking to further economic inclusion and expand economic opportunity for all.
Our research center led by Professor Marieke Huysentruyt aims at answering the question: How can business help build a more inclusive society?
We propose two ways: Assessing social impact and Experimenting through our lab.
Assessing social impact
We strive to understand the social impact of businesses and develop strategies to help businesses improve their social impact
Some examples of on-going projects: We study the impact of
wage transparency on gender wage equity and equality
transparency about inequality linked to the production of goods on consumers' purchasing decisions
communication frames on corporate social initiatives' efficacy to engage with its target beneficiaries
exposure to the refugee crisis on corporations' choices regarding their portfolio of social policies
the way social housing agencies interact with their tenants on their risk of rent arrears and eviction
governance of health centers on maternal and child health outcomes.
In 2021-2022: On these topics, we published 4 practitioner reports and articles targeted at practitioners and over 10 publications and working papers.
Experimenting through our lab
We apply behavioral insights to develop new strategies for businesses to improve their social impact, we test them in the field, we evaluate their effectiveness and help scale them to impact as many lives as possible
=Discover
We develop and experiment with solutions that reflect how people actually make decisions and take action. And we apply what we discover to help businesses enhance the impact of their policies, programs, products and services
=Scale
We are committed not only to identifying promising solutions to tough problems but also scaling them to impact as many lives as possible
With the increased awareness of an "inclusive economy" comes an increased need to define what, exactly, an inclusive economy and inclusive business is. The report "Inclusive Business: What It Is and Why It Matters", written by Aurélien Feix, Bénédicte Faivre Tavignot, Marieke Huysentruyt and Rodolphe Durand and released by the Society & Organizations Institute as part of the B4IG platform framework, addresses this gap. We have been working on the contours of the inclusive economy since 2008, when HEC Paris created its Inclusive & Social Business Chair in 2008 with Renault, Danone and Schneider Electric. We draw on 12 years of experience, reflection, and interaction with the private sphere, public sphere, and civil society to address the fundamentals of an inclusive economy and business.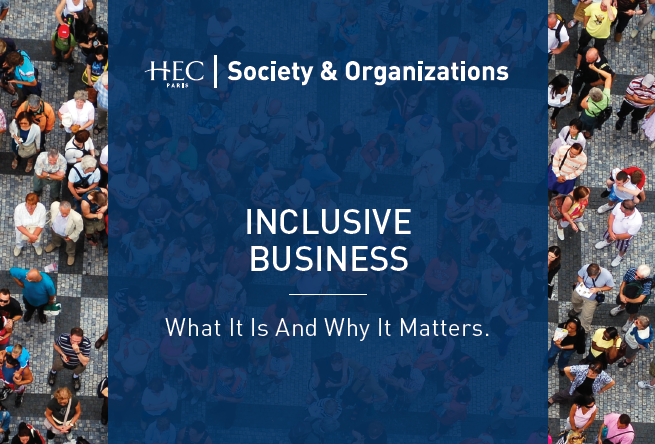 Part One: Definitions and Concepts
Economic inclusion
Economic inclusion as a give-and-receive relationship    
The central importance of economic inclusion to people's lives    
The three dimensions of economic inclusion    
The linkages between the different dimensions of economic inclusion
    
Economic exclusion and the risk of social relegation
Why are our economies not as "inclusive" as we would hope for?    
Barriers to economic inclusion    
The dynamic of economic exclusion
Inclusive business
The basic idea behind inclusive business    
Defining inclusive business    
The spectrum of inclusive businesses    
Inclusive business as a shift in mindset    
Conclusion and outlook    
Part Two: Sample of Successful and Promising Inclusive Business Initiatives
Programme Mobilize    
Programme Malin    
GINcluyete    
The Industry Academy    
Housing insurance    
Collaboration BNP Paribas x L'Ascenseur    
Lemon Aide    
Le Logement Solidaire    
Read the article: "Inclusive Economy: The Antidote to "a World on Fire?"
Interview of Bénédicte Faivre-Tavignot, Executive Director of the S&O Institute [FR]
Interview of Marieke Huysentruyt, Academic Director of the S&O Inclusive Economy Department [ENG]
Inclusive Business: What it is and Why it matters
We explain what an inclusive economy means to us and detail barriers to inclusion and levers that businesses can use to remove these obstacles.
Upload and Read the Report
What you need to know about Sustainability and CSR
These 19 factsheets summarize, on a single page and in a simple and easily understandable language, academic and practical knowledge on various CSR-related topics: the Sustainable Development Goals, the triple bottom line, inclusive business, social business..
Have a look at our collection of 19 factsheets
... and more!
The role of Empathy in Corporate Social Initiatives
Research led by Marieke Huysentruyt, Paul Gouvard and Rodolphe Durand
Out of five children in France live below the poverty line, which means that a household with two children lives on a collective income of less that 1,700€ per month. When poverty strikes, it stirkes everywhere, ruthlessly so: higher instances of diabetis related to obesity; sleep deprivation due to threadbare matresses; lack of relaxing hobbies, noisier,more crowded, low quality housing conditions (or no home at all); academic failure; etc...
The Influence of Pay Transparency on Inequity, Inequality, and the Performance-Basis of Pay
Recent decades have witnessed a growing focus on two distinct income patterns: persistent pay inequity, particularly a gender pay gap, and growing pay inequality. Pay transparency is widely advanced as a remedy for both. Yet we know little about the systemic influence of this policy on the evolution of pay practices within organizations. We find evidence that pay transparency causes significant increases in both the equity and equality of pay, and significant and sizeable reductions in the link between pay and individually-measured performance.
by Tomasz Obloj and Todd Zenger
Consumers must be informed of the "social cost" of the goods and services on offer
To encourage companies to reduce income inequalities along the production chain, a "social cost" could appear on the label next to the purchase price, suggests Brian Hill, CNRS research at HEC, in a op-ed piece for "Le Monde".
Case Studies
Please find below a best-of of the latest case studies written by HEC professors and research fellow sor PhD students.
Combining Business and Societal Objectives at Danone
Case study written by Bénédicte Faivre-Tavignot and Frédéric Dalsace
How Social Innovation Can Help a Multinational Company Reinvent Itself: know more on Knowledge@HEC
Mobilize, Renault's Affordable Car Project
Case study written by Oliver Chatain
Schneider Electric's Pay-as-you-go Solar Home Systems Fund in Kenya
Case study written by Luc Paugam and Lee Sookyoung
Veolia's Eau du Grand Lyon
Case study written by Bertrand Quelin
Veolia's Eau du Grand Lyon: Orchestrating a Social Ecosystem in a Community Around Water Distribution: More to read on Knowledge@HEC
Meals Vouchers in the Arab Spring with Sodexo
Written by Eric Mengus and Paul Gouvard
ARES et La Petite Reine... de coeur ?
Case study written by Laurence Lehmann Ortega and Julien Kleszczowski
Are your social initiatives making the right impact?
S&O has published a Social Impact Assessment Strategy Report, your toolkit for better social impact measurement.
Download the report
Smart Cities: The Sustainable program of six leading cities
A model for today's urban centers, smart cities pave the way towards a more creative, inclusive and sustainable society.
Read and download the report