Society & Organizations Institute
Accelerating Researcher-Practitioner Collaborations in Sustainability Research
Tackling global societal challenges, including climate change and social inequality, requires the proactive engagement and leadership of business and academic communities.  "How do we prove that we can make a better world in many ways?": said Emmanuel Marchant, Strategy and Corporate Development Vice-President at Danone, summarized the main objective of the S&O ARCS workshop that brought together high-level scholars and business representatives who shared their experiences and knowledge in the field of sustainability.
Fruitful collaborations on practical topics
Tailored to the needs of practitioners, selected research collaborations showcased rigorous sustainability research in the areas of financing sustainability, governance and organizational design for sustainability, communication of sustainability, sustainability and employee motivation, and circular economy. "There are a lot more collaborations between academics and businesses than we might first think. We tend to think about a lot of academic research as being done in a vacuum - carried out individually and reading by ourselves, for ourselves. And there is a lot of really valuable work going on in which academics evaluate organizations in real time with them and are working to help to move this collaboration forward" emphasized Glen Dowell, Professor at the Johnson Graduate School of Management, Cornell University, and board member of ARCS.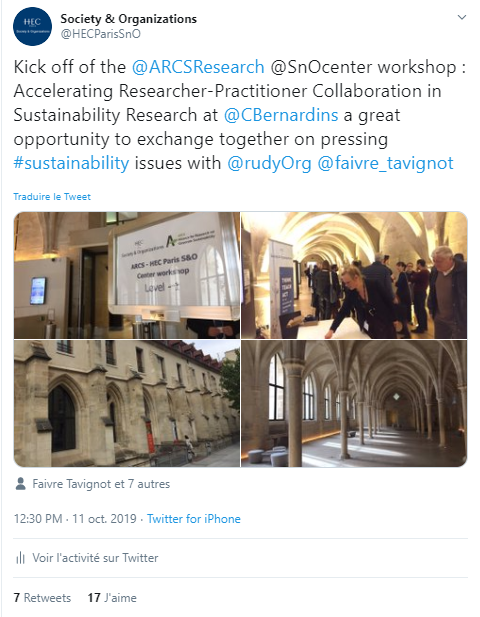 Many important questions were raised during the various sessions and roundtable discussions, including: How can the collaborations of multiple actors that share varying logics be improved? How should the various outcomes of sustainability initiatives be measured? Which factors encourage consumers to be more sustainable? Can monetary incentives be counterproductive and erode the intrinsic motivation of employees?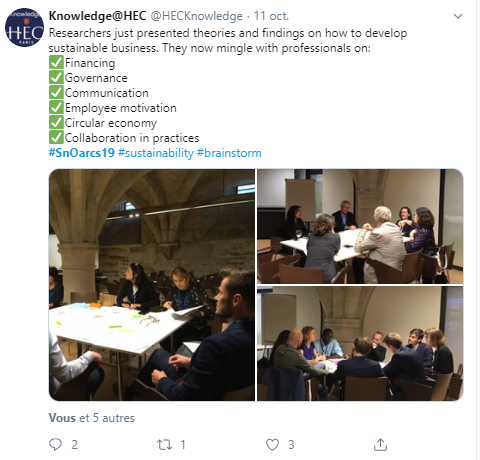 Working together to recycle more
Among others, workshop participants discussed the role of the circular economy. Researchers and practitioners agreed that companies should dare to aim higher, seize their innovative potential, and implement creative business solutions whose impacts, contrary to general presumptions, can be easily tested and measured. In collaboration with Yoyo, a French recycling start-up, Emma Barnosky, Magali Delmas, and Marieke Huysentruyt presented an incentive-based approach that focuses on human behavior as a central element for the successful implementation of circular economy systems.
The research team found that social relations and distinct recognition schemes can encourage the recycling behaviour of consumers and address key barriers; the lack of information, inconvenience, and absence of personal responsibility. Eric Brac de la Perrière, Founder of Yoyo, explained:  "When we recycle, we create economic value but also social value. And it is also one of Yoyo's mission, to include the inhabitants of a city in a recycling process, by creating a value of self-esteem and it is what HEC researchers, through their fields experiments, have tried to measure." And it is working—in just two years, Yoyo's recycling community has grown to almost 400 coaches and over 12 000 sorters that collected almost 3.7 millions plastic bottles in France. The research team highlighted that businesses such as Yoyo are uniquely positioned to address recycling barriers, both immediately and in the long term, and offer waste collection solutions complimentary to governmental actions that can be slow and costly.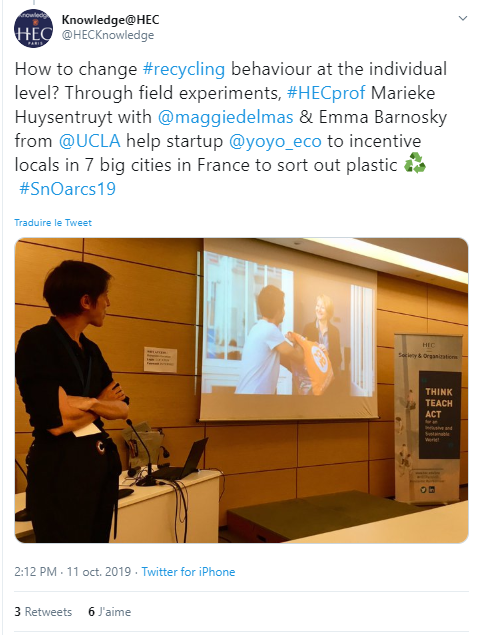 Involving employees in the process

Another workshop topic focused on employee engagement. As one of the firm's most important stakeholder groups, employees are central to the implementation of CSR initiatives. And knowing that over 90% of MBA graduate students are willing to sacrifice compensation in order to work for a company that has good CSR reputation, this topic is at stake. 

"Research shows CSR has been linked to several different benefits for the organization by impacting employee's recruitment, retention, job satisfaction, and productivity." said Christina Hachikian, founding executive director of the Rustandy Center for Social Sector Innovation at the University of Chicago Booth School of Business. During this session, another question came up as to whether CSR programs can have positive effects on the motivation of employees who themselves do not volunteer to participate in those programs. Questions such as this, arising from these interactions, demonstrate the opportunities for businesses and academics to collaborate to address important issues.
Addressing practical challenges in the future

On the second day of the workshop, scholars offered academic advice and presented several research methods, i.e. qualitative comparative analysis, experimental design, and randomized control trial (RCT), that practitioners may find helpful to tackle sustainability issues in the future. Emmanuel Marchant concluded: "It is great to see people with such a passion that needs to talk so much together to understand each other. Between researchers and startuppers, you can imagine the dialogue is really an intense one. I am sure that what we are doing here will serve the startups that are trying to change the world but beyond that will change the society". 
This resonates with the commitment of Rodolphe Durand, Academic Director of the S&O Center and Verena Patock, S&O Research Fellow and organizer of the workshop, who considers the event as an important point of departure for future research, debates, and better impact in the area of sustainability.