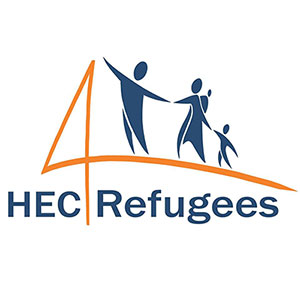 Society's story
HEC4Refugees was created in 2016 in the wake of the refugee crisis, when students from HEC wanted to get involved with local immigrants in order to help them find a new home and fit into French society.
Every week, the students part of the HEC4Refugees society go spend time with 90 refugees in an asylum center in Bonnelles, 30 kilometres away from the HEC campus. The Bonnelles center welcomes a majority of immigrants from Africa and the Middle East, where ongoing wars have caused the exodus of thousands of people, fleeing from famine and persecution. The center provides a shelter for them after many perilous journeys and months of homelessness. Currently, the migrants at Bonnelles come from 11 different countries and stay in the shelter for an average duration of nine months.
The society don't have any sponsors, but receive subsidies from HEC and use some of the funds raised to finance their own activities.
 
Goal

HEC4Refugees' goal is to have a local impact to help migrants in their day-to-day lives, give them hope and make sure they are well integrated in order to give their future a headstart.
Through games, conversations and sport, we allow refugees to improve their French language skills, enjoy themselves and be in contact with young people in order to enhance social integration. On top of organizing fundraising events, we also collect clothes and small appliances to make sure the Bonnelles center does not run out of resources.
 

Key events

HEC4Refugees organizes weekly visits to the center as well as special, one-off events such as fundraisers and conferences. Every fall, the society takes part in the Techfugees Summit, which coordinates start-ups and their innovative solutions to the refugee crisis with the non-profit organizations needing their services.
 
Why join?

Joining HEC4Refugees is a life-changing human experience that allows you to support a meaningful cause and witness the positive impact of your contribution for yourself. Each year, we recruit many new members in order to ensure our projects run smoothly. We are looking for people who are willing to go to the center once every other week in Bonnelles, to organize fundraising events and to sensitize other students to the refugee cause, through the organization of conferences on campus.


Committee and members

The society is made up of a dozen members : President, Vice Presidents, General Secretaries and Treasurer.