Entrepreneurship and Digital
Innovation HEC–TUM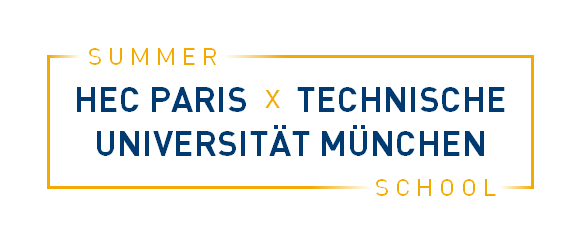 When & Where?
Pre-register to be alerted about dates for Summer 2024.

Overview
Digital innovation is disrupting our way of life, our social relations, and the economy at an ever-increasing pace. It is now at the heart of the dynamics of business creation and industry transformation. The "Entrepreneurship and Digital Innovation" Summer School is designed for participants who have:
A curiosity for new business models;
An aspiration to work in a group to imagine the value proposition of a digital project;
The desire to experiment and challenge themselves.
The objective of this 2-week program is to immerse participants in two essential dimensions of digital innovation: start-up entrepreneurship and industrial transformation.
Digital tools are transforming the way a business project is developed. The phases of understanding the market, identifying user problems, ideation, testing a new offer, iteration and launch have been profoundly modified thanks to the new creation methods and digital tools now available.
During the first week with HEC Paris, participants will discover the fundamentals of digital entrepreneurship, ranging from the skills needed, methods applied, and tools used, to move from an idea to a startup project. The dynamic learning approach includes a learning-by-doing pedagogy with a conceptual contribution, thanks to class sessions with inspiring examples shared through testimonies and team workshops.
During the second week with the TUM (Technische Universität München), we will introduce and discuss cases and examples of digital transformation and technological innovation to industries such as healthcare or retail. Participants will work in groups to find solutions to challenges in digital transformation proposed by business managers.
Why this Program?
Created and taught by leading HEC Paris - TUM professors
Accessible to students of all backgrounds who wish to learn more about entrepreneurship and digital innovation
Unparalleled opportunity to collaborate with diverse peers as part of student work groups
Real life experience: opportunity to present your project to renowned professionals
Dual certificate from leading partner institutions: HEC Paris and TUM
Learning outcomes
Upon successful completion of this summer program, participants will be able to do the following:
Understand the digital revolution and why it promotes start-up entrepreneurship

Assimilate the fundamentals of the entrepreneurial approach and its mindset

Understand the successive steps of any entrepreneurial project: market, ideation, resolution of a user problem etc.

Identify and use the right tools to design and test an innovative project

Mobilize skills through an agile approach

Understand digital technology and innovation, digital transformation in industry and the key challenges of digital projects

Identify and use qualitative and quantitative tools to support business analysis
Assessment
Participants will be evaluated based on the following: 
Groupwork exercises
Case study pitch
This is an accredited program.  Students seeking credit are encouraged to consult their home institution to validate credit transfer.