You will develop leadership skills during the HEC Paris Executive MBA, both in-class and during the dedicated Leadership Seminar, to ensure that you lead with purpose. Students graduate empowered with the ability to inspire, influence and improve performance in the workplace.
EXECUTIVE LEADERSHIP
Executive leadership is embedded across the Executive MBA curriculum. Students learn how to build their leadership and soft skills to motivate, empower and inspire their teams.
Leadership topics are covered in many of our core courses, and leadership is further developed through custom projects, such as personalized coaching, the Leadership Development Plan and on-going reviews of achievements during the program.

Leadership Styles & Behaviors
Impactful Leadership
Inspiring Diverse Teams
Building Trust
Negotiations
Leading Change
Business Performance & KPIs
Off-site Leadership Seminar
Leadership Seminar
The two-day Leadership Seminar is a unique experience combining academic theory and learning-by-doing. In this unique environment designed in concert with former- and active-duty French military officers of SYFCO Executive Education, you will be taken out of your comfort zone and your leadership skills will be put to the test.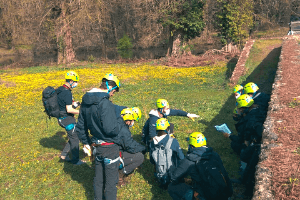 Learning outcomes include:
Becoming an ethical, trustworthy, and responsible leader.
Boosting your team management skills.
Learning from and growing with your EMBA peers.
Strengthening your crisis management potential.
Building confidence while structuring the unstructured.
Improving critical decision-making under pressure. 
The Leadership Seminar is also an excellent networking opportunity: it is the only time that all 200-plus members of your Executive MBA graduating class from all five tracks, including Doha,are on campus simultaneously.