You will develop leadership skills during the HEC Paris Executive MBA, both in-class and during the dedicated Leadership Seminar, to ensure that you lead with purpose. Students graduate empowered with the ability to inspire, influence and improve performance in the workplace.
EXECUTIVE LEADERSHIP
Executive leadership is embedded across the Executive MBA curriculum. Students learn how to build their leadership and soft skills to motivate, empower and inspire their teams.
Leadership topics are covered in many of our core courses, and leadership is further developed through custom projects, such as personalized coaching, the Leadership Development Plan and on-going reviews of achievements during the program.

Leadership Styles & Behaviors
Impactful Leadership
Inspiring Diverse Teams
Building Trust
Negotiations
Leading Change
Business Performance & KPIs
Off-site Leadership Seminar
Leadership Seminar
This annual seminar is specifically designed to help improve your team-leadership skills through a series of increasingly difficult tasks supervised by leadership experts.
The Outdoor Leadership Seminar's physical and mental challenges teach you how to motivate others even when you are outside your comfort zone. You receive positive, helpful feedback about how you lead and what you can do to improve.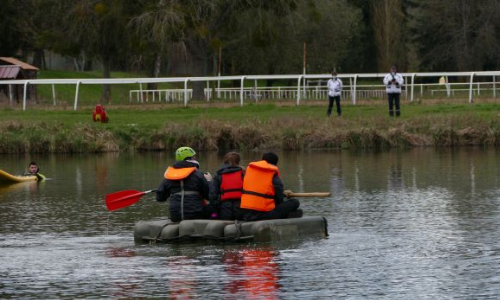 Every participant has the opportunity to lead a team of ten classmates and complete a demanding project in an unusual context, such as building a bridge to cross a river or getting all your teammates over a high wall.
You will put your decision-making and leadership skills to the test, far removed from the classroom environment.
The Leadership Seminar is also an excellent networking opportunity: it is the only time that all 200-plus members of your Executive MBA graduating class from all tracks, including Doha, are together simultaneously.