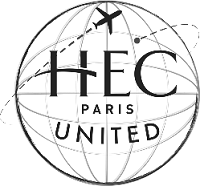 Contact
Facebook
HEC United is an ongoing student-led project that creates a connection between current HEC students and thousands of alumni spread across the world. A team of two students travels to various countries each year to interview alumni about their experiences during and after their time at HEC.
The Mission:
HEC United highlights the diverse and global network of HEC alumni by travelling to different countries and interviewing as many alumni as possible about their experiences and career development post HEC. Sharing this insight inspires current students: showing the great range of possibilities that await them.
The wide range of career paths taken by HEC alumni demonstrates the abundance of prospects available to the student body and the great advantage that they will have in the future as HEC graduates.
Countries Visited:
Argentina Dubai Ivory Coast Qatar
Australia France Japan Singapore
Brazil Germany Korea Thailand
Canada Ireland Lebanon USA
Chile India Morocco
China Indonesia Peru
The Team:
Each year two students take on the HEC United project. After professional training in video editing, they begin their 6-month journey to unite with HEC alumni worldwide.
Since 2015, HEC United has visited 18 countries and interviewed 60 alumni. Each interview is published on their YouTube channel so that successful career paths of HEC alumni can inspire current students and prospective applicants on every continent.
Partnerships/Sponsors:
The trips would not be possible without the help of fundraisers, sponsors and partners who contribute to the project:
Orange
Pernod Ricard
HEC Paris
HEC Paris Foundation
HEC Paris Alumni