Private Equity Observatory - Buyout Center
Ardian, Bain & Company, Bridgepoint, Groupe Chevrillon, Latham & Watkins, Messier Maris & Associés, Natixis Partners, Omnes Capital, Weil Gotshal & Manges
Chair holder: Oliver Gottschalg, Associate Professor - Strategy and Business Policy
The objective of this center is to conduct research on investment logic and value creation mechanisms of private investors. An important database on buy-out operations within the US and in Europe was established for this research.
Founders
Frédéric Pescatori, President of the Observatory, Associate, Bridgepoint
Frederic Pescatori is partner and head of Bridgepoint's investment activities in Paris. He is a member of the group's Administrative Committee, Executive Committee and Investment Committee. He is part of teams specializing in the consumer goods and distribution sector as well as business services. He rejoined Bridgepoint in 2009
Olivier-Gottschalg_member_list
          
Oliver Gottschalg, Professor at HEC
Oliver Gottschalg is an associate professor in strategy and company politics at HEC Paris. He is also the academic director of TRIUM Global Executive MBA, director of track "entrepreneurship" for HEC MBA program and director of the HEC Buyout Research program. He gives classes in strategy, entrepreneurship, the conception of business plans and buyout management. His current research concentrates on strategic logic and determinants for performance for private equity investments.
Cyrille-Chevrillon_member_list
          
Cyrille Chevrillon, Honorary President
Graduate of HEC in 1976, Cyrille Chevrillon began his career at JP Morgan in New York, then Paris. Founded Chevrillon & Associates in 1992, whilst leading high profile Private Equity groups in the UK (CEO of Salomon Brothers SA, Managing Director of Candover Partners Limites in 2002)
Cyrille Chevrillon is one of the capital investment leaders in France. He is also a teacher affiliated with HEC.
The 2018 HEC-DowJones Private Equity Performance Ranking
The 2018 HEC-DowJones Private Equity Performance Ranking lists the world's Top PE firms in terms of aggregate performance based on all buyout funds raised between 2005 and 2014. This ranking answers the question: "Which firm(s) generated the best performance for their investors over the past years?" The ranking draws on a comprehensive set of data on PE fund performance provided by preqin and directly from PE Firms and uses a unique methodology to calculate the aggregate performance of a PE firm based on difference performance measures for all the funds managed by this firm. The method is able to aggregate performance across vintage years and considers relative and absolute returns. In total, we analyzed performance data from 502 PE firms and the 898 funds they raised between 2005 and 2014 with an aggregate equity volume of $1.293bn.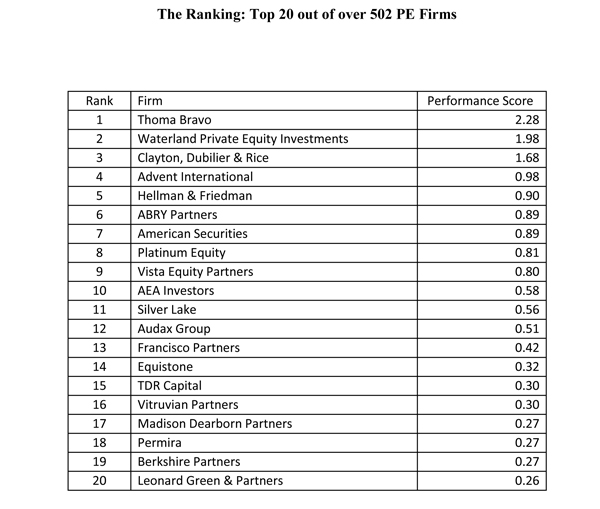 In the Press:
Thoma Bravo Outperforms Rival Firms Again, Returning More Cash to Investors, Wall Street Journal, Feb. 11, 2019
HEC Private Equity Value Creation Hall of Fame
What are the greatest private equity funds of all time? PEI presents the HEC Private Equity Value Creation Hall of Fame and reveals its first entrant
Can you name the most successful private equity fund ever? There are probably a number of GPs reading this who would say 'yes' and point to a fund in their own firm's history which, by at least one metric, is a contender.
But metrics in isolation can be misleading or irrelevant. A fund that produces 3x invested capital and a 30 percent IRR is a stellar performer, but of limited value to a large investor if it is only $150 million in size or if it took huge risks to make those returns.
Oliver Gottschalg, associate professor of strategy at HEC Paris and co-founder of its private equity observatory research centre, discussed this with a client earlier this year.
In Gottschalg's own words: "I met with Bart Elema, CFO of my client Waterland Private Equity, and he mentioned to me that based on his research in industry specific databases, there were only very few PE funds of a certain size that generated more than 3x net."
"We had a conversation about what aspects make a PE fund really great, as the simple money multiple is clearly too simplistic: no consideration of risk, time value of money, opportunity costs etc.
"During the conversation I realised that it is not obvious from the outside to spot the 'best of the best' of all PE funds of all times… and that this information would be useful for investors and for the asset asset class and a governance structure can be – countering some of the widespread criticism that private equity only levers up equity and rides macro trends.
"It would also give investors some idea about which GPs had been at the top of this 'game' over the past 20 years. On the way back from the meeting, I started to sketch out the set of complementary hurdles that a PE fund would have to surpass to deserve the label of being among 'the best of the best' at value creation in PE."
Gottschalg settled on three key hurdles, and the idea of the 'HEC Private Equity Value Creation Hall of Fame'  was born. To qualify for the Hall of Fame, funds must have generated:
at least $2 billion in cash-on-cash alpha gain;
"PERACS Alpha"* of at least 15 percent return;
 at least 2x cash-on-cash multiple.
Gottschalg and his team set about analysing data on realised returns for 2,500 funds and, as Elema predicted, rapidly whittled them down to a handful of exceptional funds.
Here we launch the HEC Private Equity Value Creation Hall of Fame, with its first inductee: Hellman & Friedman Capital Partners IV. Watch out for further admissions in the coming months.