HEC Consulting Club, known as HEC Junior Conseil, is a society both active in university and employer life, which offers high quality studies in marketing, auditing, strategy, communication and entrepreneurship for various clients.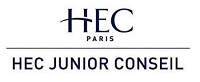 The society's history
HEC Consulting Club, the Junior-Enterprise (JE) of HEC Paris, is a professional society (French law of 1901), founded in 1971 and managed by students of the Grande Ecole Programme of HEC Paris. It operates on the model of a consulting firm and enables HEC students to acquire valuable professional experience through various missions : market studies, communication plans, business plans, etc, carried out for companies of all sizes and in all sectors of activity.
The society is managed by a team of 20 students who work both as project managers and as administrators of the society. They are supported by a secretary who ensures the link between the different generations and who carries out essential tasks to ensuring the effective operation of the society.
The HEC Consulting Club relies on an active and dynamic network of 400 "JE alumni" who share their expertise and capitalize on their experience to submit innovative solutions to its customers, such as Google, Bain and Microsoft.
Key figures
85% of CAC40 companies have placed their trust in the HEC Consulting Club
In 2020, the society achieved a turnover of 570,000 euros.
In its 50 years of existence, the association has carried out more than 5000 studies.
A network of 400 "JE alumni".
1200 active contributors.
A professional student society
The student society carries out market studies, business plans, benchmarks, satisfaction studies and strategic expertise for all types of clients: individuals, start-ups, CAC40 groups, public administrations, etc.
HEC Consulting Club supports its customers in their new projects by providing expertise in various fields: marketing, business creation, strategy, audit and communication.
It forms partnerships to offer training and networking events to HEC students. Its partners are KPMG, Oliver Wyman, Société Générale, Boston Consulting Group, Julhiet Sterwen and Finance 3.1.
Strong involvement in the student life of HEC Paris:
Each year after the individual professional tests, students wishing to join the association form lists and organize events (breakfast, film making, distribution of goodies).
The Junior-Enterprise organizes a charity event, "The JE Prize", during which several charities from HEC Paris are selected in order to support them financially in their projects.
The society participates in the integration weekend (WEI) and in the Admissible Welcome (ACA).
JE organises 3 POW (Party of the Week) every year.
Why you should join HEC Junior Conseil?
Acquire valuable professional experience by carrying out missions for all types of companies.
Expand your network by working for prestigious clients and participating in networking events offered by our professional partners.
Develop your skills by taking advantage of the training courses offered by our partners, some prestigious consulting firms.
Benefit from an additional source of income by working for our customers.
Live an exciting human experience and be part of campus life by taking part in the organisation of various student events
How to join HEC Junior Conseil?
The majority of HEC students wishing to contribute to the JE in order to become a member of the society and be recruited to carry out missions are chosen at the beginning of the year.
Each year in November, the campus votes to elect the new mandate. This vote follows a demanding campaign of individual professional challenges and student events.
The team members are chosen for their technical skills, their motivation and above all their ability to form an efficient and united team. The whole team is driven by a taste for performance and a desire to satisfy the client's needs. 
Then, the new team of project managers is then trained for 5 months (in parallel with their studies at HEC Paris) alongside the outgoing mandate and partner companies.
The team officially took office in June for a one-year term.