Society & Organizations Institute
FESTIVAL LIFE PROJECT 2021 "The Future of work belongs to optimists"
From April 6 to 7, the Alumni Association is organizing the HEC Life Project Festival on the theme The Future of Work Belongs to Optimists. On Thursday April 7th at 6:15pm, Rodolphe Durand, Academic Director of the S&O Institute and Hubert de Boisredon, CEO of Armor will share their views on Purposeful Leadership.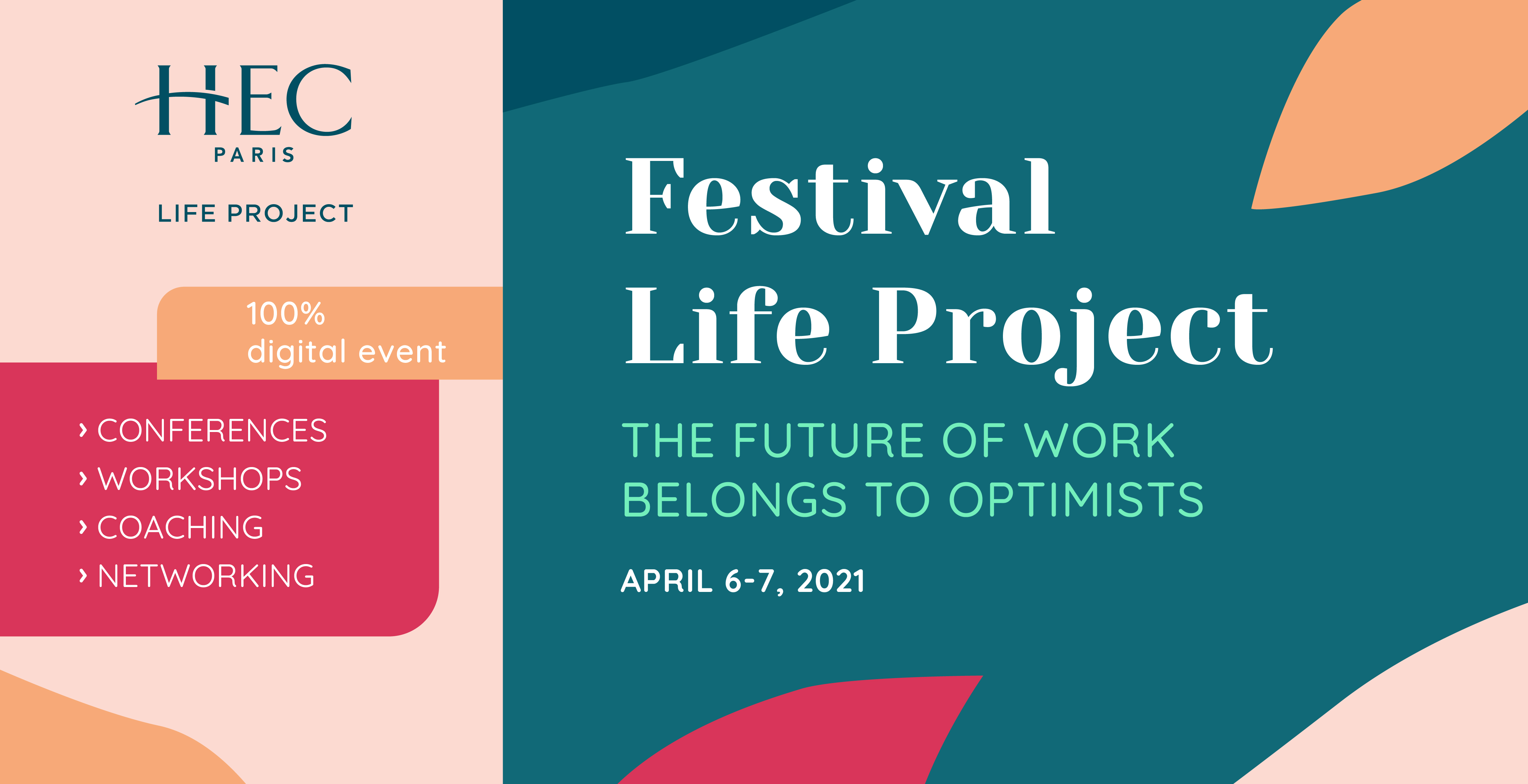 « Le futur du travail appartient aux optimistes »
Un évènement 100% digital
les 6 et 7 avril 2021 
CONFERENCES – ATELIERS – COACHING – NETWORKING  
HEC Life Project lance la seconde édition du FESTIVAL LIFE PROJECT sous le signe de l'optimisme. Un évènement 100% en ligne sur deux jours pour s'inspirer, explorer le futur du travail et ses mutations, et échanger avec les acteurs de ces transformations.
Nous en sommes convaincus, il est urgent de cultiver l'optimisme pour relever les défis complexes et passionnants qui challengent les entreprises comme nos vies professionnelles et personnelles, et exigent un profond changement de paradigme. Quête de sens, entreprises et leadership responsables, impact social et environnemental, neurosciences, psychologie positive, reconversion, adaptation, solidarité, apprenance, les chemins sont nombreux pour saisir les multiples facettes de l'optimisme et son impact sur le travail.

Talks et conférences vous permettront d'apprendre et de vous inspirer grâce à nos témoins et experts ; nos ateliers de découvrir en pratique des approches innovantes et des conseils concrets pour cultiver l'optimisme dans votre projet professionnel. Enfin, vous pourrez bénéficier d'un speed coaching avec l'un de nos Coachs pour vous accompagner sur un objectif individuel*. Un temps de networking sera également proposé en clôture du Festival pour vous permettre d'échanger avec les participants et les équipes HEC Alumni et Life Project.  
* Réservé aux Alumni et dans la limite des créneaux disponibles.  
Cet événement est gratuit pour les étudiants HEC