Great spirit of solidarity at the hec alumni@l'oreal event
The second meeting of Alumni HEC@L'Oréal took place in mid-March. More than 60 HEC graduates working for L'Oréal came together for this convivial solidarity event, in the presence of Eloïc Peyrache, Dean of HEC Paris and Delphine Colson (H.94), Executive Director of the HEC Foundation.
In the company of Foundation patrons 'Alexis Perakis-Valat (H.93), Managing Director of L'Oréal Consumer Products Division, and Christophe Babule (H.88), CFO at L'Oréal, Eloïc Peyrache and Delphine Colson (H.94) presented the School's latest news, its strategic development projects and those led by the HEC Foundation, specifically for equal opportunity and diversity.

L'Oréal employees were also able to see the impact of donations thanks to inspiring testimonials from two student beneficiaries of the Foundation scholarship. Justin and Yasmine were present at the event to thank patrons and describe how obtaining these scholarships changed their lives: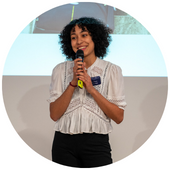 My thanks again to the HEC Foundation for enabling me to fully enjoy the community, sporting and academic life of HEC, and for giving me the confidence to 'dare'.
Yasmine (H.25)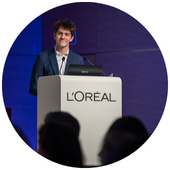 The HEC Foundation allowed me to have confidence in myself and to believe that yes, HEC was possible and I could become a part of it, without worrying about the potential hurdles along the long path that finally led me to Jouy-en-Josas. Thank you to the donors. 
Justin (H.26)
This event also saw the launch of a major challenge to collect €100,000 to help 15 students fund their studies, via the « Bourses L'Oréal - HEC Paris » project. To date, more than €85,000 in pledges have been raised thanks to this evening!

An enormous thank you to the L'Oréal teams and all graduates for this wonderful show of HEC strength and solidarity.