HEC Paris Masters in Finance #1 worldwide for fifth consecutive year by the Financial Times
The Financial Times has ranked the HEC Paris MSc in International Finance number one worldwide for the fifth consecutive year.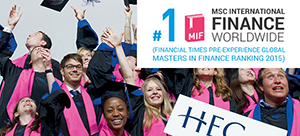 he ranking, based on salary three years after graduation, international mobility, and participant and institutional diversity, affirms the continued excellence of the program.
The HEC Paris MSc in International Finance (MIF) is highly selective, with an 87% international student body. Students benefit from a strong theoretical foundation taught by world-class researchers, the practical knowledge of leading industry figures, and excellent peer networking. MiF graduates find jobs worldwide, primarily in investment banking and strategic consulting.
"Competition for the number one spot gets tougher every year. I'm convinced that the school's belief in fostering cohesion and cooperation among students is a key asset of ours, one that helps us remain at the top: Strong friendships built on campus translate into a unique network after graduation," says Jacques Olivier, professor of finance and MIFprogram director at HEC Paris.
"Finance continues to be a major discipline at HEC" says Bernard Ramanantsoa, dean of HEC Paris. "Today's ranking highlights the long-term success of our finance offerings and of our graduates."
See the ranking
Learn more about the program