US-China Relations: Treading the Highwire of Economic Decoupling
On December 9, academic director of the HEC Paris Center for Geopolitics Jeremy Ghez and representatives from the American Chamber of Commerce in France (AmCham) presented French and international journalists with a white paper entitled "Economic Decoupling: Our New Reality?" Ghez' 60-page analysis assesses the implications of a potential US-China break-up for policymakers and businesses.
"This white paper explores the consequences that a US-Chinese breakup would have for business and for policy. (It) is not meant to be an account of the future, but of a possible future – one in which economic decoupling, rather than economic integration, becomes our new global reality." With these words of caution, Jeremy Ghez – accompanied by fellow-experts like HEC Associate Professor of Law, Arnaud Van Waeyenberge - mapped out and then dissected a scenario which would constitute a sea change in global economy. "Economic decoupling could ultimately challenge the way businesses grow, strategize, operate, allocate resources and hire across the globe," warns the author in his introduction.  
Ghez' study of US-China economic relationships began back in December 2019, months before the COVID-19 pandemic and its economic consequences gripped the global economy. Supported by AmCham, he spent 15 months exploring how economic decoupling could challenge the way companies could challenge the way companies do business in terms of its supply chains, tech standards, talent attraction, business solutions and global legal frameworks. "According to a recent study by the Economist Intelligence Unit's Risk Outlook 2022 report, (a summary of which has been published by 9 News, ed.), economic decoupling between the two leading economies in the world is the top threat for next year," said AmCham president, Bijan Eghbal. Speaking alongside the HEC academic at the launch, Eghbal paraphrased for the audience of journalists the risk report's conclusion: "The probability of this happening is quite high (while not hoped for!) and its impact is very high. Hence, the timeliness of this white paper."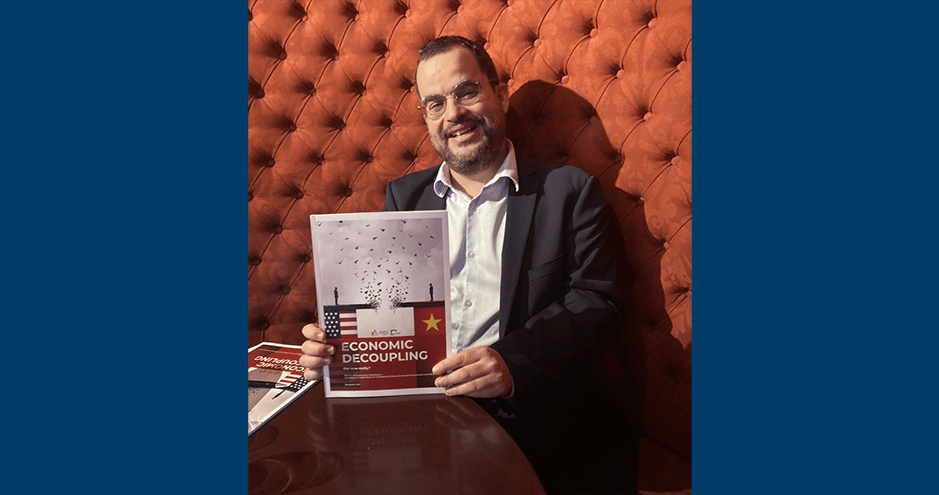 Is Economic Decoupling "a Plausible Hypothesis"? 
The white paper launch in central Paris coincided with the 20th anniversary of China entering the World Trade Organization. This landmark agreement has allowed the country to transform itself economically to become the world's number one economy. But, Ghez underlined, it how it has not allayed tensions with the US – au contraire: "Many global stakeholders feel that Washington and Beijing are not playing the same game, having both different rules and time horizons in mind."  An economic decoupling would accelerate a coexistence of different norms and standards which businesses would need to strategize for. Arnaud Van Waeyenberge, who specializes in global law and new forms of normativity, believes this decoupling will provoke different technologies and standards and will rely on progressively independent supply chains. "This," he writes in his expert analysis in the second part of the white paper, "is a plausible hypothesis, one in line with the dynamics observed at the global level over the last twenty years." 
However, another expert invited by AmCham to share his analysis begs to differ. André Chieng, vice-president of the France-China committee, insists that decoupling is not for tomorrow: "China will still be the workshop of the world for a very long time because there is no alternative," he writes. "China is far from being self-sufficient! Interdependence is much stronger than decoupling forces," he concludes, pointing to the 27%, increase of exports to the US since 2019, despite the efforts of Donald Trump to freeze such movements. At the same time, Chieng insists on China's dependency on imported mid-level engineers and microchips, without which its economy would be crippled.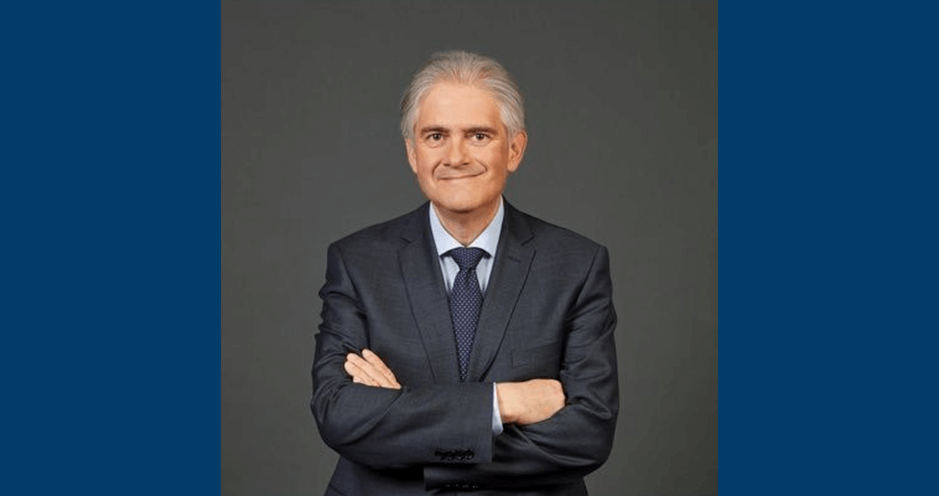 Whither Should Europe Navigate? 
And what of Europe in this equation? Jeremy Ghez noted that, while the Europeans do not have the same political strength as the two super-powers, it can weigh in economically. "The EU is not a dwarf, like some try to say. Exporters have to accept European norms and regulations if they wish to sell here. Look at AI and the Internet, for example, where Brussels has imposed its law through regulations like the GDPR." A vision which concurs with that of Van Waeyenberge: Europe, he says "is an integrated economic space, a pluralistic space by nature and the control of States over the economy has been severally limited." (his emphasis). For senior research fellow at the Jacques Delors Institute, Elvire Fabry, Europe is also keeping a distance from the bellicose approach of Washington: "The EU made it clear that China remains a partner and not only a competitor and a systemic rival," she writes, one of six expert commentaries published by the white paper. "Autonomous instruments put in place by the European Commission aim at ensuring more fair competition to enable EU businesses to develop in the Single market and engage in the Chinese market." 
Yet, it must become stronger, according to AmCham, in the paper's concluding section. It offers four strong recommendations for businesses and policymakers should economic decoupling take foot – one is devoted to Europe and its economic resilience. "There is a growing necessity for the EU to strengthen its internal market in order to encourage and facilitate inter-European trade," it writes. However, questions abound, as pointed out by Ghez. In the struggle between Beijing and Washington, Brussels, he says, is "a more ambivalent player." The specialist in the global business environment openly asks if the EU has been sidelined: "Should its alignment with the United States be taken for granted, or should it instead be seen as an independent player? Or is it, ultimately, the referee of the US-Chinese rivalry?" Questions, Ghez admits, which are difficult to answer, as current evidence remains indecisive despite the fact that EU answers could play a crucial role in determining if - and to what extent - economic decoupling becomes a reality.